Dearest Raghu, Heartiest wishes on your 53rd birthday!
You are, in my view, one of the two good things that have happened to the Indian economy over the last two years (the other is oil).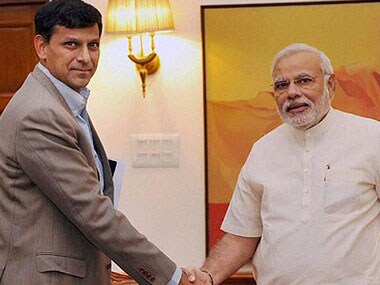 My government and I are personally thankful to you and your team at the Reserve Bank of India (RBI) for the relentless efforts in steering our economy from the days of significant instability in 2013 (crashing rupee, fading investor confidence, cross-border capital exodus) to a much 'higher, stabler footing than other nations' today as my cabinet colleague, Arun Jaitley pointed out the other day.
Without doubt, I can say that a good part of the credit for restoring the investor confidence in the Indian economy goes to you. The quick, successive measures the RBI adopted since 2013 to check capital outflows and thus arrest the volatility of the rupee, have been of immense support to my government to get back economic stability in the country. The rupee has recovered from its all-time low of 68.85 on 28 August 2013 to 58.46 on 22 May 2014, although the currency is facing some pressure of late.
In my view, one of your important achievements as the RBI governor was showing the courage to set out on a long-drawn battle to control inflation even at the cost of risking growth by keeping interest rates steady for a prolonged period before you began the rate easing cycle.
During your tenure, for the first time, the RBI shifted focus to a retail-inflation-focused monetary policy approach. As I remember, until then, the wholesale price inflation (WPI) was the primary price indicator the RBI used for policy formulation. I'm excited to note that the consumer price index inflation (CPI) has eased substantially since then from 9.84 percent (old series) in September, 2013 (when you assumed charge as RBI governor) to 5.61 percent in last December.
Similarly, the WPI too has been in negative zone for 14 consecutive months. For sure, checking the high food inflation (which was last logged at 6.40 percent) continues to be a concern to the RBI and my government. But, I'm sure that with your support and policy guidance, my government is confident to arrest the spike in food prices with a combination of due supply-side measures and monetary policy adjustments.
My government has always strived to restore the investor confidence in the economy lost during the UPA years ever since I took over. But, I must confess that I haven't had much luck to date. It was, and still is, a major task to me to convince international investors that things have indeed changed for good in India and the country is the best available investment option for them in today's world. You would remember that during my recent visit to the UK, I highlighted this aspect.
"At this point of time, it is wiser to be in India," I told a group of industrialists at Guildhall, offering them my personal care in making their dreams a reality.
Many described me as a seasoned salesman for hard-selling the India story to the world by making several foreign trips. But, Raghu, as you would understand, these trips have helped us to change India's image in the outside world (yes, it has). I knew all those time that we have one of the most stable financial systems and conducive macro-economic conditions in the developing world to build a growth story and I gratefully remembered you and your team at the RBI for carefully calibrating the policy steps to create such an environment.
Dear Raghu, do know that my government has tried our best to bring in the 'achhe din' to the economy that I promised during the election days. I'm proud to look back and tell you with confidence that my government has indeed achieved several progressive reforms steps on financial inclusion-front — Jan Dhan Yojana, making the process of doing business easier, rationalising subsidies, encouraging foreign investment through relaxation in foreign direct investment rules and encouraging domestic entrepreneurship with my flagship schemes like 'Start-Up India, Stand-Up India'.
But, as you know, creating this high growth environment through big-bang reforms is still a work in progress. On crucial reforms such as the passage of GST, my government hasn't been able to do much even after 20-months of this government's rule, I must confess.
As you know, a warring opposition is the curse of any proactive, pro-growth, pro-business government. As I myself have pointed out in the past, the Congress party's obstructionist attitude has been disappointing to me especially given that my government needs their support in the Upper House, where our numbers are painfully low. I wish things will change in the next few years and we will have sufficient numbers to get the crucial reforms done, even without the support of Congress-party.
Raghu, I am also aware that we had difference of opinion on many critical issues, including on some of the initiatives launched by my government in the last one-and-half years. You have commented, cautioned, warned and criticised some of our policies in public forums, in turn, feeding the controversy-hungry media to celebrate the headlines for days on end. I remember you warning  me about the rocket-speed pace of implementation of Jan Dhan Yojana, raising doubts about the direction of Make In India , the need for tolerance  in the country and when you cautioned my government recently on fiscal deficit driven growth.
I fully understand and appreciate the constructive criticism from one of the brightest minds in the world economic landscape though some of my colleagues in the government seem to have developed uneasiness about your comments on growth and interest rates and in the running of fiscal policy . But, I have least doubts about and clearly sense your good intentions for the larger good of our economy and its long-term stability and growth.
Dearest Raghu, let me once again wish you, as the Prime Minister of this great country and in my personal capacity, on your birthday. Your vast experience in the areas of academics, economics and central banking have contributed immensely to our economy and I would go one step further to wish that one day you will join my government at some point to set right some of the crucial areas we are still struggling to deal with. It will be a great honor for me and my government to have you in my cabinet, in the larger good of our country.
Wish you many many more happy birthdays.
With best regards,
Narendra Modi
Editor's note: The first sentence in the article has been reworded to say "over the last two years" and not ever since Modi took over as PM.
Updated Date: Feb 05, 2016 09:50 AM