SBI boss Rajnish Kumar says new insolvency code has sparked 'paradigm shift in creditor-debtor relationship in India'
State Bank of India chairman Rajnish Kumar said India's newly minted Insolvency and Bankruptcy Code is the reform with maximum bite among many groundbreaking economic reforms that have unfolded under the Modi government.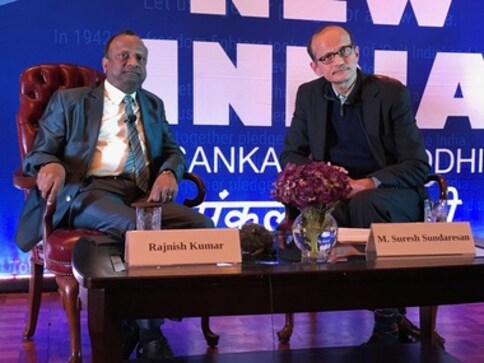 New York: State Bank of India chairman Rajnish Kumar said India's newly minted Insolvency and Bankruptcy Code (IBC) is the reform with maximum bite among many groundbreaking economic shifts that have unfolded under the Narendra Modi government. "We've seen the best results in the steel sector", he said, speaking at an hour-long fireside with Columbia University professor Suresh Sundaresan as part of the New India lecture series at the Indian consulate in New York in uptown Manhattan. Kumar spoke about the effect of US Federal Reserve decisions and oil prices on India's capital flow, the weakening rupee, IL&FS, the risks of shadow banking and opportunities for collaboration with fintech companies "because they have the innovation and we have the scale". Kumar, who took over as SBI boss exactly a year ago, is currently traveling in the US East Coast.
Below, we bring you excerpts from the Q and A:
Suresh Sundaresan: The US Fed Reserve is on course to increasing the policy rate, there's been pressure on US treasury...10 year yield going above 3.2% which is an all time high. How does US Fed policy influence the Indian economy and SBI's outlook?
Rajnish Kumar: Rise in US yield has created some reverse flow of capital and that has affected exchange rates in India and the yields there, automatically. Couple this with oil prices increases have been pretty sharp - these two major global factor are impacting the flow of capital into India. RBI has taken some measures to keep the market attractive for foreign , relaxation in FDI guidelines, investment in bonds and norms for external commercial borrowings too. This is a global pheomena, India is no exception, it's also nothing new.
Sundaresan: Now that the rupee is weakening, what is the extent of worry about how ECBs are hedged? IS there a worry that corporates who have borrowed in Euros and USD may struggle to repay?
Kumar: As far as the hedging is concerned, almost 5 years ago, the onus was shifted on the banks. We became responsible for corporates hedging their currency and if they didn't, it fell on us to make additional provisions. Automatically, when the banks became exposed to a cost if corporates did not hedge, corporates were forced to hedge at least to the extent of 80% if not a full 100%. So, it's not a big concern right now. Even for ECBs, maturity has been 5 years and above - all with an eye to managing external debt. Pressure from corporates' external debt can hurt any economy and we've all learnt from the past. So, we're in a much better position to handle the risks of current movement in the exchange rate on account of movement in oil prices.
Sundaresan: In the US, bank lending to corporate sector accounts for only 20% of corporate borrowing. IL &FS recently had serious problems and the government had to intervene. How could trouble in the the shadow banking sector in India potentially affect the economy? 
Kumar: This is the hottest topic right now in the Indian banking and financial system. IL&FS was a unique institution in that they were in infrastructure financing and construction. It is an EPC contractor, holds the assets and finances - a 3 in 1 combination business. Any bank or institution in infrastructure finance has trouble in India. Infrastructure, particularly the BOT model, has caused a lot of trouble even to us. Also because it is an NBFC, it has had a contagion effect. Because of the IL&FS default, there's pressure on mutual funds. The corporates who were providing liquid funds to mutual funds have taken a step back, the MFs have become cautious about their investments. Many companies where there is a lightest doubts about credit quality - they are having trouble. I believe it is a matter of time - a couple of weeks before things return to normal. We're not making any direct purchases from ILFS. We are mostly making purchases from NBFCs who are mostly into retail. Priority sector is preferred but we are open to buying even non-priority loan portfolio In terms of size, this is just 2% of SBI advances, it's not a big number.
Sundaresan: Reform of the insolvency code has given significant power to the creditor. In effect, it is empowering banks who are creditors to corporate borrowers. How has this evolved?
Kumar:  Insolvency code, introduced in 2016 - I consider it the most significant reform that the current government has carried out. It's a new law, a new process, so obviously, there are some issues around how the provisions of the code are interpreted. The existing promoters - it is very hard for them to believe that there is a law and a real threat of them losing control of the business. It's never happened before. That's where the fight is, but this was all very badly needed. Many in the first set of 12 cases have been resolved. Our biggest case is under resolution as we speak. Only today, the letter of intent has been issued by the committee of creditors. For the steel sector, it has worked very well for the bigger plants where lenders have been able to recover a good amount of money. This was helped by two factors - there's a turnaround in the Indian steel sector and the quality of the plant, machinery and infrastructure was of a very good quality and that's how it has generated a lot of interest among potential buyers. There have been amendments in the IBC. It will take a little time before the law gets settled. Going forward, the litigation will come down and the resolution will happen within the given time frame of 180-270 days. There were many chronic cases that got referred. For this process to succeed, it is important that these cases are referred at the earliest sign of trouble. Definitely there's a paradigm shift in the creditor-debtor relationship in India.
Sundaresan: When the creditor's hands are strengthened, behaviour of the borrowers would change. Are you seeing that?
Kumar: It has already happened. Before the code came into being, borrowers would say this is your NP  - that sentence has disappeared. Once an account became NP, borrowers would behave like it was the bank's problem but that has changed. Now, borrowers are coming forward and trying to resolve. As a potential weapon it (the IBC)  works very well but we have to be careful in using it as such. The threat works much better than the actual resolution.
India
Elections in the Bharatiya Janata Party (BJP)-ruled Gujarat are slated to be held by the end of this year
Politics
TMC leader Madan Mitra has courted controversy by claiming that those involved in violence and attacks on police during BJP's recent march to the West Bengal secretariat can be 'taught a lesson in just 10 minutes'.
India
Amit Shah will reach Jammu on September 30, address a rally in Rajouri on October 1, arrive in Kashmir the same evening and then address a rally in Baramulla town at 11 am on October 2