Right or Left? Home or away? The time has come for India to talk double-edged tech nationalism
Can a nation of one billion people build a global tech giant even as new frontiers of technology arrive?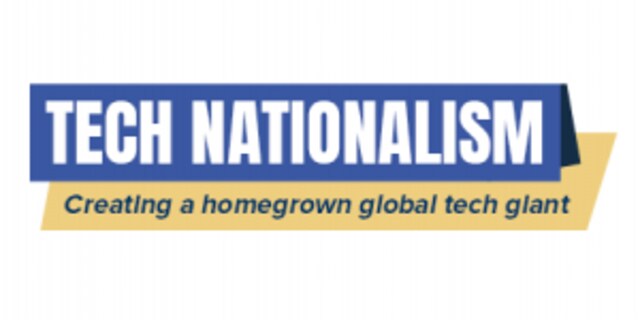 Editors note: As India stands at the cusp of a new era in economic growth, it is time to ask a big question: Can a nation of one billion people build a global tech giant as new frontiers of technology arrive? The answer involves understanding global economic dynamics, innovation, ownership, management, competition, regulation, finance and intellectual property rights. Firstpost will publish a series of stories, beginning today, that will seek to address these issues in a manner that helps entrepreneurs, policymakers and ordinary citizens understand what it takes to reach new highs without losing one's ground in a world where threats are as real as opportunities. Here's the first piece in the series:
Twenty years ago, globalisation was the flavour in India as the country slowly shed its inward-looking Nehruvian Era outlook on the economy. The US was then globalisation's leading evangelist. Things have changed. This season seems to be one in which even technology explosion is viewed with a protectionist mindset. US President Donald Trump has just rejected a bid by Singapore-based Broadcom to acquire wireless chip-maker Qualcomm on grounds of national security because it may slow down 5G technology investments by Qualcomm in the race with China's Huawei.
In India, a video by media entrepreneur Raghav Bahl going viral says policy-makers are half asleep as startups like online retailer Flipkart, Ola Cabs and mobile money leader PayTm are essentially controlled by Chinese entities such as Alibaba and Tencent, New York-based Tiger Global and/or Japan's Softbank because the private equity investors own the stakes that determine voting power – although the smart guys who founded these companies try their best not to be tied down by a dominant investor.
There is a problematic situation because Indian entrepreneurs need capital to build their businesses, and if the colour of money is any indication, defensive policies may be needed to fortify them as they build giant "unicorns" (billion-dollar valuation companies). Options to do this include China-style regulatory bulwarks and capital controls, separate classes of equity that will offer economic ownership but less voting rights to foreign owners. India can also consider regulatory intervention on senior management appointments (as it has done in the case of media companies in the past).
However, one problem remains: he who pays the piper calls the tune or at least sets the tone. Typically, smart startup founders get rich fast because they get high valuations from venture capital companies that pump in big amounts. But this, in turn, is tied to milestones and/or effective management control. Online retailer Flipkart is going through a not-so-quiet management churn  with co-founders Sachin and Binny Bansal for all practical purposes having gone hands-off as Kalyan Krishnamurthy, seen as hedge fund Tiger Global's blue-eyed boy runs day-to-day operations amid an exodus of senior managers of the kind Bansals favoured.
Is this becoming a case of "Our Indians" versus "Their Indians" as the likes of Amazon, Alibaba, Tencent, Facebook and Google hire local talent even as effective control stays in non-Indian hands? It seems so. But it is better to view it as a management issue in the pursuit of profit in which neither the colour of the people nor the colour of money matters.
Deeper questions lurk beyond: Why should be we be nationalist when the world is shrinking? How do we ensure fair competition and effective regulation of competition? What kind of a company is truly "Indian" -- is it in control, employment or the creation of intellectual property held by Indian entities?
Let us take two companies: Infosys and Zoho. IT services giant Infosys is considered an Indian company but if you look at the stakes held by foreign institutional investors (FIIs) or overseas entities, it is not even 50% Indian. On the other hand, Chennai-based Zoho, which is not discussed often enough in Indian media, is a world-class cloud-based software product company that sells worldwide to 30 million users and competes with the likes of Microsoft and Oracle. It has intellectual property of the kind India can be proud of and a catchy tagline, "Made In India, Made For the World." Its CEO sits in the US but most of its 5,000 employees are in Chennai and it has even opened a software centre in rural Tamil Nadu.
Reliance Jio, a new digital age Internet services provider, is Indian in ownership as it is controlled by Reliance Industries Ltd but is not really a global player. Google, Amazon, Facebook and Reliance Jio are all changing the lives of ordinary Indians for the better by empowering them. Or else, they are creating millions of jobs in India for everybody from research scientists to app developers and e-commerce delivery girls.
Should ownership be an issue at all when hundreds of millions of Indians get better lives? Is Digital India about homegrown tech giants or is it about technology-empowered lives in backward districts?
India needs to be a fair player in the world market -- but not a fool. It can and should build its own multinationals. Zomato is one already, even though it is a startup, with a presence in 24 countries. On the other hand, India needs to be on the guard against those who may use financial muscle to stifle competition. Ola and Flipkart moan about the need for a level-playing field and "capital dumping" -- a not-so-discreet potshot at Amazon and Uber, even as Flipkart holds talks to sell stakes to the original American retail giant, Walmart, which wants to charm the Indian market. ANI Technologies, the company that owns Ola Cabs, recently entered the Australian market, even as it takes on Uber in India. Telecom giant Airtel is a big name in Africa, though it faces the biting pressure of Jio in the domestic market.
It is time for us to take stock of technology nationalism so we know the hows and whys of cultural pride on the one hand, and socio-economic welfare and capital efficiency on the other.  The answers are not easy. The questions are tantalising and challenging.
The author is a senior journalist. He tweets as @madversity.
Part 2: Facebook crisis holds lessons for India and Aadhaar: we need multi-pronged regulation to ensure fair play and innovation
Part 3: Visionaries or 'employeepreneurs'? India's tech unicorns hide weaknesses that deserve a hard look
Part 4: Tech nationalism is a complex game; a 'swadeshi index' may support the right Indian startups
Part 5: Tech needs a MAD formula: It is time for India to make the transition from 'dukandar' to disruptor
Part 6: True tech power comes from harvesting patents: ISRO, Cipla and Biocon show the way for future entrepreneurs
Part 7: Engineered in India: Technology transformation must provide solutions for sustainable development
Business
The Paytm Transit Card will help users to make easy payments in public places and for public transport facilities
India
The pace at which 5G innovation in India has progressed over the past few years is remarkable
News & Analysis
You can quickly determine which websites have access to your information and easily withdraw those permissions at any time.