True tech power comes from harvesting patents: ISRO, Cipla and Biocon show the way for future entrepreneurs
Is there an entrepreneur out there who has the money and the audacity to gamble on a new future? India could do with some audacious private entrepreneurs.
Editors note: As India stands at the cusp of a new era in economic growth, it is time to ask a big question: Can a nation of one billion people build a global tech giant as new frontiers of technology arrive? The answer involves understanding global economic dynamics, innovation, ownership, management, competition, regulation, finance and intellectual property rights. Firstpost is publishing a series of stories that will seek to address these issues in a manner that helps entrepreneurs, policymakers and ordinary citizens understand what it takes to reach new highs without losing one's ground in a world where threats are as real as opportunities. Here's the sixth piece in the series.
It was the legendary hotelier Conrad Hilton, who, when asked about what makes for a great property, said: 'location, location, location.' If a question was asked about what makes for a great technology company, the answer might be: 'patents, patents, patents'.
As Indians dream of a day when their country could produce a leader in technology in the league of a Pfizer, a Qualcomm or an SAP, the key point to remember is that any company that uses high-technology does not become a technology company. Tech has become so mainstream and across-the-board that real winners rely on life-changing or world-beating inventions, discoveries or intellectual property that sets them apart -- with the additional power of a head-start that truly original IP rights enjoy.
But it is important to remember that every country must pass through various stages of growth, and only when the risk of investing in research and development that produces truly original technology becomes affordable can things really move.
India, surprisingly and somewhat controversially, invested in higher education, in institutions like the Indian Institute of Technology (IIT) in the 1950s and 1960s. It also set up a slew of laboratories under the Council for Scientific and Industrial Research (CSIR). These are the kind of places that produce research that yields patent power. But the flip side of the government's ability and foolhardy courage to invest in such institutions is that public research and private investments are not properly harmonised in India. Long-term research orientation and large-scale investments must come together to produce world beaters in technology.
Patents, of course, need not be the only way out. The so-called 'reverse engineering' of technologies perfected elsewhere by the clever use of loopholes and opportunities in patent laws can produce world leaders in what I call 'Tier 2' innovation. Or we can look at institutions that produce high-end technologies and also implement them in a cost-effective way to provide a global footprint.
In the former category, we have India's Cipla, the pharmaceutical giant that shook multinationals by offering 'copycat' versions of anti-AIDS drugs at a fraction of the price that global giants charged. In the latter category, we can look at Antrix Corporation, the commercial offshoot of the Indian Space Research Organisation (ISRO), which has become a launchpad company for satellites thanks to a combination of modestly paid scientists, nationalist passions, and a huge amount of start-up investments by the government linked to defence and development needs. As a result, India launches satellites at a fraction of what it costs its global competitors.
Public-funded institutions like the Central Drug Research Institute and other bodies have helped in the emergence of globally competitive companies like Ranbaxy and Dr. Reddy's Laboratories in India, though there is a long way to go. There are bold new-age private companies like Biocon, which while making money on export-quality cholestrol-busters like statins, has also invested in drug discovery, combining easy money with high research. Biocon says it has filed over 1,200 patents and holds nearly 1,000 patents.
In information technology (IT) or semi-conductors, we have not seen the kind of efforts that we have witnessed in the pharmaceuticals space. A study by chipmaker Intel and the Indian Semiconductor Association said a decade ago that the 'research potential of Indian institutes is not fully realised due to bottlenecks faced by the academia. These include limited industry support, lack of adequate infrastructure, and shortage of research scholars and faculty. To enhance the level of research, it is essential to create a win-win situation for all key stakeholders. The public-private partnership (PPP) model may yield some answers." As much as 85-90 percent of research support came from the government, it added.
ISRO, thanks to government efforts to launch satellites to serve national interests and defence-related activities like missile building, has enjoyed special support and has also delivered to a great extent. ISRO ranks among the top seven space agencies in the world. However, within that group, it is seen as a laggard in patent filing. India filed only 178 space patents between 2000 and 2014. Still there is no denying the fact that the combination of patents and low costs make Antrix a world-beater, with more potential for growth. India, as the legend goes, spent only $74 million on its Mangalyaan rocket that went to Mars, compared to the $670 million that America's National Aeronautics and Space Administration (NASA) spent on its Mars exploration programme christened MAVEN. ISRO's Mars mission cost less than what it cost to make a space-age Hollywood film like Gravity.
However, as it can be seen from this week's troubles involving ISRO's loss of contact with a heavy-duty communication satellite, the Rs 270-crore GSAT-6A , satellite launch is a high-risk business that requires a whole lot of components and services to come together. The pride and profits may be high, but so are the risks.
For India to truly produce a global technology leader, there is a need to juggle patent-building research with high-risk investments that would likely involve a combination of state support and private enterprise. The former can provide tax breaks and infrastructure and the latter can bring the investments, inspiration and the energy. But, given the history of crony capitalism in India, any public-private venture that involves special state largesse is bound to be looked at with suspicion. A culture of transparency with a culture of research has to be combined properly, and this requires special efforts.
India has only now reached a stage where its global ambitions can move seriously from earning profits to building cutting-edge patents. The path is not easy, and needs careful steps. India could do with some audacious private entrepreneurs of the Elon Musk or Steve Jobs variety if it is to produce a patent-builder. Tesla boss Musk's bets on electric cars and space rockets and Apple-co founder Steve Jobs' passion for high-end gadgets went beyond the call of profits.
The current lot of Indian entrepreneurs seem to be happy getting rich with global money and in some cases, global footprints. Like a space hunter looking for alien life, it is time to ask: Is there an entrepreneur out there who has the money and the audacity to just gamble on a new future? And in which technological field can one possibly envisage such a future?
(The author is a senior journalist. He tweets as @madversity)
Read the previous parts of the series here:
Part 1: Right or Left? Home or away? The time has come for India to talk double-edged tech nationalism
Part 2: Facebook crisis holds lessons for India and Aadhaar: we need multi-pronged regulation to ensure fair play and innovation
Part 3: Visionaries or 'employeepreneurs'? India's tech unicorns hide weaknesses that deserve a hard look
Part 4: Tech nationalism is a complex game; a 'swadeshi index' may support the right Indian startups
Part 5: Tech needs a MAD formula: It is time for India to make the transition from 'dukandar' to disruptor
Part 7: Engineered in India: Technology transformation must provide solutions for sustainable development
Subscribe to Moneycontrol Pro at ₹499 for the first year. Use code PRO499. Limited period offer. *T&C apply
News & Analysis
Qualcomm says that the first devices to get the new technology will be a Xiaomi smartphone and a device by Audio-Technica.
India
The government's capping of the vaccine price at private hospitals comes at a time when India is preparing to vaccinate people aged above 60 years and those over 45 with co-morbidities from tomorrow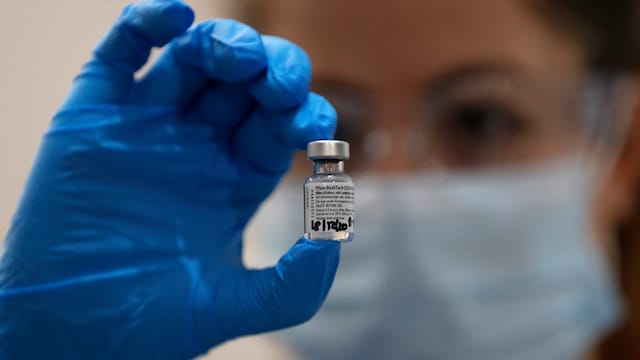 World
The vaccine was found 92 percent effective at preventing severe disease after two shots and 62 percent after one.