Ola Cabs lost Rs 6 cr every day in 2015-16 due to heavy ad spend, staff cost
Ola's employee-related expenses rose over five-fold to Rs 461.60 crore; its advertising and promotional expenditure zoomed to Rs 437.89 crore from Rs 99.84 crore in 2014-15
New Delhi - SoftBank-backed cab aggregator Ola posted a consolidated loss of over Rs 2,311 crore -- about Rs 6 crore a day -- during fiscal 2015-16, on account of heavy advertising and promotional expenses and high employee cost.
The Bengaluru-based firm, which is locked in an intense battle for leadership with US-based Uber, has seen its losses widen about three times from Rs 796.11 crore in 2014-15, Ola said in a filing with the Ministry of Corporate Affairs.
ANI Technologies -- which runs Ola -- did see its revenues registering a stellar growth at Rs 758.23 crore during 2015-16 compared to Rs 103.77 crore in the previous fiscal.
Emails sent to Ola remained unanswered.
Anchal Agarwal, co-founder of research and analytics firm Tofler, said while the absolute amount of losses have indeed widened, the loss margin has "reduced considerably".
"They spent almost Rs 8.5 for every rupee earned in 2014 -15. That number is down to almost Rs 4 for every rupee earned for 2015-16. With the pull-back in incentives etc in recent months, it is possible this has now dropped to levels at par with e-commerce companies that spend roughly Rs 2-3 for every rupee earned," she added.
The consolidated numbers include financials of ANI Technologies, Ola Fleet Technologies (leasing business), Serendipity Infolabs (Taxi For Sure) and Zipcash Card Service (46 per cent ownership).
In August 2016, Ola shut down the TaxiForSure (TFS) business, about 18 months after acquiring the rival for $200 million.
As per the filing, Ola's losses were widened on account of employee related expenses rising over five-fold to Rs 461.60 crore in the said fiscal from Rs 85.16 crore in 2014- 15. Similarly, Ola expanded its advertising and promotional expenditure to over Rs 437.89 crore in 2015-16 from Rs 99.84 crore in the previous year.
Both Ola and Uber have loosened their purse strings to bring more riders and driver partners on board, offering them discounted rides and incentives, in a bid to wrest control of the lucrative Indian market.
Over the last few years, the explosion of smartphones in India -- the world?s second largest telecom market in terms of subscriber base -- has made it more convenient for consumers to book a cab on the go through apps and secure payment options.
Companies like Ola and Uber have made booking a taxi ride as easy as a couple of quick taps on the phone screen.
Since ANI Technologies is not a publicly-traded company, it is not obligated to disclose quarterly performance. It has raised investments of over $1.5 billion from investors, including SoftBank Group, Tiger Global, Matrix Partners, Steadview Capital, Sequoia India, Accel Partners US and Falcon Edge.
In November, Ola raised about $250 million from SoftBank, albeit at a lower valuation of $3 billion (compared to $4.5 billion earlier). The company's board has recently approved a proposal to raise another $100 million from investors, which it said would be "primarily to fund its expansion plans".
Ola, which has a presence in 110 Indian cities compared to Uber's operations in 29 cities, has been aggressively expanding its portfolio of services. It has a number of offerings like Micro (affordable), Mini, Prime (sedan), Lux (luxury), Outstation, Share (shared rides), Auto, Rentals, Shuttle (buses) and e-rickshaw.
Ola, which claims to have over 6,00,000 vehicles across cabs, auto-rickshaws and taxis, is also placing big bets on new technologies like electric vehicles to stay ahead of competition.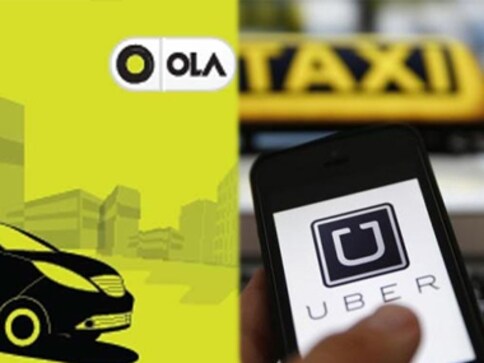 Business
By persistent lobbying they have admitted that all that keeps them running is dollops of cheap capital on a regular basis
News & Analysis
Ola and Uber in India have massive financial backing from funds. But that too at times may not be enough; not for the rider but for the driver.
News & Analysis
Ride-sharing services from Ola and Uber are now facing a ban in Karnataka. The state's transport commissioner insists that the service is illegal.