Many LPG consumers back in subsidy net: Will Modi's call to give up food subsidies appeal to more Indians?
Clearly, the "Give-it-up" appeal by PM Modi is slowly losing its charm – if prices rise further, more people could opt back for the subsidized cooking gas cylinder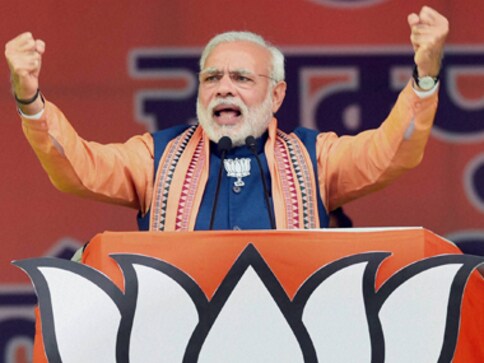 New Delhi: Such has been the sway that Prime Minister Narendra Modi has had over the electorate that often in speeches or the weekly radio address, he urges millions of admirers to do their bit for the country - whether it be keeping their surroundings clean, cutting down on wastage of precious resources or surrendering privileges to prioritise the poor and the needy. All this, in exchange for a clean, efficiently run, focused-on-delivery government.
It will be interesting to observe if the prime minister will again demand a similar sacrifice from the believers to give up taking subsidised rice, wheat from ration shops. The Centre has once again written to state governments on a 'give-it-up' scheme for PDS commodities. This would be a bold gamble and far tougher to implement than previous such schemes, given the scale of the food subsidy scheme and problems in identifying intended beneficiaries. MoS Consumer Affairs C R Chaudhary had told Rajya Sabha on 31 March this year that despite the Centre writing to states on a give-it-up scheme for TPDS (targeted PDS) no response had been received from any state on the issue. Will the Centre be second-time lucky?
Anyway, this is reminiscent of the 'give-it-up' campaign earlier used for subsidised LPG cylinders. As per news reports, consumers who are not below the poverty line and therefore do not need the subsidised rice and wheat, would now be asked to voluntarily give up these commodities.
A Financial Express report says the Centre has written to the states to first begin displaying the actual cost of rice and wheat at the roughly 5 lakh fair price shops across the country so that consumers become aware of the quantum of subsidy. And then, those who can afford to give up the subsidy would be asked to do so under the Targeted Public Distribution System (TPDS). The Centre spends Rs 21.09 per kg and Rs 29.64 per kg respectively as subsidies on wheat and rice currently, the FE report said.
Remember, Modi had launched a personal appeal to those who were taking subsidized cooking gas cylinders last year, saying they should give up the subsidy to help the really needy. His appeal had resulted in about a crore Indians (out of the roughly 17 crore households which used this subsidy) to give it up.
Will the same rate of success be achieved with foodgrains? Within a year of voluntarily giving up LPG subsidy, more than one lakh consumers have said they want the LPG subsidy back as prices of the cooking gas cylinder has been rising. In a written reply in Lok Sabha, Petroleum Minister Dharmendra Pradhan said LPG consumers who give up their LPG subsidy have an option to switch back to availing the subsidised cylinders after one year of giving up their subsidy. His reply earlier this month revealed that 112,655 consumers ( as on 1 April, 2017) have taken the subsidy again for LPG, one year after giving it up. Maharashtra tops the list with the highest number of consumers opting in at 22,984.
If LPG consumers are coming back into the subsidy net, what is the guarantee that volunteers giving up cheap rice and wheat will not float back into the system soon enough? Anyway, identifying the intended beneficiary of the government's food largesse remains a gigantic task, since ration cards are also with the non-BPL families who may not buy subsidised foodgrain but also do not surrender these cards.
The spurt in non-subsidized LPG prices is to blame for volunteers coming back to the subsidy net, The Deccan Chronicle report says. A non-subsidised LPG cylinder was around Rs 470 in Delhi in September 2016. This was just approximately Rs 50 more than a subsidised cylinder which was then priced around Rs 420. "By April 2017, a non-subsidised LPG cylinder cost around Rs 725 in Delhi against a subsidised LPG cylinder which is at around Rs 440", the report says. Clearly, the "Give-it-up" appeal by PM Modi is slowly losing its charm – if prices rise further, more people could opt back for the subsidized cooking gas cylinder.
Now, what about foodgrain subsidy? Experts say the 'give-it-up' campaign may not be the ideal way of lowering the subsidy bill or plugging huge leakages in the system. Madan Sabnavis, Chief Economist with Care Ratings told Firstpost, "To my mind, every tax paying Indian is entitled to subsidies including food subsidies. But if the government wants to plug leakages in TPDS, it could ask above-BPL families to surrender their orange ration cards. This would curb leakages to some extent but not entirely".
Sabnavis said excluding people (from subsidies) based on income will be a logistical issue "as it is hard to link income with state of BPL – the former is based on self-declaration".
Meanwhile, several other steps have also been taken by the government to plug leakages in the PDS such as seeding Aadhaar cards of ration card holders besides installing electronic point of sale (e-PoS) machines at fair price shops, the FE report says. The Centre's food subsidy budget has increased 61 percent to Rs 1.45 lakh crore (budget estimates) for the current fiscal from Rs 89,740 crore in 2013-14.
An analyst tracking the PDS scheme said leakages under the PDS scheme could be anywhere between 25-40 percent and the 'give-it-up' scheme may plug only a portion of this.
Politics
Leader of the House in Rajya Sabha, Piyush Goyal, said it is not the government but the opposition that is running away from a debate in Parliament
India
Congress said the government did not have a legislative agenda and though it listed 32 bills at the start of the session, it managed to pass only seven in Lok Sabha and five in Rajya Sabha
Politics
During the 10 sittings so far, the Rajya Sabha functioned for 11 hours 8 minutes out of the scheduled 51 hours 35 minutes, losing 40 hours 45 minutes due to disruptions and forced disruptions, the RS Secretariat said