#Jio signs up with RCom for spectrum: How it will impact digital communication in India
In the run up to its nationwide launch, Jio has signed a strategic partnership with Reliance Communications that grants it access to a rich pool of spectrum in the 800 and 1800 MHz band.
In 2010, Jio acquired spectrum in all 22 circles in India in the 2300 MHz band. Similarly, it added spectrum to its existing inventory in tranches, beginning with 14 circles in the 1800 MHz band last year and 800 MHz band across 10 telecom circles in India.
Despite having access to spectrum in the 2300 MHz band across all circles, the reason Jio needed to acquire spectrum in the 800 and 1800 MHz band are the limitations due to signal attenuation inherent in the 2300 MHz frequency range.
By nature of signal propagation and wavelength characteristics, the 800 MHz band can easily propagate through multiple wall structures, and vegetation that are typical of cities and towns with sizeable populations. In contrast, the distance propagated through the 2300 MHz band is significantly lower, mostly less than a kilometer.
In a typical telecom network, voice conversations (phone calls) are handled via a circuit switched network that creates a dedicated channel depending on free channels and system bandwidth to complete a call.
Similarly, data services (including OTT services such as Facebook and WhatsApp) are routed through a packet-switched network which provides a gateway to the connected world of the internet.
4G-LTE services offered by operators such as Jio bring in voice services and conventional telecom services through an ultra-high speed packet switched infrastructure. Effectively, voice calls could be offered through an efficient data network. A true-4G network offers VoLTE and VoWi-Fi enabling seamless calls over a network, with a call seamlessly switching between the operator and Wi-Fi.
Since the Jio network implements latest 4G LTE technologies, it also faces the challenge of legacy support for consumers using 2G and 3G devices. There are two ways Jio has dealt with this problem.
The strategic partnership with Reliance Communications enables Jio to offer connectivity to its subscribers where network could be restricted in rural India.
Similarly, the RCom network could offer high-speed 4G LTE services, enabled via the Jio infrastructure. Also, intra-circle roaming agreements with Reliance Communications, enables seamless coverage to compensate for areas where the Jio network isn't readily available.
Post this agreement with Reliance Communications, Jio now has access to the 1800 MHz band in 18 telecom circles, 800 MHz band in 17 circles, and 2300 MHz band in all 22 telecom circles.
This spectrum sharing and changing pact between Jio and RCom will impact both the competition and the consumer. As the latest entrant to the digital space, Jio would have had to build from a zero customer base against the likes of Airtel already sitting on a 22 crore subscriber base.
Now Jio will be able to access the existing subscriber base of RCom, which stands at 118 million, levelling the marketplace to some extent. For the consumers, this arrangement will mean that they can access Jio's 4G-LTE digital services almost anywhere in the country giving it an edge over existing telecom companies whose 4G footprint is, as of now, extremely limited.
Disclaimer: Reliance Jio is owned by Reliance Industries which also owns Firstpost and Tech2
India
The pace at which 5G innovation in India has progressed over the past few years is remarkable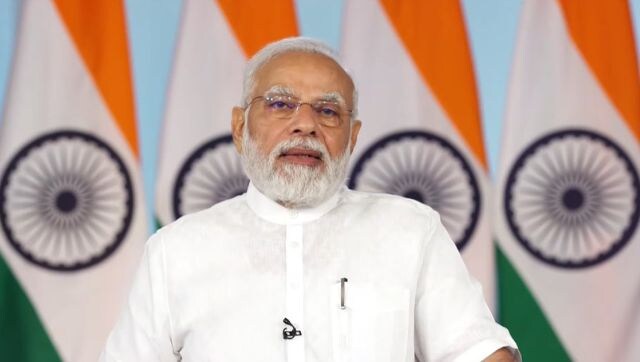 India
Ushering in a new technological era, Prime Minister Narendra Modi will launch 5G services at Pragati Maidan in New Delhi on Saturday.
India
Akash Ambani, who recently take over as Chairman of Jio Infocomm's board, the digital division of Reliance industries, gave the Prime Minister a short walkthrough of the 5G technology to be used in Jio phones and what it would look like to use data at ultra-high-speed come December