ATMs run dry: With cash withdrawals at pre-demonetisation levels, is Modi's digitisation drive facing hurdle?
Supply of cash from banks to ATMs has currently dropped to Rs 6 lakh from Rs 12 lakh per booth on an average before the note ban days.
Withdrawing money from bank ATMs is becoming increasingly difficult for scores of people across the country in recent times, according to reports. This, even after total curbs were removed by the government in March post the demonstisation exercise. Several ATMs continue to dispense little or no cash. The propensity is to display  'no cash' signs more frequently on  ATM monitors.
So, what is the reason for this cash crunch in the ATMs these days? The reason is people have once again started to withdraw huge amount of cash from the automated teller machines of late, so much so that the withdrawals have reached the levels seen before the pre-demonetisation days, The Times of India report said.
As against this, supply of currency from banks to ATMs stood at just 50 percent of the total supply seen before 8 November, 2016, the day when the Narendra Modi government in a bid to squeeze black money from the system invalidated high value denomination currency notes of Rs 500 and Rs 1,000 with immediate effect.
Supply of cash from banks to ATMs has currently dropped to Rs 6 lakh from Rs 12 lakh per booth on an average before the note ban days.
Data from National Payments Corporation of India (NPCI) shows that bank ATM withdrawals exceeded Rs 1 lakh crore last month, almost the same level seen in October 2016 but double the amount in December.
Since the withdrawal cap was removed, average ticket size of each transaction has increased to Rs 4,000, similar to the withdrawals during the pre-note ban days.
"Since the limits on ATM withdrawals were removed, we found the average ticket size of each transaction has risen to Rs 4,000 which is equal to the pre-demonetisation days. The average size was Rs 2,000 between November and February ," TOI report said quoting Loney Antony , managing director of Hitachi Payment Services.
"While demand has crept up, we are receiving only 50 percent of the cash we are demanding from banks which is causing machines to go dry," said Antony.
Another reason for increase in cash usage for transaction purpose is the banks' reluctance to bring down transaction charges through digital platforms. Despite the higher cash usage, transactions through digital platform has picked up significantly over the past few months. In fact, digital transactions increased by about 23 times in March to nearly 64 lakh, with total value of Rs 2,425 crore, from last November when demonetisation took effect.
"Volume of all digital transactions increased by about 23 times with 63,80,000 digital transactions for a value of Rs 2,425 crore in March 2017, compared to 2,80,000 digital transactions worth Rs 101 crore till November 2016," NITI Aayog said in a statement last week.
Aadhaar Enabled Payments have increased from 2.5 crore in November 2016 to over 5 crore in March 2017, the statement said.
Earlier this month, media reports suggested how shortage of cash at ATMs led to chaos in several cities. Faced with repeated messages of no cash at ATMs, there was a rise in cases of people getting angry and resorting to vandalism, the report said, adding that a group of unidentified people vandalised a State Bank of India ATM in the Sangvi area of Pune.
In places like Chennai, people queued up in bank branches to withdraw cash using their cheques after ATMs in the city failed to dispense any cash.
The situation has not improved much, months after the demonetisation exercise and the government's efforts to make digital the prime method of transactions in the country. The problems persist.
India
On 25 November, Ravindra Jadeja conducted a road show to campaign for his spouse Rivaba.
First Cricket News
''Extremely delighted & proud to receive the Guinness World Record for the largest attendance at a T20 match when 101,566 people witnessed the epic IPL final at @GCAMotera's magnificent Narendra Modi Stadium on 29 May 2022. A big thanks to our fans for making this possible,'' Shah tweeted.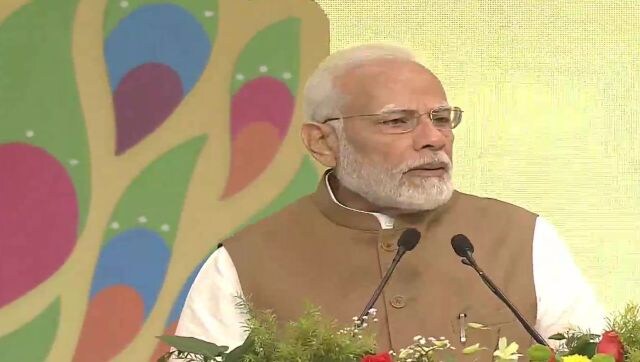 India
In September, PM Modi's carcade stopped to make way for an ambulance en route to Gandhinagar from Ahmedabad