As General Motors stops selling cars in India, 7,500 jobs could be lost, says report
The dealers and staff feel the GM management tricked them into believing that the company had grand plans for India and kept the move a secret
As if the turmoil in the information technology sector is not enough, the auto sector too seems to be bracing for job cuts.
Leading the trend is General Motors, the Detroit-based auto major that announced its decision to stop selling cars in India by this year's end.
According to a report in The Economic Times, the number of jobs that will be lost as a result of this move is 7,000. To be sure, these are not direct job losses but at dealerships.
According to the report, there are 120 outlets/ dealerships selling Chevrolet cars and each has 70-150 staff. So in total it is estimated that there could be about 10,000 people employed at these outlets/ dealerships. Of this, the dealers have told the newspaper, around 7,000 may lose their jobs.
Add to this the job loss at GM India, which is being estimated to be in the 400-500 range, and the total cuts due to the sudden decision by the company will be about 7,500.
The report also says that the GM employees in the Gurgaon head office have been told to find a new job and have been offered 45 days salary for each completed year.
The ET article also says that the dealerships are extremely irked with the company management's sudden decision to stop selling cars in India. They feel that they were tricked into believing that the company had grand plans for the country and kept the move secret.
Meanwhile, GM India said in a statement that it has initiated discussions with its dealerships regarding a transition plan following.
"We have this week begun discussions with our individual dealers about a transition plan that supports them and our customers," General Motors India President and Managing Director Kaher Kazem said in a statement.
The company greatly values the strong partnership it had with dealers over many years, he added.
"We are all working to ensure we put our customers at the center of everything we do," Kazem said.
The company is working directly with its dealers to transition to authorised service outlets and to recognise some of the investments made in dealerships, he added.
GM India said it has committed to honour all vehicle warranties and to provide service and parts to Chevrolet owners well beyond the warranty period.
"We are communicating directly with our customers through our call centre, direct mail and social media channels..if you are a Chevrolet customer you can have peace of mind that you and your vehicle will continue to be supported by Chevrolet," Kazem said.
Allaying fears, he added that the company continues to provide service center support along with 24/7 contact center and roadside assistance for Chevrolet owners.
"GM India is committed to maintaining a service network across key locations in the country with staff trained to take care of all the needs of Chevrolets maintenance and repair," Kazem said.
Last week, the automaker announced its decision to stop selling its vehicles in India by this year end. The company will now focus on exporting vehicles from its manufacturing plant at Talegaon in Maharashtra after it stopped production at its first plant at Halol in Gujarat last month.
With inputs from PTI
Find latest and upcoming tech gadgets online on Tech2 Gadgets. Get technology news, gadgets reviews & ratings. Popular gadgets including laptop, tablet and mobile specifications, features, prices, comparison.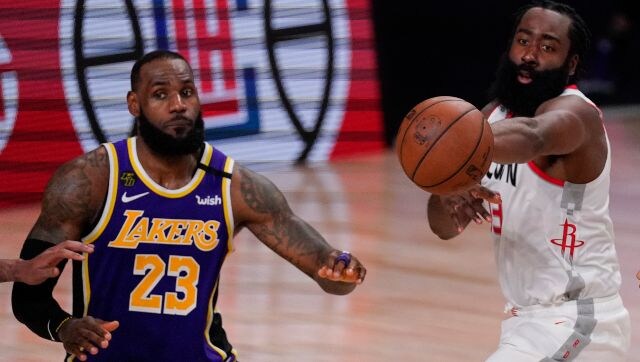 Sports
Harden was due to arrive in Brooklyn on Thursday and Marks believed he could be cleared to play once all the players in the deal had passed their physicals.
Sports
Irving has missed the last five games while away from the Nets for personal reasons. He was seen in a video on social media during his absence at an indoor family party while not wearing a mask.
News & Analysis
Microsoft's Azure cloud and edge computing platform would be used to "commercialise its unique autonomous vehicle solutions at scale."