'The Choice' review: This Valentine's day flick, based on a Nicholas Sparks book, is boring
The choice you should make in life this week is to avoid this movie at all costs.
Everything was going fine. Valentines Day was being celebrated with Archies greeting cards and people went on dates and had a good time. The world was a cute little place. We were happy and excited about new beginnings. We did not expect, nor did we deserve the onslaught of tyranny from the new genre of schmaltzy movies based on the works of Nicholas Sparks. They're being shoved every year down our throats since almost a decade now, and we've had just about enough.
This Valentines Day special actually comes a week earlier, in the form of The Choice, directed by Ross Katz, based of course on Sparks' book of the same. Yet again we have cookie cutter characters coming from different backgrounds suddenly bumping into each other.
Yet again we see the man behaving boorish, smug and condescending towards the woman even though he is clearly attracted to her. Yet again there's a mutual friend who tells the guy that there's something clearly going on. Yet again we see the couple getting together, but then a big problems drags them away from each other.
This time the faceless cardboard characters are given the faces of Benjamin Walker playing Travis Parker, and Teresa Palmer playing Gabby Holland – who predictably fall for each other. In most Nicholas Sparks stories the conflict between the couple is generally 9/11, war, cancer or venereal disease. In The Choice, Sparks doesn't even try anything contrived – this time the couple can't be together because the woman already has a boyfriend. And that naturally becomes an issues because they are so much in love with each other he can't see her with another guy.
The problem with Sparks' movies isn't that they're clichéd, its that they seem like they were written by an angsty twelve year old who is writing instead of doing homework. The resolution of the conflict in this movie is mind numbingly saccharine, and director Katz treats the material with a syrupy orange palette to make things sweet enough to give you diabetes. The tearjerker moments are laughably bad and it becomes all the more amusing to see two grown up character mouthing such bad lines.
If earlier movies based on Sparks' genius like A Walk to Remember, Dear John and The Notebook were kitschy, predictable and illogical, The Choice goes one step forward in terms of ridiculousness. The hero in this film has an on-off girlfriend (Alexandra Daddario) who is clearly much hotter than the heroine, but the hero still likes the heroine more because he sees her in tight bikini dressing. And of course this is established as an 'emotional connection' and not pure lust.
The film's title and tagline are about making choices and how the right choice would be abundantly useful for you in life. The choice you should make in life this week is to avoid this movie at all costs. Hopefully the makers of future Sparks novels would then rethink delivering clunkers year after year. No Valentines Day should either begin or end with a movie so bad.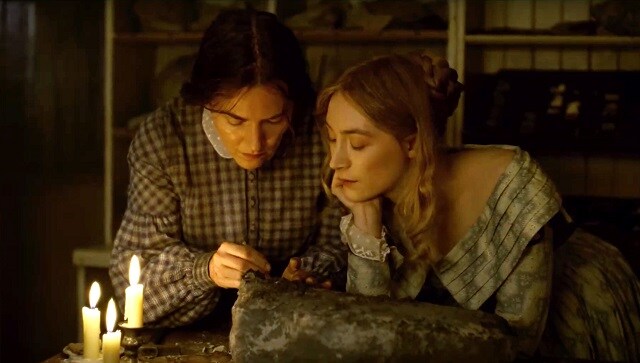 Entertainment
Ammonite suffers from a slowness, that intends to mimic the pace of life, but does not build or culminate into anything profound or satisfying.
Entertainment
Photo-Prem is a funny, quintessential take on what we leave behind for memories but quickly loses potential with half-baked writing and slow pace.
Entertainment
Time to Dance is pulled down by its unexceptional story, prosaic dialogues and colourless performances by the leads