WikiLeaks founder Assange says he will leave Ecuadorian embassy soon
WikiLeaks founder Julian Assange has developed a life threatening heart defect and a chronic lung condition during his years confined to the Ecuadorian embassy in southwest London.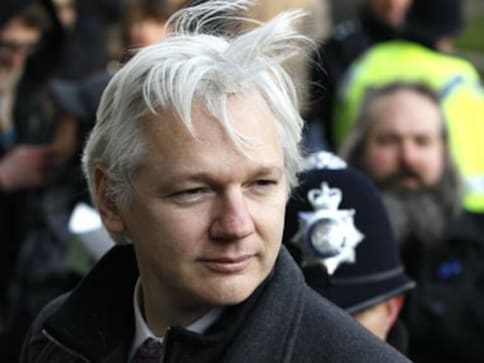 London: WikiLeaks founder Julian Assange today said that he would be leaving the Ecuadorian embassy in London where he has been confined for the last two years, soon.
"I can confirm I am leaving the embassy soon, but not for the reasons you'll read in the Murdoch press and on Sky News," Assange said addressing a press conference at the Ecuadorian embassy. However, he did not elaborate further.
After spending two years holed up inside the central London building, the Australian held a news conference this morning - where he spelled out his move.
"It is often falsely reported that Sweden have accused me of a serious crime of rape. That is false. No woman has done so. I have not been charged with any offence," he said, adding there had been significant misreporting on the case.
"I am thankful the UK is standing up for long-held values of due process, that there must be formal charges placed," he said.
Ecuadorian Foreign Minister Ricardo Patino also reiterated that Assange would continue to get asylum.
"We will continue to grant Assange protection. Two years is simply too long. It is time to free Assange, it is time for his human rights to be respected," Patino said.
The WikiLeaks founder developed a life threatening heart defect and a chronic lung condition during his two years confined to the Ecuadorian embassy in southwest London, according to recent reports.
Widespread reports suggest the WikiLeaks website founder needs hospital treatment for heart and lung problems.
But, under continuing surveillance since he requested political asylum from Ecuador in June 2012 and with police stationed outside the embassy around the clock, he will be arrested if he leaves.
43-year-old Assange is unable to get hospital treatment because he fears he will be arrested by police if he leaves the embassy, The Telegraph reported, citing his supporters.
Assange, whose website WikiLeaks published classified US military and diplomatic documents, has been living inside the Ecuadorian embassy building here, since being granted diplomatic asylum by the Latin American nation in August 2012.
Britain wants to extradite him to Sweden under a European Arrest Warrant for questioning in relation to a sexual assault investigation.
Australia-born Assange fears that from Sweden he will be extradited to the US, where he could face 35 years in prison for publishing classified documents related to the Pentagon's activities in Iraq and Afghanistan on WikiLeaks.
Metropolitan police officers have been stationed outside the embassy since Assange entered the building and have been ordered to arrest him if he attempts to leave, the paper said.
"After two years unable to go outside living within the air-conditioned interior of the embassy, Assange is suffering from arrhythmia, which is a form of irregular heartbeat, a chronic cough and high blood pressure," the paper said, citing WikiLeaks sources.
The sources also said the lack of Vitamin D, which is produced by exposure to sunshine, is damaging his health and could lead to a host of conditions including asthma, diabetes, weak bones and even heightened risk of dementia.
The Ecuadorian embassy has asked the Foreign Office for permission to transport Assange to hospital in a diplomatic car but has received no response, it added.
With inputs from agencies
Subscribe to Moneycontrol Pro at ₹499 for the first year. Use code PRO499. Limited period offer. *T&C apply