US will use military force where necessary to protect Americans: White House
The US will not hesitate to use military force where necessary to protect Americans, the White House has said
Washington: The US will not hesitate to use
military force where necessary to protect Americans, the White
House has said, even as it refrained from going public about
its operations in Syria and surveillance drones over it.
"What we have made clear that is the President, as a matter of policy, will not hesitate to use military force where necessary to protect Americans," White House Press Secretary Josh Earnest said on Tuesday.
"Permanently restoring - or at least restoring on a sustainable basis security to the nation of Iraq and to that
region between Iraq and Syria will require the United States
to use so many other tools in our arsenal. It will require an
effective, inclusive Iraqi government that can unite that
country to face the threat that's posed by ISIL," he said.
"It will require the involvement of other governments in
the region that have a blatantly obvious interest in this
outcome. It will require the involvement of countries around
the world, particularly our Western allies that also have an
incentive to confront that threat that's posed by ISIL."
Earnest reiterated that President Barack Obama has made
no decision about military action in Syria. He also refrained from responding to questions about Obama's permission to fly surveillance drones over Syria as being reported by multiple media outlets.
The Pentagon too did not respond to questions. "This is a serious threat from a serious group of terrorists. We need to stay mindful of doing what we need to do to protect American citizens at home and abroad," Pentagon Press Secretary Rear Admiral John Kirby told reporters.
"We are not going to hold ourselves to geographic boundaries in order to accomplish that job. So without getting into international law, I can tell you, we'll do what we need
to do to protect Americans," he said.
The Pentagon, he said, has been watching ISIL (Islamic
State of Iraq and the Levant) for many months now.
"We recognize their development, their growth, the
increase in their capabilities, it hasn't happened overnight,
and it has happened regionally, that they operate pretty much
freely between Iraq and Syria," he said.
"We're gaining better knowledge in Iraq because we have
been flying more surveillance flights over the country since
we were asked by the Iraqi government to do so and because
we're in better and more frequent contact now with Iraqi and
Kurdish forces. So I think there's a growing sense of
knowledge there on the Iraqi side, but it's mixed," he said.
The US would not take permission from Syria for any
action if the lives of American are at stake, the US State
Department said.
"One of the considerations is certainly the safety and
security of the American people, and our view of threats
facing our homeland and Western interests," State Department
Spokesperson Jen Psaki told reporters.
"When it comes to the interests of the American people,
the interests of the United States, we're not going to ask for
permission from the Syrian regime," he said, adding that
"there isn't a decision that's been made." PTI LKJ
ZH
08271403
NNNN
Subscribe to Moneycontrol Pro at ₹499 for the first year. Use code PRO499. Limited period offer. *T&C apply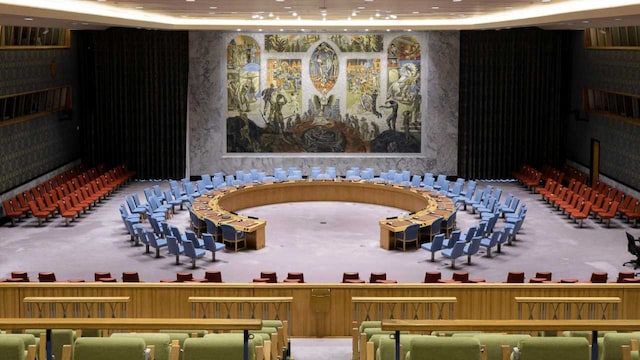 World
The Biden administration's arrival may change the Security Council's dynamics on key issues, according to diplomats.
World
The Pentagon said the strikes were retaliation for a rocket attack in Iraq earlier this month that killed one civilian contractor and wounded a US service member
News & Analysis
Facebook has also banned military-controlled state and media entities, and ads from military-linked commercial entities.