US-led air strikes on Raqqa displaced 1,60,000 people: UN war crime investigators
The United States-led coalition air strikes on Raqqa has resulted in a "staggering loss" of civilian lives with as many as 1,60,000 people being internally displaced, United Nations war crime investigators said on Wednesday.
The United States-led coalition air strikes on Raqqa has resulted in a "staggering loss" of civilian lives with as many as 1,60,000 people being internally displaced even though it could liberate civilians from Islamic State's "oppressive clutches", United Nations war crime investigators said on Wednesday.
"If successful, this offensive could liberate the city's civilian population from the group's oppressive clutches, including Yazidi women and girls, whom the group has kept sexually enslaved for almost three years as part of an ongoing and unaddressed genocide," said Brazilian academic and chairman of the Independent International Commission of Inquiry (CoI) for Syria to the United Nations Human Rights Council (UNHRC) on Wednesday.
He added that the "imperative to fight terrorism must not, however, be undertaken at the expense of civilians".
The Kurdish-led Syrian Democratic Forces (SDF) supported by the international coalition forces have pushed through east, west and north of Raqqa — the de-facto capital of Islamic State — and "is underway to expel the terrorist group" from this crucial city.
This statement from the United Nations investigators comes amidst reports that the US-led coalition is using white phosphorous both in Mosul in Iraq and Raqqa in Syria.
"The use of artillery-delivered white phosphorus by the United States-led coalition fighting Islamic State (also known as ISIS) forces in Syria and Iraq raises serious questions about the protection of civilians," Human Rights Watch (HRW) said in a statement.
"No matter how white phosphorus is used, it poses a high risk of horrific and long-lasting harm in crowded cities like Raqqa and Mosul and any other areas with concentrations of civilians," said Steve Goose, arms director at HRW.
"The United Kingdom-based monitoring group Airwars estimates that more than 600 civilians were killed in more than 150 coalition or SDF attacks between March and May," BBC reported.
"Over the past few months, the Islamic State of Iraq and the Levant (ISIL) lost territory at a rapid pace in northern and central Syria," Pinheiro said.
The de-escalation zones agreed by Russia, Iran and Turkey — the guarantors of the last round of the Astana talks — have resulted in a "discernible reduction" in levels of violence in the zones around Idlib and western Aleppo.
However, hostilities continue unabated in the areas around Homs (held by Islamic State), Damascus and southern Dara'a (held by opposition forces). In these areas, "fighting remains brutal in purpose and reprehensible in method".
Though de-escalation has brought some reprieve to levels of violence, however, there has been "no tangible improvement" in humanitarian aid with only one United Nations convoy being allowed into besieged areas so far this year.
More than 6,00,000 people remain trapped in besieged areas where prolonged and deliberate denial of humanitarian aid continues. Besiegement as a war strategy, cutting off supplies to food, medical supplies and travel, is prohibited under international humanitarian law.
Since eastern Aleppo city was evacuated by the Syrian government in December 2016, similar agreements have been reached by the government and armed opposition forces in nine other besieged areas of Barzeh, Qaboun, Wadi Barada, al-Waer, Tishreen, Madaya, Zabadani, Foua and Kefraya.
However, these evacuation agreements — though "a step in the right direction" — themselves also "raise concerns and in some cases amount to war crimes", the United Nations CoI on Syria opined.
"These evacuations are preceded by years of intentional attacks on civilian infrastructure, denial of access to food and basic medical care, and the denial of fundamental human rights, seriously calling into question the nature of any choice civilians are given to remain or leave," Pinheiro told the UNHRC.
Calling the UNHRC the "voice of conscience in the face of atrocities" the CoI reminded warring parties that only a "durable political solution will bring an end to this conflict".
Syria, as the concerned country, said that foreign governments were giving television interviews even before the Khan Sheikhoun chemical attacks could be investigated. It added that recently released cables show that Qatar and Saudi Arabia were funding terrorist groups. The US-led coalition is attacking civilian infrastructures, the Syrian representative told the UNHRC.
The United States said that the Syrian government is the primary perpetrator of attacks on civilians and that they believe that the regime built a crematorium to get rid of war crime evidence while the European Union asked the matter to be referred to the International Criminal Court and called for all warring parties to allow humanitarian aid.
Bahrein, speaking on behalf of the Gulf Cooperation Council, condemned the "barbaric attack" on civilians "in the pretext of fighting terrorism".
Russia said the work of the CoI "unfortunately" remains skewed where the United Nations investigators condemn the lawful government but the crimes of terrorists are "disregarded" by the commission.
Iraq called for the return of the "neighbouring, friendly country" and appealed to the UNHRC to "stop foreign influence" in the Syrian war.
Ecuador said that it is "greatly concerned" by the surge in indiscriminate violence especially in areas not under the Syrian government's control. "The so-called moderate opposition" are supported by powerful countries that "have a range of interests in Syria that are not necessarily humanitarian", Ecuador said, asking for a political solution that includes the Syrian government.
Find latest and upcoming tech gadgets online on Tech2 Gadgets. Get technology news, gadgets reviews & ratings. Popular gadgets including laptop, tablet and mobile specifications, features, prices, comparison.
World
The 2020 provisional State of the Global Climate report also found temperature averages across the last five years, and across the last 10-year period to be "the warmest on record"
World
The island's facilities are built to accommodate one lakh people, just a fraction of the million Rohingya Muslims who have fled waves of violent persecution in their native Myanmar and are currently living in crowded, squalid refugee camps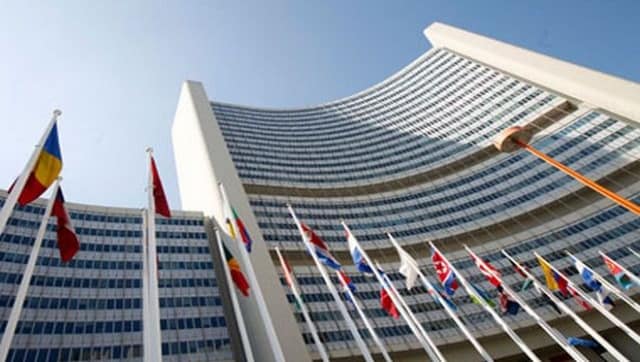 India
At a UNGA session on 'Culture of Peace', India pointed out that UN resolutions on important issues speak only of Islam, Judaism, and Christianity