UN committee questions Pakistan on harbouring terrorist groups, including those in Kashmir
The United Nations is concerned that Pakistan was not "adequately exercising due diligence" to prevent violence by members of extremist groups.
The United Nations is concerned that Pakistan was not "adequately exercising due diligence" to prevent violence by members of extremist groups, while its intelligence agencies had been accused of providing sanctuary to the Afghan Taliban, Haqqani Network, and Kashmir-focused armed groups, a UN committee told Pakistan during the review of its torture record.
"Pakistan intelligence agencies have been accused of providing sanctuary to the Afghan Taliban, to Haqqani Network, and to certain Kashmir-focused armed groups like Lashkar-e-Taiba (LeT) and Jaish-e-Mohammed associated with, I think, the Mumbai events," Felice Gaer, the Rapporteur for Pakistan and the Vice-Chairperson of the UN's Committee Against Torture (CAT) told Pakistan during the country's review on 18 and 19 April.
He also said that Pakistan is "not adequately exercising due diligence" to rein-in terror groups with recently released reports by the country's financial monitoring unit reportedly detailing "how terror groups like these generate funds through criminal activities including kidnapping for ransom."
"Organisations, among them LeT, are reportedly generating millions of dollars annually this way," Gaer said. She cited a report published last year by the UN's Committee on the Rights of the Child (CRC) that said that children are falling victims to sexual abuse by extremist groups, including by the Taliban, and in particular in provinces of the Khyber Pakhtunkhwa, parts of Punjab and Federally Administered Tribal Areas (FATA).​
"Can you provide details concerning cases in which Pakistani authorities have prosecuted members of any of these groups for abduction, sexual abuse and other related offences?" Gaer asked.
The Committee had been presented with very troubling statistics suggesting that the military and intelligence agencies had been implicated in a significant number of cases of suspected enforced disappearances and extra-judicial killings involving torture, the UN expert said.
The delegation was also asked about the number of cases, as well as investigations, prosecutions and sanctions meted out to members of the Inter-Service Intelligence agency who were suspected of being involved in incidents, including the recent abduction and torture of human rights activists who were critical of the military establishment.
Were there any updates on, particularly, four cases that include the case of the missing 24-year-old Zeenat Shahzadi, a local reporter of Daily Nai Khaber and Metro News TV channel, who was pursuing the case of an Indian engineer jailed on espionage charges.
There were 1,200 registered cases of enforced disappearances between 2010 and 2016. Last year, the UN's Working Group on enforced and involuntary disappearances had concluded that there was a "climate of impunity" with regard to enforced disappearances, and that the authorities were not sufficiently dedicated to investigating the cases and holding the perpetrators accountable.
"Credible sources" alleged that Pakistani police regularly use torture and ill-treatment to obtain confessions from witnesses, suspects, and accused persons—the UN is "gravely concerned" about the capacity of the police to carry out their work.
How many cases of alleged torture and "offences ancillary to torture" had been attributed to members of the Pakistan Armed Forces since 2010? How many had led to a criminal or disciplinary investigation, by which authority and how many had led to prosecutions, asked the Committee.
In October 2012, Pakistan's Supreme Court had issued an interim order, which held that there was overwhelming evidence implicating the Frontier Corps, a paramilitary force, in cases of missing persons in Balochistan—the country had failed to prosecute for torture members of the paramilitary troops, Gaer said.
Had there been any inquiry into the responsibility of members of the Frontier Corps for disappearances in Balochistan (that amounts to 1,080 cases according to a source cited by the Committee), including investigations into alleged enforced disappearances of political leaders Shulam Mohammad Baloch, Lula Baloch, and Sher Mohammad Baloch?
How many complaints of torture had been received against members of the Pakistan Rangers since 2010 and what measures had been taken to investigate and prosecute them?
Other issues of concern to the CAT included the persecution of religious minorities in Pakistan, and sectarian attacks such as the one on a Shia procession in October last year that killed 27 persons, as well as the lack of effective action to prevent domestic violence that some 90 percent of Pakistani women faced and so-called honour killings like the murder of Qandeel Baloch, a well-known Pakistani model killed by her brother last year, and the existence of parallel justice systems like the 'jirgas'.
Gaer said that though there are legal safeguards such as the prompt accesses to a lawyer and others, those were not systematically implemented in practice. Moreover, these safeguards provided for in the general legal framework against torture are absent for persons detained under the anti-terrorism act and protection of Pakistan Act.
"Could the Pakistani delegation comment about the situation of Afghan refugees, whose homes and shops were being attacked and destroyed, who were arrested and extorted, or forcefully returned to Afghanistan?" Essadia Belmir, Co-rapporteur for Pakistan and Committee Vice-Chairperson, asked.
"Were the tribal areas an integral part of the territory of Pakistan or did they have a specific legal status?" Belmir added.
These are an "array of concerns" that have been "quite shocking" to the members of the Committee, the UN's CAT noted.
"Why was there such a "stark difference" in the picture of the country when one read the Pakistani government's report to the UN compared to the information received from non-governmental organizations and publicly available sources?" Gaer asked.
In response, the Pakistani delegation said that with regard to military courts, the country was spending more than Rs 100 billion per annum on the fight against the menace of the terrorism and terrorists who to date had killed 30,000 Pakistanis.
The government has launched a large military operation against militants and terrorists, now in its second phase, called, the "anti-disorder" which aimed to stop all those who aided and abated sleeper cells.
New anti-terrorism police units were being created to enable the police to fight terrorism and avoid long-term engagement of the Army and the Pakistani Rangers, the delegation said.
FATA would be fully integrated with the territory of Pakistan on an equal footing with other provinces within ten years, an official told the Committee.
These were some of the responses given by the Pakistani government on 19 April.
The delegation said that Pakistan was before the CAT in a dialogue, and not in a trial, and the government's views must be respected with the same force as those of NGOs. Pakistan needed to be encouraged and not demolished—it deserved to be treated better by the Committee.
Pakistan ratified the UN's Convention against Torture and Other Cruel, Inhuman or Degrading Treatment or Punishment in June 2010. Its first report was due in 2011 but was submitted last year.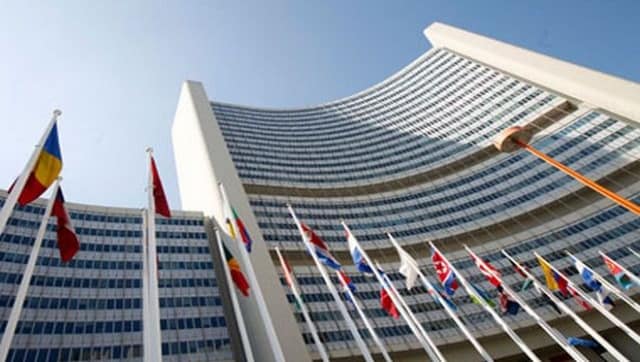 World
The fact that the numbers rose for the ninth straight year was all the more devastating because COVID-19 restrictions had been expected to limit displacement
World
The declaration commits the assembly's 193 member nations to implement the 18-page document, including reducing annual new HIV infections to under 3,70,000 and annual AIDS-related deaths to under 2,50,000 by 2025.
India
Earlier, the high court had directed the Chairperson of the National Human Rights Commission (NHRC) to constitute a committee for examining all cases of alleged human rights violations in the post-poll violence in West Bengal