UN chief Antonio Guterres urges governments to develop protocol for peacekeepers in light of sex crimes
Six peacekeeping missions, including the United Nations Military Observer Group in India and Pakistan (UNMOGIP), had no allegation of sexual exploitation and abuse to report in 2016.
The UN Secretary-General (UNSG) António Guterres has recommended that governments change national legislations and establish on-site court martial proceedings or allow the proceedings to be live-streamed to counter sex crimes among peacekeepers as the number of allegations involving military personnel hit a record high number in 2016 compared to previous years.
A report released by the Guterres last month, titled Special Measures for Protection from Sexual Exploitation and Abuse: A New Approach, to be presented to the UN General Assembly in September, reveals that there were 73 allegations of sexual abuse reported in 2016 involving military personnel, as opposed to 38 allegations in 2015, 24 in 2014 and 37 in 2013.
A total of 103 allegations were recorded last year involving personnel in nine peacekeeping, four special political missions as well as 23 UN staff members, UN Volunteers or contractors, and seven deployed police officers or members of police units.
A total of 280 persons are currently identified as alleged or confirmed victims of the 103 allegations recorded, with a whopping 205 suspected perpetrators.
The UN admits that not all cases of sexual abuse have been reported or have come to the notice of the word body.
Governments have also been "requested" by the Guterres to assess national legislation to determine applicability to sex crimes committed by nationals in service of UN peace operations.
India has been one of the largest — currently, the third largest — Troop Contributing Country (TCC) to UN peacekeeping missions after Pakistan and Bangladesh and has participated in nearly 50 missions. In 2015, India had 7,798 personnel, including 6,718 troops and 1,011 police serving in UN field missions related to peacekeeping.
Guterres "urged" governments to conclude a discussion on the adoption of an international criminal convention, "which may include amending national legislation to permit extraterritorial jurisdiction" for crimes committed by civilian personnel when assigned to the UN or when operating under UN authority. "If adopted, it would be an important vehicle to address impunity and create a pathway to criminal accountability," the report says.
Some countries cannot prosecute citizens serving in the jurisdiction of another country where the crime has been committed. Host countries where peacekeepers and humanitarian aid workers are stationed, on the other hand, have such broken systems that any meaningful investigation and prosecution is rendered unlikely.
Legal boundaries do constrain the UN if it finds troops misbehaving — the maximum it can do is conduct its own internal investigation and refer the findings to the TCC. There is no realistic basis of ascertaining the extent to which a TCC carries out investigations of serious allegations of criminal conduct, as also reflected in the low rate of feedback from the state.
As such, the voices of victims and witnesses recklessly fall through cracks in legal jurisdictional gaps, get stymied by bureaucratic passing-of-the-buck, or, get subsumed in the overall politics of troop contribution.
"If the member-states are serious about this they have to pass this draft convention on criminal accountability [of UN officials and experts in missions] in New York—its been stuck there for so many years," Zeid Ra'ad Al-Hussein, the UN human rights chief had said last year when he found his office facing flak for inaction on sexual abuse of children in war-torn countries.
India, as part of the Non-Aligned Movement (NAM) group of countries, had resisted such a convention insisting that Indian officials, experts in UN mission or peacekeepers are subject to the jurisdiction of national courts and punishable under India law. Therefore, there was no need for such an international convention. The African group also holds the same view as the NAM countries.
Currently, there are paternity claims associated with 22 allegations, with a further 9 allegations awaiting confirmation of the birth of a child.
The UN, in the aftermath of the biggest scandal that wracked the world body last year, has vowed to support individual victims and children born as a result of sexual exploitation and abuse in navigating paternity and child support proceedings in governments of guilty personnel and has asked governments to appoint focal points to follow up on such claims. It has also recommended that DNA be obtained "on a voluntary basis" from all deployed personnel for purposes of exoneration or conviction of individuals accused of sexual exploitation and abuse.
The report shows that India has informed the UN that it has appointed a focal point to handle future paternity claims related to sexual exploitation and abuse by peacekeepers and has designated the Ministry of Women and Child Development to give assistance in paternity cases.
India had recently said that there is an "urgent imperative" need for greater consultation between the Security Council and TCCs.
Six peacekeeping missions, including the United Nations Military Observer Group in India and Pakistan (UNMOGIP), had no allegation of sexual exploitation and abuse to report in 2016.
Of the 165 allegations, most involved children, who have been raped, assaulted or sexually abused in some other way.
Most of the allegations originated from the peacekeeping forces in the Central African Republic (CAR) called MINUSCA while rest were recorded for eight other peacekeeping missions and four special political missions.
French diplomat Jean-Pierre Lacroix, who took charge of the UN's department of peacekeeping operations (DPKO) last month, has the challenging task of managing more than ninety thousand "blue helmets" deployed across sixteen missions around the world, at a time when the department is scrambling to restore its credibility.
Lacroix who takes over Hervé Ladsous is the fifth consecutive Frenchman to head the world body's peacekeeping department. Ironically, last year, the French Sangari troops operating in CAR were at the forefront of allegations of sexually abusing or exploiting 42 local civilians, most of them underage girls, sometimes for a satchet of cookies and water.
The head of the UN mission in CAR Parfait Onanga-Anyanga had said in an interview to the Washington Post last year that he fears that the cases discovered so far may be the "tip of the iceberg" and the UN is "going to be flooded by paternity claims".
Allegations of sexual abuse and exploitation have been a constant horror story since the 1960s involving many contingents spread across almost all nationalities, including India, despite the remarkable work done by the troops in maintaining peace in some of the violently conflict-ridden places of the world.
In a rare instance, in 2012, an army major and three other personnel were indicted by an Indian court of inquiry for sexual exploitation while on a peacekeeping mission to Congo — an operation for which India had contributed nearly 5,000 troops. Currently, there is one pending case to be taken up by India in a 2013 sexual exploitation case, as shown in the report.
Guterres has also recommended that reimbursement payments be withheld in the event that investigations by governments are not undertaken, reported on and concluded in a timely manner and to transfer the amounts withheld to the trust fund in support of victims of sexual exploitation and abuse.
The report not only covers steps to be taken against military personnel but also UN officials and experts when found indulging in sexual misconduct.
It is suggested that individuals terminated from service in one part of the UN system on the basis of substantiated allegations of sexual exploitation and abuse will not be rehired in any other part of the UN. Also, that leaders and managers are forbidden to engage in sexual relations with their subordinates.
Also, the UN has urged governments to develop a protocol that could include prohibitions on the consumption of alcohol, among other things.
Find latest and upcoming tech gadgets online on Tech2 Gadgets. Get technology news, gadgets reviews & ratings. Popular gadgets including laptop, tablet and mobile specifications, features, prices, comparison.
Lifestyle
'As I read Emily Ratajkowski's tale, I thought of many of the stories I had heard amongst the models I had interviewed that struck a similar chord,' writes Manjima Bhattacharjya in her monthly column, 'Curious Fashion'
Entertainment
While there's no doubt that online shows entertained and even comforted us during these trying past few months, there's also no doubt that they'll never match up to the experience of watching a concert in person. And sadly, they don't seem to be matching up in terms of income for artists either.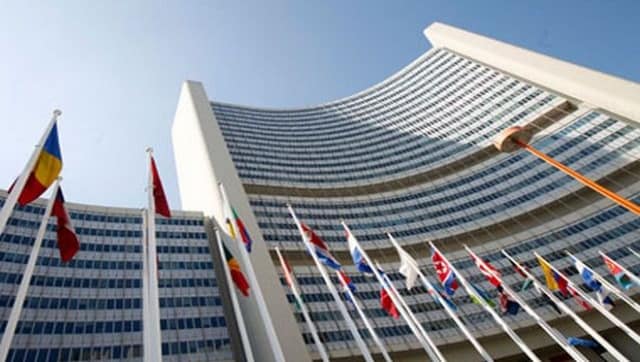 India
At a UNGA session on 'Culture of Peace', India pointed out that UN resolutions on important issues speak only of Islam, Judaism, and Christianity