Rs 500, Rs 1,000 currency ban: Chandrababu Naidu's political mindgame worked in his favour
At 8 pm on 8 November, it almost appeared as if Prime Minister Narendra Modi conceded the demand made by his ally, Andhra Pradesh Chief Minister and Telugu Desam Party (TDP) supremo Nara Chandrababu Naidu, when he announced the demonetisation of Rs 500 and Rs 1000 notes.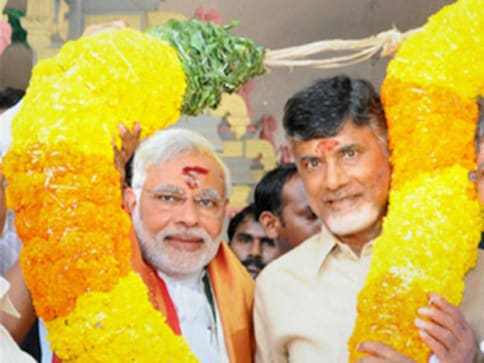 At 8 pm on 8 November, it almost appeared as if Prime Minister Narendra Modi conceded the demand made by his ally, Andhra Pradesh Chief Minister and Telugu Desam Party (TDP) supremo Nara Chandrababu Naidu, when he announced the demonetisation of Rs 500 and Rs 1000 notes.
Firspost had earlier reported on the political game behind Naidu's demand last month in the wake of a large black money disclosure in Hyderabad was announced.
In his letter to the Prime Minister demanding demonetisation of Rs 500 and Rs 1000 notes, Naidu wrote – "Only 39 percent of the Rs 1000 notes and 45 percent of the Rs 500 notes are in circulation and the rest of them are hoarded as black money." Naidu also contended that such hoarding alone has been at the root of high inflation from 20-50 percent in the open market. Apart from his three-page letter, the TDP politburo and the AP Cabinet had also passed special resolutions demanding demonetisation.
Commenting on the Centre's move Tuesday night, Naidu said that in the next phase all transactions above Rs 5000 should be digitised if the parallel black money economy is to be crushed. "It is a good move of the Modi government and I hope it will end this parallel economy, corruption in politics and administration," he said. "Politics has become a shelter for the corrupt and easy circulation and distribution of these notes has come in handy for them to influence the voters," he added, indirectly hitting at his main Opposition, the YSR Congress and its leader YS Jaganmohan Reddy, who is facing cases of money laundering and disproportionate assets.
But TDP leaders, predictably, went a step ahead. Senior TDP leader from Nellore and former minister Somi Reddy Chandramohan Reddy said – "I am shocked as I have 26 notes of Rs 1000 denomination in my drawer at home and I hope Jagan would be more shocked now that he has a huge load at the cellar in his white house bungalow in Bengaluru."
At Hyderabad an advocate Krishnaiah has filed a writ petition in the AP High Court challenging the demonetisation and the court is expected to hear it on Thursday.
Not to be left out, YSRC leaders also joined issue with TDP and questioned Naidu about his dairy company Heritage, stating that he was exploiting the situation to his advantage. Former Congress minister who is now part of the YSRC, Botsa Satyanarayana alleged that perhaps due to advance information about demonetisation, Naidu had sold off 124 retail outlets of Heritage Fresh at Bengaluru, Chennai and Hyderabad to Mumbai-based firm Future Retail. Another Congress leader alleged that the Naidu family had deposited Rs 11 crores in the account of infant Devansh Naidu (Naidu's grandson) a few days ago.
First impact in AP
The announcement about demonetisation had the first impact in Andhra Pradesh in view of its three national highways linking the northern states with the south and east. Traffic was stranded at all major toll plazas since the early hours for "change".
The only leader in AP who gave the credit to PM Modi rather than to Naidu, was former IAS officer turned politician and leader of the Lok Satta party Jayaprakash Narayan. "Highly dramatic, bold, far reaching first step vs untaxed money. Congrats to PM. Now he must engineer real political reform & end vote-buying. Kudos," he tweeted.
At Tirumala, the temple management TTD (Tirumala Tirupati Devasthanam) made special arrangements to accept debit and credit cards for rooms, darshan tickets and also laddu purchase. Wherever private hotels refused to accept demonetised notes, TTD offered pilgrims food.
The history of demonetisation of currencies shows that Rs 500, Rs 1000 and Rs 10,000 notes have been withdrawn four times and reissued on political and trade compulsions in 1938, 1946, 1954, 1978 and also in 2000. In his teleconference with party leaders this afternoon, Naidu exhorted his partymen that there has to be persistent political pressure on the NDA government hereafter to ensure that they do not go back and reintroduce the same currency for the sake of political convenience. He emphasised that even in the re-introduction of Rs 500 notes and the introduction of Rs 2000 notes, the Centre needs to reassess its steps and tread with caution only after elaborate discussions and exploring alternatives.
Black money tough to combat in AP
Both Chandrababu Naidu and the TDP have frequently and shrilly alleged that YS Jaganmohan Reddy and his YSRCP gained ground in AP with 67 MLAs out of 175 and 8 MPs out of 25 only thanks to the clout of black money given to voters. During the 2014 general elections, Rs 150 crores were seized by the Election Commission in Andhra alone, out of the Rs 350 crores seized nationally.
The TDP had lost in 5 to 25 crucial Assembly and 5 Parliamentary constituencies, as a fallout of black money, according to an internal party survey conducted after the polls. Sources within the party say that Naidu had developed an aversion towards these currencies and has been systematically campaigning for their demonetisation since then.
The Opposition points out that the TDP's hands are not clean either, as far as black money is concerned, despite Naidu attempting to create a 'Mr Clean' image. "It is wrong to say that the TDP is clean of black money. Otherwise how did TDP MLAs and MPs win in Vijayawada, Guntur and also Visakhapatnam against Congress heavyweights, who flooded the constituencies with black money," asked C Ramachandraiah, the former minister in the Kiran Kumar Reddy-led Congress government who is now in the YSRC.
The black money regime though is very strong and well entrenched in the vast and rich agricultural economy of Andhra Pradesh where farmers in the five districts of the fertile East and West Godavari, Guntur and Krishna raise two paddy crops, one tobacco and a sugarcane crop every year. They invest their liquid income in real estate and the film industry in Tamil Nadu, Karnataka, Telangana and also sometimes in Maharashtra and Odisha.
Investing in elected representatives is seen as an investment for protection of business activities of the ultra rich in the state. "It is a well-known fact that local industry and trade heavily depend on the political protection provided by elected representatives," said senior former Congress MLA who is now in TDP, Devineni Rajasekhar alias Nehru.
So Chandrababu Naidu's gameplan behind being the first and foremost supporter of the NDA's 'surgical strike against black money' may be personal as well as political. But for the time being, Naidu is hogging the limelight in his state and taking forward his role as a strategic partner in the NDA mix.
also read
Explainers
In 2003, Kathleen Folbigg was dubbed Australia's 'worst serial killer' and sentenced to 40 years in prison for killing her four infants. But new evidence showing a rare mutant gene in her DNA suggesting the children died of natural causes led to Kathleen receiving a full pardon
Explainers
Ben Roberts-Smith, a former Special Air Service Regiment corporal and recipient of the Victoria Cross, was a national hero in Australia. Now, a judge has ruled that he unlawfully killed prisoners and committed war crimes in Afghanistan
Explainers
The Twitter-like app has been given the codename PN92, Project 92, or Barcelona. It will be at least partially integrated with Instagram with users retaining their verification and handle and their followers will be alerted when they get on the new platform