Paris Accord: No end to climate action even if US withdraws, says UN environment head
President Donald Trump is set to clear the air on whether the US would withdraw from the Paris Climate Agreement adopted by nearly 200 countries, including India.
New Delhi: President Donald Trump on Thursday is set to clear the air on whether the US would withdraw from the historic Paris Climate Agreement adopted by nearly 200 countries, including India.
Climate experts, citing multiple reports, say Trump is most likely poised to withdraw from the Paris accord.
But UN's Environment Programme Executive Director Erik Solheim is optimistic. He said it would be wrong to think that if the US does withdraw from the Paris pact, it will be the end of climate action there.
Climate action will also continue in the US even if Washington withdraws.
"In addition, there is the US private sector. Companies like Google, Microsoft, Apple, Walmart and Tesla are true global leaders when it comes to bringing down their carbon footprints. Even coal and oil companies are stepping up their shift to renewables. They are doing so because it's sound business and they want to remain competitive globally," he said.
Trump will announce his decision on Paris accord in the White House Rose Garden at 3 pm, on Thursday (US time). In a tweet he had dubbed climate change as a hoax.
The Paris Agreement aims to limit average global warming to 2 degrees Celsius by cutting greenhouse gases from burning fossil fuels.
On ramifications for emerging economy countries like India and China if Trump waters down America's commitment to the Paris Agreement, Solheim said: "China and India do not depend on the United States — nor any other country — to set their own policies."
"And what we're seeing at the moment is significant steps from both Beijing and New Delhi to put their economies on a path of sustainable, inclusive and low-carbon growth because it makes perfect strategic and business sense to do so."
"There is now significant global momentum behind the Paris Agreement, because more and more countries see climate action as a positive pathway to faster development, innovation, energy security, improved public health and greater competitiveness in a globalised economy," the UN environment head said.
Globally, renewable power is surging, with sustained investment transforming the world's energy system.
"In other words, strong climate action is not just about saving the planet, it's also about seizing an opportunity and not missing the boat. If anything, we hope to see China and India stepping up the pace. If they do, they will be the winners."
The historic 2015 Paris Climate Agreement adopted by 196 countries aims to achieve zero net emissions shortly after 2050.
Solheim said with the Paris Agreement, the globe has seen the emergence of a more positive debate.
Subscribe to Moneycontrol Pro at ₹499 for the first year. Use code PRO499. Limited period offer. *T&C apply
World
Opposing the military coup in his country, Myanmar's UN ambassador Kyaw Moe Tun appealed for the 'strongest' action from the international community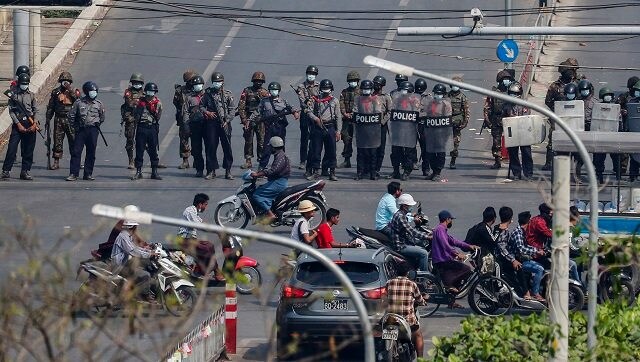 World
Security forces opened fire on anti-coup protesters across Myanmar, day after neighbouring countries called for restraint and offered to help resolve the crisis
World
In Yangon, Myanmar police used rubber bullets to disperse a demonstration at Myaynigone junction, the site of an hours-long standoff the day before