Narendra Modi at White House: Donald Trump calls Indian PM and himself 'world leaders in social media'
US President Donald Trump on Monday described Prime Minister Narendra Modi and himself as 'world leaders in social media' — a reference to their multi-million strong following on online platforms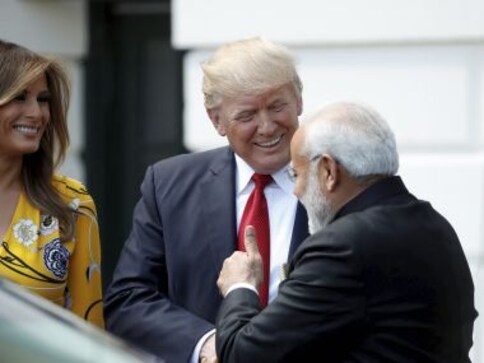 Washington: US President Donald Trump on Monday described Prime Minister Narendra Modi and himself as "world leaders in social media" — a reference to their multi-million strong following on online platforms — and said it has enabled them to hear directly from their citizens.
"I'm proud to announce to the media, to the American people and to the Indian people that Prime Minister Modi and I are world leaders in social media," Trump said in his remarks at the White House Rose Garden, following his first bilateral meeting with Modi.
"We're believers. Giving the citizens of our countries the opportunity to hear directly from their elected officials and for us to hear directly from them. I guess it's worked very well in both cases," Trump said.
Trump, who is known for his prolific and at times controversial tweets, and Modi are widely followed on social media platforms like Twitter and Facebook.
While Trump has 32.8 million followers on Twitter, Modi comes a close second with over 31 million followers. On Facebook, Modi has the lead over Trump, who has 23.6 million followers while the Indian leader has 41.8 million followers.
World
Photographer Vincent Cornelissen clicked the image of the goose flying near the Dutch town of Arnhem in the Netherlands
Entertainment
Akshay Kumar said he got emotional after listening Ajay Devgn recite the poem Sipahi, by Manoj Muntashir.
World
It may signify a vast expansion of China's nuclear arsenal — the cravings of an economic and technological superpower to show that, after decades of restraint, it is ready to wield an arsenal the size of Washington's, or Moscow's