Prashant Paruchuri, Vice President at Veteran Supply Services in Washington D.C, waits for Prime Minister Narendra Modi's trips to the U.S. He lines up along with the throng wherever Modi is speaking, knowing the Indian PM will break protocol and come to greet the crowds. During other times, Mann ki Baat is Paruchuri's direct link to Modi.
Paruchuri, like many others in the US, now awaits Amazon to deliver the book.
"I come from a small town in Andhra Pradesh, I have been living in the US for 16 years. I listen to Mann ki Baat in Telugu or English anytime I have a swing slot during lunch break at office. Any political leader could have done this. But it's only Modi who has actually made it successful using simple tools. I hope other leaders will do the same to connect more and directly to their constituents and use constructive criticism," says Paruchuri, keen to dive deeper into Modi's strategy behind Mann ki Baat.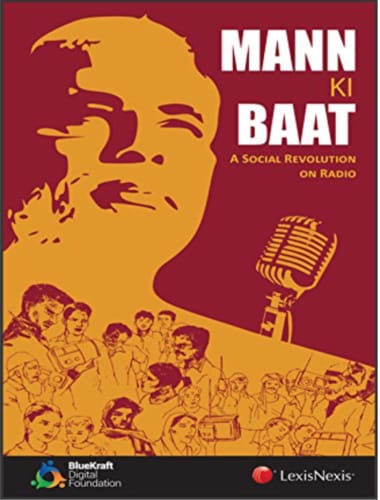 For Prakash Sharma, who came on a work project for Deloitte to the US, Modi is on the monthly menu at both work and home. "I loved his Mann ki Baat with Barack Obama. There's no doubt that Modi is a fine orator and he strikes a chord in all of us. Especially for people like me who speak Hindi," says Sharma.
Sharma's colleague at Deloitte, Gopal Prasad, who's on his first assignment in the US after Modi took power in 2014, concurs.
"I like the episodes where Modi talks to students before exams. Nobody spoke to us like this when we were kids. It's really useful and much better than television," says Prasad. (Modi famously made light of exam results citing his own indifferent performances.)
Prasad, a native of Ranchi, Jharkhand, now lives in Maryland and tries never to miss the once-a-month broadcast streamed on the NaMo app simultaneously with All India Radio.
Partisan politics is kept out in Mann ki Baat and an appreciative Prasad is hoping that technology allows a two-way conversation where listeners can ping in questions live and hear from the PM. So far people write letters, leave voice messages or email.
Prasad has a suggestion ready - making the upper and middle berths in Indian trains more accessible for senior citizens and pregnant women.
"We have so many mechanical engineers, I'm sure we can come up with a solution if the PM talks about it," he says.
The radio show, now critiqued and collated into a book, is the outcome of Team Modi's yen for communication. Here, every month, the PM reaffirms his craft of social messaging, he creates a space notches above the political infighting of the day.
The book, "Mann Ki Baat – A Social Revolution On Radio," written by Bluekraft Digital Foundation, chronicles the phenomenon, its initial exuberance and the subsequent maturing and settling down of a platform for seeking and amplifying social messaging.
For those cued into the internet and social media, radio may seem passé. But the book, released last week in the presence of India's four highest functionaries, speaks about the ubiquitousness of Mann Ki Baat. It betrays Modi's understanding that reach in terms of magnitude is still with the radio. The ingenuity of Modi, the communicator, lies in choosing a seemingly over-the-hill medium to reach out to the masses.
For those like Paruchuri, Sharma and Prasad, there are interesting insights in the book on why Modi, despite being the most tech savvy politician of his generation, chose the radio to speak his Mann Ki Baat. From titbits such as how the name "Mann Ki Baat" was coined to which historical speeches on radio inspired Modi, from the 'mass movements' that Mann Ki Baat has spawned to how it has promoted participative governance, the book covers some unreported aspects.
Particularly interesting is the part about Modi and Barack Obama. How did Modi convince Obama to do a radio show and speak with such candour? The story of two quintessential political outsiders, one a tea vendor and the other a child brought up by a single mother, seems even more inspiring now that it is in print.
With a foreword by Shinzo Abe, and recommendations by Bill Gates and Aung San Suu Kyi, the book celebrates a unique movement in participative governance.
What has Modi spoken about most in these 3 years on this platform? What is it that he has completely avoided? How many people are even aware that their Prime Minister talks to them through radio every month? Mann Ki Baat, the book, answers these questions. Some metrics and quotes from the teams servicing the programme add colour. The book is key to understanding Modi's core focus areas and governance mantras beyond all the noise of media coverage. The book makes its point via interesting facts. Read at a sophisticated level, the book is a peek into a social reformer.
Mann Ki Baat, the book, chronicles history as it is being made. It captures a man popular among Indians overseas as also India's youth and the techno-savvy. Modi's 40 million fans on Facebook (and 30 million follows on Twitter) are force multipliers to the NaMo app where Mann Ki Baat is streamed with video. A book adds to this legacy.
Twitter | @byniknat
Updated Date: Jun 02, 2017 11:40 AM