Manchester terror attack: Residents welcome the stranded in hour of crisis with food, accommodation
Taxi drivers,gurudwaras and locals came forward to help out those stranded after the Manchester arena terror attacks. Twitter became a platform for co-ordination too.
Stories of random acts of kindness are emerging in the wake of the Manchester terror attack, with many people and Sikh temples offering free food and rooms for the night.
As hundreds of people fled Manchester arena following the explosion, taxi drivers began taking people to safety.
Driver AJ Singh said he tried to help wherever he could. "I've had people who needed to find loved ones. I've dropped them off at the hospital. They've not had any money, they've been stranded," he told Channel 4 News.
"We should come out and show whoever's done this that it doesn't matter because Manchester, we're glue and we stick together when it counts," he added.
Not just Gurudwaras in Manchester offering victims food & accommodation, this Sikh cab driver is offering free taxi service to the needy #RT pic.twitter.com/AJNXL6JurW

— Harjinder S Kukreja (@SinghLions) May 23, 2017
Manchester, a heavily industrialised city, some 260 kilometres from London, is home to a significant number of people from South Asia.
Sam Arshad, from StreetCars Manchester, asked his drivers to give free rides to anyone stranded after the Ariana Grande concert.
"The audience was a very young audience, and there were a lot of people there without their parents," he told the BBC. He said that there were other stories of cab drivers driving over from Liverpool to try and offer people free lifts back home.
Liverpool City Region Metro Mayor Steve Rotheram, whose two daughters and two nieces were at the concert, praised the "spontaneous acts of ordinary people" of Manchester following last night's attack at a concert in the city.
"And it's then that people were requesting taxis but they didn't have money, " he said.
"It was at that point that I made the decision that money isn't everything in life and we're part of Manchester and we need to do our part to make sure these people get home safe and sound," Rotheram said.
Meanwhile, transportation was an issue as trains near the arena were cancelled. Victoria Station, the station nearest to the venue was also evacuated. Because of this, help from locals came as a relief.
Residents came forward and offered shelter as well as pickups to those who needed help. This show of solidarity was praised by others too. "Muslim taxi drivers giving free lifts, Sikh temples giving food and beds, locals giving blood in the morning. Proud to call Manchester home," tweeted Emily Bolton, a local resident.
Spare bed, 2 sofas, tea & chargers for anyone stuck in Manchester tonight. Outside centre but can pick up/drive home #roomformanchester — Rachael Mannion (@rachmannion89) May 22, 2017
There is #RoomForManchester
Twitter was used as a platform to co-ordinate rescue efforts. Various initiatives were taken by locals to try and reach out to those stranded in and around Manchester. #RoomforManchester was widely used to offer temporary accommodation. Andy Burnham, Mayor of Greater Manchester also tweeted out asking people to reach out for help using the hashtag.
If you are stranded in the area you can also follow #RoomForManchester where hotels and local people of our great city are offering refuge https://t.co/yaRwKMGwzV — Mayor Andy Burnham (@MayorofGM) May 23, 2017
At least 22 people were killed and 59 others injured when a lone suicide bomber set off a bomb at the Manchester Arena after US pop star Ariana Grande concluded her concert last night.
With inputs from PTI
Find latest and upcoming tech gadgets online on Tech2 Gadgets. Get technology news, gadgets reviews & ratings. Popular gadgets including laptop, tablet and mobile specifications, features, prices, comparison.
Sports
United extended their unbeaten league run to 12 matches and their away record to 16 without defeat with a 0-0 draw at Liverpool on Sunday to remain top of the Premier League.
Sports
Liverpool currently sit third in the Premier League table with 33 points from 17 matches. They host league leaders Manchester United on Sunday.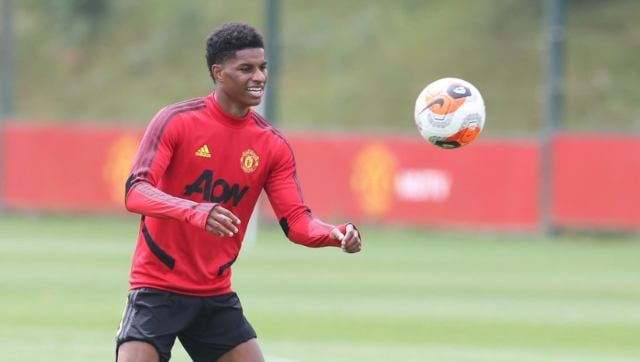 Sports
Rashford said Thursday that legendary United manager Alex Ferguson encouraged him to continue taking on the government over its help for disadvantaged children during the pandemic.