Prime Minister Narendra Modi is no shrinking violet when it comes to warmly wishing world leaders and Indian political leaders on their birthdays.
So it was no surprise when he took to Twitter to send out greetings to North Korea's Supreme Leader Kim Jong-un on his big day: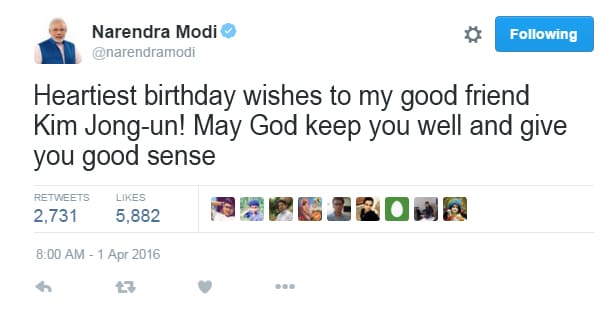 Analysts of diplomacy and international relations are hailing this simple tweet as a landmark move in India's foreign policy. Security analyst Olof P Lira from the Centre for Social Media in Diplomacy told Firstpost, "Modi has always been very energetic and forthright with his foreign policy engagements — whether travelling across the globe to meet global leaders or making a personal connection with them over social media. This is just another example of that, but what he's done very cleverly is to engage the pariah nation that is North Korea."
An official from the Ministry of External Affairs (MEA), "This is part of a broader vision to bring everyone together on the same page so that all countries can pull together in a common direction to fight poverty, climate change and terrorism." Readers may recall the prime minister's outreach to Zimbabwe president Robert Mugabe during the India Africa Forum Summit last year, in this context.
With North Korea-China relations entering a rocky patch, it's not entirely unimaginable that Modi wants New Delhi wants to fill the void in Pyongyang's heart, where Beijing once sat pretty.
Nevertheless in North Korea, the state-run Korean Central News Agency (KCNA) reported that while Twitter wasn't available in Kim's office, he had been informed of the tweet. "Supreme Leader found out about the birthday greetings by phone and was very pleased. He noted that it is important for the Democratic People's Republic of Korea to have allies like India in difficult times like these. He also expressed his hope that a bilateral visit from Modi might be on the cards, stating that 'there will be cake'," reported KCNA, while adding, "Supreme Leader would like to point out though that today is only one of his birthdays, as he has four of them."
The Indian MEA also issued a statement, which you can read here.
Updated Date: Apr 01, 2016 11:01 AM