Kulbhushan Jadhav sentenced to death: Pakistan denies consular access for 14th time, says India failed to respond to query
Islamabad: The Indian High Commission on Friday sought consular access to Kulbhushan Jadhav, sentenced to death by Pakistan, but was denied for the 14th time, envoy Gautam Bambawale said.
Islamabad: Pakistan on Friday rejected India's 14th attempt at consular access to alleged spy Kulbhushan Jadhav and maintained the trial sentencing him to death was according to the laws of the country.
Pakistan also said that India had not responded to "specific information" sought on Jadhav in January, which New Delhi has rejected.
Indian High Commissioner Gautam Bambawale met Pakistan Foreign Secretary Tehmina Janjua in Islamabad with a request for consular access to Jadhav and also sought a copy of the charge-sheet against him.
The request was turned down. "We demanded a meeting (with Jadhav), but they denied us," Bambawale told reporters after meeting Janjua.
India said it has sought consular access to Jadhav 13 times earlier, but was refused each time.
Making a statement on Jadhav's arrest and trial, Pakistan's top foreign policy chief Sartaj Aziz slammed the "inflammatory statements and rhetoric of premeditated murder" issued by the Indian government, which he said would only escalate tensions.
He also asked how Jadhav, "an innocent man", could have two passports.
At the time of his arrest in March 2016, Jadhav had one passport in his name, and a second in the name of Hussain Mubarak Patel.
"Why was Jadhav using a fake name in his identity documents," Aziz asked.
Aziz said the 10 April sentencing of Jadhav was "as per the law of the land" and was a "fully transparent process". He said Jadhav, who hails from Maharashtra in India, had been involved in subversive activities in Pakistan.
To the Indian claims that Pakistan has not responded to its letters seeking information on Jadhav, Aziz said that New Delhi has not responded to a "Letter of Assistance requesting specific information and access to certain key witnesses" sent on 23 January. "There has been no response from the Indian side so far."
Home Minister Rajnath Singh, in Kolkata, denied the charge, saying: "No no, that's not true."
Rajnath also said he felt that Jadhav did not get a transparent trial. "All efforts are on to get Kulbhushan justice. India will go to any extent to get him justice," he said.
Aziz said that Jadhav had the right to appeal within 40 days to a higher court.
Jadhav, who was tried by a military court, could also file a mercy petition with the army chief within 60 days of the decision by the appellate court. His last option was to file a mercy petition with the president within 90 days after the decision of the army chief.
He said Jadhav's sentencing was based on "credible, specific evidence" proving his involvement in espionage and terrorist activities in Pakistan.
Rejecting Indian contention that Jadhav was a retired naval commander, Aziz said that India had failed to provide any "credible explanation of why their naval commander was in Balochistan".
Jadhav is said to have been arrested in a counter-intelligence operation in Balochistan's Mashkel area.
Aziz said India's lack of cooperation and refusal to provide Pakistan legal assistance in the case were the reasons why consular access had not been provided to Jadhav.
The adviser said Jadhav's "confessional statement" had been recorded before a magistrate and the proceedings were conducted under proper laws.
A qualified legal officer was also provided to defend him in court proceedings, he said.
The developments are likely to impact on the already strained diplomatic relations, which have steadily worsened over the past few months over the Kashmir issue and terror attacks, which India has blamed on Pakistan.
World
The move came days after the Pakistan Telecom Authority degraded Wikipedia services for 48 hours, threatening to block it if the content deemed 'blasphemous' was not deleted.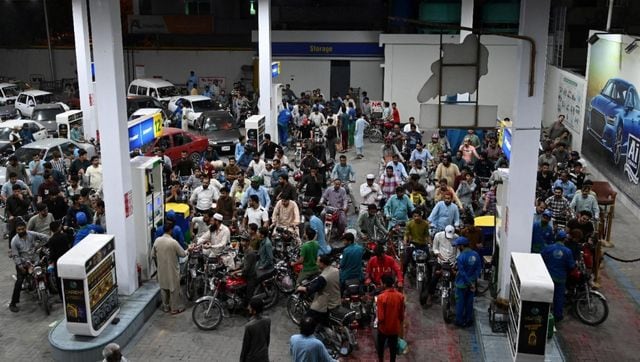 World
IMF team would be in Islamabad from 31 January to 9 February to hold talks with the officials over the implementation of its conditions attached with the assistance package
World
US Congresswoman Ilhan Omar was removed from Foreign Affairs Committee for her anti-Semitic remarks. But she is known to intervene in New Delhi's affairs. Last year, she visited Pakistan-occupied Kashmir and passed a resolution condemning human rights violations against minorities in India