Islamabad High Court suspends sentences of Nawaz Sharif, his daughter and son-in-law in Avenfield case, orders their release
Islamabad High Court was hearing an appeal by Nawaz Sharif, his daughter Maryam Nawaz and son-in-law Mohammad Safdar against the sentences awarded to them on 6 July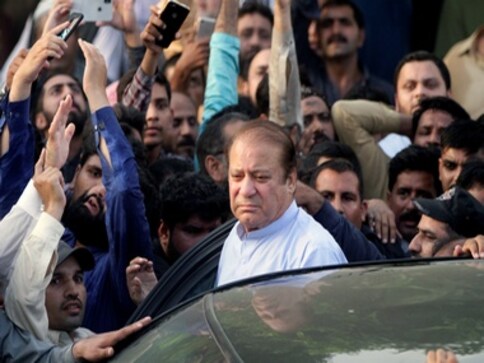 The Islamabad High Court on Wednesday ordered the release of ousted prime minister Nawaz Sharif and his daughter Maryam, and suspended the jail sentence that was awarded to them by a National Accountability Bureau (NAB) court, according to Reuters.
JUST IN: Pakistan court orders release of ousted Prime Minister Nawaz Sharif and his daughter, suspends jail sentence

— Reuters India (@ReutersIndia) September 19, 2018
The court was hearing an appeal by Nawaz Sharif, his daughter Maryam Nawaz and son-in-law Mohammad Safdar against the sentences awarded to them on 6 July and also accepted their petitions, reported Dawn.
A two-judge bench comprising of justices Athar Minallah and Miangul Hassan Aurangzeb gave the judgment on petitions filed by Nawaz, Maryam and Captain Safdar challenging the Avenfield verdict against them, reported Geo News.  Ordering their release, the bench directed Sharif, his daughter and son-in-law to submit bail bonds worth Rs 500,000 each. The sentences will remain suspended till final adjudication of the appeals filed by the petitioners.
Sharif, his daughter Maryam and son-in-law Muhammad Safdar were serving jail terms of 11-years, six years and one year, respectively in the Adiala Jail after the accountability court convicted them over the family's ownership of four luxury flats in London through illegal means.
Earlier on Monday it was reported by PTI that Pakistan's Supreme Court Monday had rejected as "frivolous" the petition of the country's top anti-graft body, NAB, against Islamabad High Court's decision to hear the appeals of Sharif, his daughter and son-in-law against their conviction in the Avenfield apartment corruption case.
The apex court had also imposed a fine of 20,000 Pakistani rupees on NAB.
According to GeoNews, Justice Athar Minallah, who was part of a two-judge bench (also featuring Justice Miangul Hassan) hearing the petition by the Sharifs, pointed out lack of evidence to prove that Nawaz owned the flats. Nawaz, Maryam and Capt (retd) Safdar were also directed to submit bail bonds worth 5 lakh Pakistani rupees each.
Below is a detailed timeline of how the Avenfiled case progressed over the years:
4 April, 2016: The leaked Panama Papers show involvement of Sharif's family in offshore companies including two used to buy luxury homes in London.
28 October, 2016: Cricketer-turned-politician Imran Khan threatens to paralyse the capital, Islamabad, with a "lockdown" of street protests unless demands for an independent investigation into the Panama revelations are met. Sharif denies any wrongdoing.
2 November 2016: Supreme Court agrees to set up a judicial commission to probe corruption allegations against Sharif, stemming from Panama Papers leaks. Khan backs down from lockdown threat.
28 July, 2017: Supreme Court declares Sharif disqualified from office for not declaring income from a company in United Arab Emirates, which was not in original Panama Papers revelations. The court also orders the National Accountability Bureau (NAB) to open a criminal trial into ownership of the London flats along with several other Panama Papers revelations.
13 April, 2018: The Supreme Court further rules Sharif is banned from political office for life.
6 July, 2018: The NAB court convicts Sharif, his daughter Maryama and her husband Captain Safdar of corruption. Sharif was sentenced in absentia to 11 years in prison, while Maryam was sentenced to eight years and Safdar was sentenced to one years in prison in the Avenfield properties reference.
13 July 2018: Upon their arrival from the UK, Sharif, Maryam and Safdar were sent to the Adiala jail in Rawalpindi. Subsequently appeals were filed in Islamaba High Court to suspend the jail sentence against the Sharifs.
15 September 2018: NAB moves Supreme Court to stop Islamabad High Court from suspending jail sentence against the Sharifs.
With inputs from agencies
Photos
Pakistan beat England in a thriller as the visitors lost three wickets in the last two overs while being the favourite to win the match.
World
The Department of Defence (DOD) is in support of the US Agency for International Development's efforts to provide assistance to Pakistan in the wake of massive flooding and the humanitarian assistance crisis there
First Cricket News
Brook forged a valuable fourth-wicket stand with Alex Hales that helped England chase down the target with six wickets and four balls to spare after Wood's 3/24 restricted Pakistan to 158/7.