IMF demands to see details of Pakistan-China financial assistance deal: Days of East India Company 2.0 long gone
Calls for greater transparency have been made in Parliament and among the top-most levels of the State Bank of Pakistan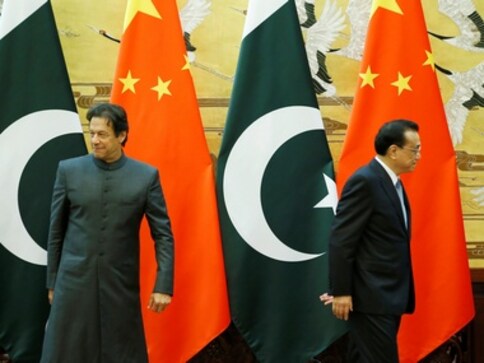 To most Pakistan-watchers, the sight of Prime Minister Imran Khan jetting around the world looking for assistance in reducing its financial ask from the International Monetary Fund, has been a little puzzling. After all, Pakistan has been in debt before, and it has so far not led to such desperation from the political leadership. The answer to that came this week, when an IMF mission led by Harald Finger concluded its visit to Pakistan.
Reports following the end of the visit indicated that the IMF has demanded among other things, a full disclosure of the extent of its debt to China in carrying out projects under the Belt and Road Initiative. There was warning that the lending body may insist on such terms. Now it seems to be set in stone. That's not something Beijing is going to like at all. It's also extremely awkward for Islamabad. Its delegation was only recently in China to negotiate a relief package for the country.
At one level, it's hardly surprising that the international lender is asking for a good look at the books. As Director of the IMF, Christine Lagarde was quoted earlier at a news conference saying that the IMF would always want "a complete understanding and absolute transparency about the nature, size, and terms of the debt that is bearing on a particular country", with a view to assessing "debt sustainability". In simple words, the IMF is not in the business of backing bad debts and it is certainly under no obligation to help Pakistan with its payments to China, nor will it hesitate in demanding an end to unsustainable debt.
Unlike what most commentators are projecting, IMF demands are unlikely to be at the behest of the US. Lenders and banks anywhere will ask questions of borrowers. And don't forget that the IMF had earlier welcomed Chinese investment as a timely leg-up for the ailing Pakistan economy.
The demand to open the books on the BRI will fall on fertile soil even in Pakistan. Calls for greater transparency have been made in Parliament — including by the Pakistan Tehreek-e-Insaf when in Opposition — and among the top-most levels of the State Bank of Pakistan. The bank's quarterly reports have reflected the unease at the level of borrowing, particularly in having to draw up debt sustainability projections on the basis of whatever little information it was able gather.
Worse, as The Dawn reports, even the payment mechanism involved in Chinese projects were unknown to the bank, resulting in a significant under-reporting of imports from China because many of the payments were not routed through the country's banking system. That means there were routes of payment that were known only to those actually concerned in the transfers – on both sides. This is going to be embarrassing, to say the least.
There are certainly some curious points about the China-Pakistan Economic Corridor (CPEC) — some of which are not unexpected, given that it is a business initiative and not a charitable enterprise. For instance, Pakistani scholars point out that Chinese projects inevitably have Chinese contractors executing them, with Chinese machinery imported, ensuring that the money flows back to Beijing. That's something that can be said of many NGOs operating in Afghanistan as well.
What is surprising however is that even manpower is imported from China, leading to dismay not only among locals hoping for work, but economic planners working out unemployment charts. Then are the official statements that hint at an unseemly eagerness to virtually give away important assets. Last year, alarm in the Senate led to questions being asked of the Minister of Ports and Shipping Mir Hazil Bizenjo. The minister had then stated that 91 percent of the revenues generated by Gwadar Deep Sea Port, arguably the cherry on the top of CPEC, would go to China, for the next 40 years.
In a recent instance, a Pakistani Cabinet minister pointed out that even the "ladder and furniture" in a power plant had been imported from China. There's much more — exorbitant tax concessions, Special Economic Zones that tended to shut out local manufacturers, all of which under terms that have been conducted under a cover of secrecy.
That the PTI government was equally aghast at the extent and nature of borrowing was apparent from the incautious comment by Minister of Commerce, Industry and Investment Abdul Razzak Dawood that the CPEC needed to be re-negotiated or at least suspended for a year. This rattled the markets, especially since the comment came just after the visit of State Councillor and Foreign Minister Wang Yi, where the latter appeared to defend CPEC to the media. Later, the government has lowered its slice of investment in the railways by $2 billion citing heavy burden of loans.
China has clearly been stung by the criticism. Wang's visit attempted to explain that Pakistan's debt to the IMF was far more than it owed to China, claiming that the CPEC has already created 70,000 jobs in Pakistan. Later a Chinese diplomat based in Pakistan was in a very public spat with journalist Cyril Almeida on criticism of the CPEC. Global Times also chose to underline that "Criticism of the CPEC is proof of its progress", reacting to earlier criticism of a debt trap. It was also rumoured that the visiting Pakistani prime minister was given a lecture by Chinese officials on uncalled-for remarks by his ministers. Whether or not that was true, the tone of remarks during this first visit of Imran to China was markedly cold.
Given the scale of debt, which is around $9 billion in the current year, Islamabad has little choice but to give in to IMF demands. The Fund is a more than discreet body, but even so, chances of the exorbitant deals driven by China are bound to leak. Such leaks come at a very difficult time, when there are rising instances of countries coming to grief on the backs of exorbitantly executed Chinese loans. Apart from Sri Lanka and the Maldives, both of whom are heavily in debt to China, are other instances like Laos where the Chinese-built high speed railway project is likely to severely impact its finances.
This spate of failures endangers the whole "Belt and Road" concept, which lies at the heart of reenergising the Chinese economy. Beijing simply cant afford such negative publicity at any time, but particularly when it has to stave off a trade war. Beijing's alternative is to seek out more financially stable countries in which to invest, on the basis of more equitable terms and fairer trading arrangements. Such countries — like India — may drive a harder bargain, but  in the long run may prove to be far more profitable for Chinese companies. Beijing may do well to realise that the time for an East India Company Mark II has long gone. Business is welcome, but not a weaponised yuan.
also read
Explainers
The trouble kicked off after armed miscreants forced people to shut their shops on Monday afternoon. A mob then torched two homes in Imphal, causing security forces to rush to the spot. Chief Minister Biren Singh has said the situation is now under control
Explainers
Scientists at Stanford University in a breakthrough successfully tested a soft, flexible patch of electronic skin as thick as a piece of paper on a rat. While this offers a ray of hope to amputees and those with skin damage, experts say much more research is required
Explainers
From cricket to MasterChef, democracy to diaspora, education to the economy, Prime Minister Narendra Modi addressing an event in Sydney on Tuesday spelled out the many things that connect India and Australia