AI turns spiritual: Meet GitaGPT, an AI bot inspired by the Bhagavad Gita, made by a Google employee
AI developers are integrating the Bhagavad Gita into their GPT-3 AI chatbots. As a result, we have various ChatGPT-like generators, like GitaGPT and Bhagavadgita-AI
If you've ever wondered what happens when you ask AI some of the most complex questions about life and our existence and think that it won't be able to give you a serious answer, then think again. AI chatbots, for all intents and purposes, have now turned spiritual and can give you answers straight from the Bhagavad Gita.
An engineer from Google has come up with an AI bot that has been trained on the Bhagavad Gita and that can actually churn out some seriously poignant and thought-provoking answers to some of the world's most deeply existential questions.
GitaGPT is now slightly faster, and will last longer for a while. Donation QR has been added via BharatPe, please do donate! Every penny helps!https://t.co/v6svUZ3PWV

— Vineet (@SaiVineet2) February 4, 2023

GPT-3 blows up
After ChatGPT gained notoriety for the kind of content that it could generate, several tech geeks and proper tech startups, have started jumping onto the bandwagon that AI generators are.
Also read: Microsoft invests more than $10 billion in ChatGPT's parent organisation OpenAI
According to Bloomberg, an increasing number of major and small tech startups are trying to one-up OpenAI in AI services. While OpenAI's ChatGPT is currently working on ways to move from GPT-3 to GPT-4, most of these other AI generators are still based on GPT-3. One such GPT-3 powered AI bot that gives its users the solutions to some of life's most sombre questions, is GitaGPT.
What is GitaGPT do? What does it do?
GitaGPT was developed by Sukuru Sai Vineet, a software engineer with Google's India division.
Also read: Robots are getting smarter. But how intelligent are they really?
People may use the app to ask queries, which the AI chatbot responds to by studying the Bhagavad Gita. The Gita is a Hindu text that recounts Arjun's conversation with his charioteer, Lord Krishna. It covers a wide range of issues, from war ethics to the essence of God and self, philosophical arguments to the definition of 'dharma,' and much more.
Users of Gita GPT may "consult the Gita" for everyday situations. For example, suppose a person asks the chatbot for help on how to deal with a breakup, it will analyse the content of the scripture and deliver the most relevant verses, but in a language and parlance that is more commonplace today and much more easily comprehensible. Having said that, it won't give you concrete steps you need to take, or any solid plan of action – like all GPT-3 models, it will be a little vague in its responses.
Also Read: AI Bot as a therapist? How using ChatGPT in counselling has led to controversy
The Bhagavad Gita craze among AI developers
What's interesting is that Gita GPT isn't the only AI-generator bot that has been trained on the holy scripture. There are various more AI apps that promise to assist users to grasp the Gita's lessons. For example, there's Gita-Kishans GPT, on gita.kishans.in, in which the bot assumes the role of Lord Krishna while answering questions.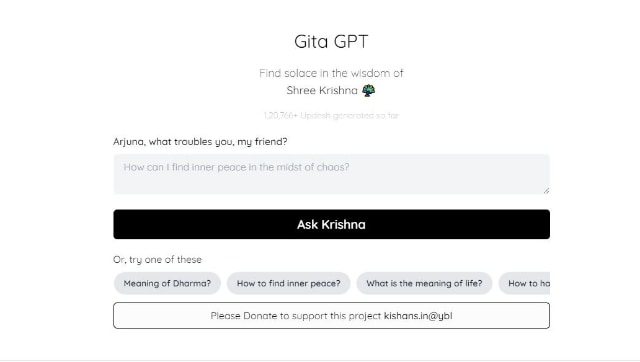 Then, there's, bhagavadgita.ai, another service that allows users to "ask Krishna" for help with difficulties the users, who in this case assume the rile of Arjuna, may be having in their lives.
Read all the Latest News, Trending News, Cricket News, Bollywood News,
India News and Entertainment News here. Follow us on Facebook, Twitter and Instagram.
World
Several students said they had bought foreign phone numbers online or used VPNs to bypass restrictions and access ChatGPT
World
While many were very impressed by the performance of GPT-4, some users said that its poem can't be compared to Shakespeare's original works
World
Apple's underutilised digital assistant, Siri, is going to get a major makeover. Apple is working on its own Natural Language Processing capabilities, which would give Siri ChatGPT-like abilities.