'Freed' Gaddafi son Seif al-Islam still wanted by Libya court for 2015 conviction: Prosecutor Ibrahim Ali
Libyan authorities said Muammar Gaddafi's son Seif al-Islam, reportedly set free by a local militia, was still wanted by a Tripoli court for a 2015 conviction.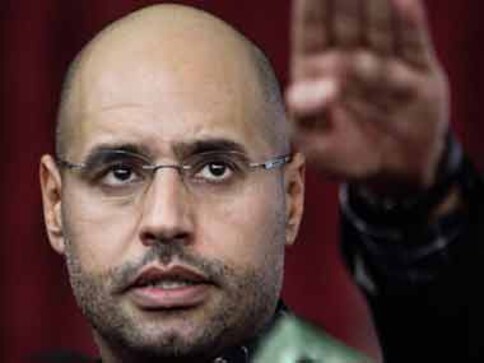 Tripoli: Libyan authorities said on Monday that Muammar Gaddafi's son Seif al-Islam, reportedly set free by a local militia at the weekend, was still wanted by a Tripoli court for a 2015 conviction.
Seif al-Islam, the second son and heir apparent of the late deposed Libyan dictator, was said to have been released on Friday by a militia group that controls the town of Zintan in western Libya.
The group, which had held Seif al-Islam for more than five years, said he had been set free under an amnesty law promulgated by the parliament based in the country's east during the Muslim holy month of Ramadan.
But the prosecutor general's office in Tripoli, where a rival UN-backed administration is based, said the amnesty could not apply to Seif al-Islam because of the severity of his crimes.
"Having been sentenced in absentia on 28 July, 2015... (Seif al-Islam) is required to appear before the court," Tripoli prosecutor general Ibrahim Massud Ali said in a statement.
There was no independent confirmation of Seif al-Islam's release, which could spark further instability in a country already wracked by divisions and violence.
The prosecutor's statement did not confirm that he had been set free and gave no indication of his potential whereabouts.
Seif al-Islam had been held in Zintan since being detained in November 2011, just days after his father was killed in a NATO-backed uprising against his decades-long rule.
The Zintan militia, which opposes Libya's UN-backed Government of National Accord (GNA) based in the capital, had refused to hand him over to authorities despite several legal cases.
A court in Tripoli convicted Seif al-Islam in 2015 in connection with attempts to put down the revolt and sentenced him in absentia to death.
He is also wanted by the International Criminal Court (ICC) in The Hague for alleged crimes against humanity.
His reported release came with the North African country still rocked by infighting, with authorities in the east, reportedly allied with the forces of military strongman Khalifa Haftar, refusing to recognise the GNA.
Human Rights Watch (HRW) called on Libyan authorities to track him down.
"Libyan authorities, who remain obligated to surrender him to the court (ICC), should urgently confirm whether he was released and disclose his current whereabouts," said Sarah Leah Whitson, HRW's Middle East and North Africa director.
Politics
The CBI once again raided Karti Chidambaram's homes and offices over fresh allegations of taking a Rs 50 lakh bribe to facilitate the visa of 250 Chinese nationals for a power project. The Congress MP is no stranger to controversy. He's been investigated in the INX Media case and the Aircel-Maxis deal
Opinion
The timeless world of Archies comics will now come to us in an indigenous avatar. A look at why Zoya Akhtar's project exudes the scent of Arcadian democracy.
Business
The apex court on Thursday dismissed a plea of the SP group seeking a review of the 2021 verdict which had upheld the Tata group's decision to remove Cyrus Mistry as the executive chairman of the Tata Sons