Donald Trump wants Jeff Sessions' head: Desperate US president looks for way out as Russia noose tightens
On Tuesday, US president Donald Trump continued to publicly assail Attorney-General Jeff Sessions. Trump tweeted: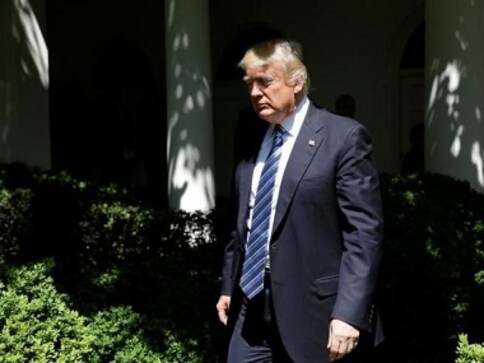 On Tuesday, US president Donald Trump continued to publicly assail Attorney-General Jeff Sessions.
Trump tweeted:
Attorney General Jeff Sessions has taken a VERY weak position on Hillary Clinton crimes (where are E-mails & DNC server) & Intel leakers!

— Donald J. Trump (@realDonaldTrump) July 25, 2017
While the president did not categorically state that he wanted Jeff Sessions' head on a gold-plated platter and was uncharacteristically coy on whether or not he will replace Sessions, such has been Trump's wrath that even dyed-in-the-wool Republicans have rushed to defend Sessions.  Remember, this is the second time Trump bashed Sessions on Twitter. This week. On Monday, Trump tweeted:
So why aren't the Committees and investigators, and of course our beleaguered A.G., looking into Crooked Hillarys crimes & Russia relations? — Donald J. Trump (@realDonaldTrump) July 24, 2017

It's been an extraordinary about-face from Trump. After all, Sessions was one of Trump's earliest and most ardent supporters.  Indeed, he was the first sitting Senator to publicly back the president.
And Trump returned the love in spades during the campaign, stating that Sessions was one of the smartest men in Washington and calling him a "great guy."
So what changed? What turned Sessions into a "beleaguered" and "weak" figure in the eyes of Trump?
You don't have to be a rocket surgeon or a brain scientist to figure that one out. A look at Trump's own words will suffice.
In a wide-ranging and freewheeling interview with the "failing" New York Times on 19 July, the president interrupted his frequent flights of fancy — stating that insurance costs only $12 a year, accusing former FBI director of seeking to leverage the infamous "Trump dossier" to keep his job and taking shots at "Crooked Hillary" — to grouse about Sessions and warn special counsel Robert Mueller, who is overseeing an ever-widening Russia probe, to steer clear of his financial affairs.
"Sessions should have never recused himself, and if he was going to recuse himself, he should have told me before he took the job and I would have picked somebody else," Trump told The New York Times.
Trump reportedly blames Sessions — the attorney-general recused himself with regard to the Russia investigation — for the series of events that led to a special prosecutor being appointed.
Sessions announced he would be recusing himself after it was revealed that he did not report a meeting with Russian ambassador Sergey Kislyak during the campaign.
But here's the rub: Sessions could not possibly have recused himself when he was offered the job because Trump's campaign wasn't being investigated for ties to Russia yet.
Loyalty, above all else
But the implication is impossible to miss. As Trump reportedly told Comey, above all else, he expected loyalty.
As the top law officer of the country, Sessions was in a position to oversee Mueller, and restrain him, if needed. However, as any first-year law school student knows, Sessions was constitutionally obligated to recuse himself because he was part of the Trump campaign.
Which left his deputy, Rod Rosenstein, in charge of the Russia probe. Eager to prove himself as a bipartisan and upstanding civil servant, Rosenstein appointed Mueller, a widely respected and tough-as-nails former FBI director, who is also a friend and mentor to James Comey. Oh, what a tangled web we weave.
When the NYT reporters asked Trump if Mueller's probe would cross a red line if it examined the Trump family finances, the president said it would, although he yet again demurred on what action he would take. The president is reported to have financial ties to Russian banks.
It seems as if Trump considers Sessions act of duty as a betrayal. Loyalty has much been on Trump's mind these past few weeks. On Monday, Trump went on a bizarre, unhinged rant during a speech to the boy scouts of America, whipping the little tykes into such a frenzy that they began booing his predecessor Barack Obama.
Fire Sessions to get to Mueller
What's Trump's endgame? Some have theorised that he wants to get rid of Sessions and replace him with a much more pliable candidate. A candidate, that would agree that the Russia probe is "Fake News" and a waste of taxpayer money.
Legal analyst Paul Callan, writing for CNN, says: "It is as clear as the view from the Trump Tower where this road leads. Trump is bent on ousting the two biggest obstacles at the justice department to his real objective: getting rid of Mueller. While inevitably such a step would draw immediate comparisons to Richard Nixon's "Saturday Night Massacre", Trump also has far more political cover to take a clear shot at the special counsel he reportedly so reviles."
It's not clear the Republicans in Congress, the only real check on Trump's power, will balk. After all, House speaker Paul Ryan has already stated that hiring and firing attorney-general is Trump's prerogative. A real profile in courage, that one.
The president is afraid
TV show host and former proud Republican Joe Scarborough believes Trump is behaving this way because he's afraid that Mueller, who recently expanded his probe into Trump's finances, is getting too close to where the bodies are buried and is acting out.
Speaking on his TV show Morning Joe, he said: "Maybe we're overanalysing this too much.  Maybe this is not about Donald Trump being anything other than scared, because he knows what's in his background. We're just making this a little more complicated than it needs to be. Donald Trump is scared. He is scared to death that somebody is going to pull on that thread and everything is going to unravel."
Snake-bitten from the outset
This isn't the first time the Trump-Sessions relationship has experienced cold winds.
According to a report in Politico, things nearly came to a head before Donald Trump's trip to Saudi Arabia. The relationship between Trump and Sessions deteriorated to such an extent that Sessions offered to tender his resignation, Politico reported.
Sessions reportedly made the offer after weeks of tense private meetings with a disgruntled Trump, The Washington Post reported. The moment was brief and though Trump refused the offer, he made his displeasure clear to the attorney-general, the report added.
With inputs from agencies
India
Prime Minister Narendra Modi also asked the ministers to spend the maximum possible time in their constituencies and to implement all the schemes of the government, according to sources
World
The former US president faced a series of setbacks in Tuesday's primary elections as voters rejected his efforts saying that the Republican party's future is about more than Trump
Entertainment
In Modern Love Mumbai, Masaba Gupta's Saiba got an excuse to revisit Thane, where she grew up, because of a work project. I returned to Jaipur, my hometown, out of utter exhaustion, burnout, and disillusionment.