Donald Trump, Recep Erdogan meet at White House; discuss ways to restore frayed ties
Fresh from securing his grip on Turkey with a referendum to centralise power, Recep Tayyip Erdogan met US President Donald Trump at the White House on Tuesday on a mission to restore frayed ties
Fresh from securing his grip on Turkey with a referendum to centralise power, Recep Tayyip Erdogan met US President Donald Trump at the White House on Tuesday on a mission to restore frayed ties.
Trump was one of the first world leaders to congratulate Erdogan on winning the 16 April vote to strengthen his office, despite concern in some other capitals that Turkey has taken a dangerous turn towards authoritarianism.
But Washington and Ankara are still bitterly at odds over US support for the Kurdish Peoples' Protection Units (YPG), a faction that the Pentagon sees as a vital ally against the Islamic State group in Syria but that Turkey brands a front for the banned Kurdistan Workers' Party (PKK).
And Erdogan remains angry that the US continues to host Islamic preacher Fethullah Gulen, a former ally who chose exile in Pennsylvania and who has now been accused of masterminding last year's bloody attempted coup in his homeland.
Both issues poisoned ties between Erdogan and former US president Barack Obama, but there now appears to be an opening for Trump to rebuild bridges. "We look forward to having a long and productive discussion," Trump said as he welcomed Erdogan to the Oval Office. "We've had a great relationship and we will make it even better."
Trump hopes to secure at least grudging Turkish agreement not to oppose the US-led drive by YPG-led fighters to oust the Islamic State from their Syrian stronghold of Raqa. In return, Trump will have to give Erdogan assurances that Gulen will be closely monitored while the US courts examine a Turkish extradition request and that — once the Islamic State has been driven out of the Iraqi city of Mosul — Washington will endorse a Turkish offensive against PKK bases in Sinjar, northern Iraq.
"That's the main ask," said Soner Cagaptay, director of the Turkish research program at the Washington Institute of Near East Policy and recent author of 'The New Sultan: Erdogan and the Crisis of Modern Turkey'.
"He's going to want US support for a Turkish operation against Sinjar. In this case, the stars are a little bit aligned in Erdogan's favor," he added. "I think what we will tell the Turks is 'Yes, we can do this, but let's focus on Mosul first'."
Find latest and upcoming tech gadgets online on Tech2 Gadgets. Get technology news, gadgets reviews & ratings. Popular gadgets including laptop, tablet and mobile specifications, features, prices, comparison.
World
Political analysts suggest the change from Trump to Biden might increase pressure on Beijing if Washington forms a coalition with other developed countries to push for policy changes
World
Most of Donald Trump's Republican allies had stood by his side as he attempted to overturn Joe Biden's victory in the 3 November election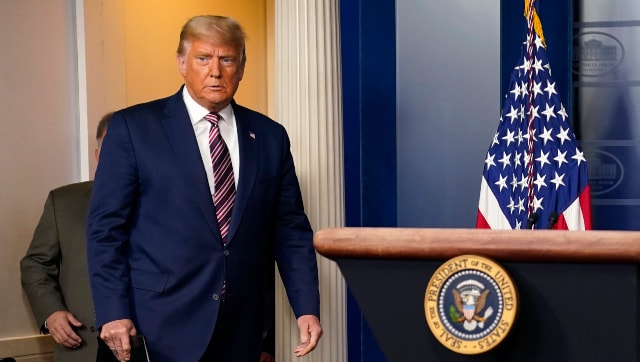 World
Trump's national security advisor, Robert O'Brien, said last month that the United States would withdraw about 2,500 troops from Afghanistan by early next year