Donald Trump meets Saudi King Salman bin Abdulaziz Al Saud in his first foreign trip
Donald Trump is the only American president to make Saudi Arabia, or any majority Muslim country, his first stop overseas as president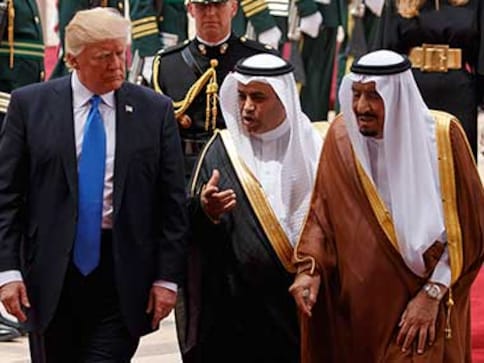 Riyadh: President Donald Trump opened his first trip abroad since taking office, touching down Saturday in Saudi Arabia for a visit aimed at building stronger partnerships to combat terrorism in the region and moving past the controversies engulfing his young administration.
Trump flew to Riyadh overnight on Air Force One and was greeted by an elaborate welcoming ceremony at Riyadh's airport, punctuated by a military flyover and a handshake from Saudi King Salman. Trump is the only American president to make Saudi Arabia, or any majority Muslim country, his first stop overseas as president — a scheduling choice designed in part to show respect to the region after months of harsh anti-Muslim campaign rhetoric.
The president's stop in Saudi Arabia kicks off an ambitious international debut. After two days of meetings in Riyadh, Trump will travel to Israel, have an audience with Pope Francis at the Vatican, and meet with allies at a NATO summit in Brussels and the Group of 7 wealthy nations in Sicily.
As he arrived, the president waved from the doorway of Air Force One and then descended the steps, joined by First Lady Melania Trump. The 81-year-old King Salman, who used a cane for support, was brought to the steps of the plane on a golf cart. The two leaders exchanged pleasantries and Trump said it was "a great honour" to be there.
Several jets then flew overhead leaving a red, white and blue trail.
White House officials hope the trip marks an opportunity for Trump to recalibrate after one of the most difficult stretches of his young presidency. The White House badly bungled the president's stunning firing of FBI Director James Comey, who was overseeing the federal investigation into possible ties between Trump's campaign and Russia. On Wednesday, the Justice Department relented to calls from Democrats to name a special counsel, tapping former FBI chief Robert Mueller to lead the probe.
As Trump flew to Saudi Arabia, more reports stemming from the Russia investigation surfaced. The New York Times reported that Trump called Comey "a real nut job" while discussing the ongoing investigation with two Russian officials visiting the White House earlier this month. He also told them that firing Comey had "taken off" the "great pressure" he was feeling from the investigation, the Times reported.
Meanwhile, The Washington Post reported that an unidentified senior Trump adviser was being considered a "person of interest" in the law enforcement investigation. In addition, Comey agreed to testify at an open hearing of the Senate intelligence committee in the near future, the panel said.
Despite his domestic troubles, Trump was expected to get a warm reception in Saudi Arabia. The kingdom's ruling family grew deeply frustrated with former President Barack Obama's detente with Iran and his restrained approach to the conflict in Syria. The king did not greet Obama at the airport during his final visit to the nation last year.
Saudi Arabia offered Trump an elaborate welcome ahead of his two-day stay. Billboards featuring the image of Trump and the king dotted the highways of Riyadh and lights bathed Trump's luxury hotel in red, white and blue lights and, at times, an image of the president's face.
Trump and the king met briefly in the airport terminal for coffee before the president headed to his hotel ahead of the day's other meetings. White House Chief of Staff Reince Priebus told reporters on Air Force One that Trump spent the flight meeting with staff, working on his upcoming speech to the Muslim world and getting a little sleep.
Melania Trump wore a black pantsuit with a golden belt and did not cover her head, consistent with custom for foreign dignitaries visiting Saudi Arabia.
For a president who campaigned on an "America First" platform, the trip is a crucial moment for U.S. allies to size up his commitment to decades-long partnerships.
"President Trump understands that America First does not mean America alone," said HR McMaster, Trump's national security adviser. "Prioritising American interests means strengthening alliances and partnerships that help us extend our influence and improve the security of the American people."
In a sweetener for Saudi Arabia, U.S. officials said the Trump administration plans to announce $110 billion in advanced military equipment sales and training to the kingdom during the president's trip. The package includes tanks, combat ships, missile defence systems, radar and communications and cybersecurity technology.
Trump will spend much of Saturday meeting with King Salman and other members of the royal family, culminating with a banquet dinner at the Murabba Palace. On Sunday, he'll hold meetings with more than 50 Arab and Muslim leaders heading converging on Riyadh for a regional summit focused largely on combating the Islamic State and other extremist groups.
Trump dodged one potential land mine when Sudanese President Omar al-Bashir, who has been indicted on war crime and genocide charges, announced that he would not attend the summit for personal reasons.
The centerpiece of Trump's visit to Saudi Arabia will be a speech Sunday at the Arab-Islamic-American summit. White House aides view the address as a counter to Obama's 2009 speech to the Muslim world, which Trump advisers view as too apologetic for U.S. actions in the region.
World
Iran and Saudi Arabia agreed on Friday to re-establish relations after seven years of hostility which had threatened stability and security in the Gulf and helped fuel conflicts in the Middle East from Yemen to Syria.
Opinion
There are a host of issues that involve a major policy shift in entrenched positions by both sides. We need to wait and see the outcome as the two month period outlined in the agreement is not easy to bridge the bitter gulf
Opinion
There are too many structural limits on how far any Saudi-Iranian rapprochement can go. The Chinese can at best provide finances, but not the political heft to make a tangible peace