Donald Trump, Ivanka, Jared Kushner, Modi in TIME 100 list of world's most influential people
US President Donald Trump, daughter Ivanka Trump and son in law Jared Kushner all three feature in the TIME 100 list released early Thursday morning in the US.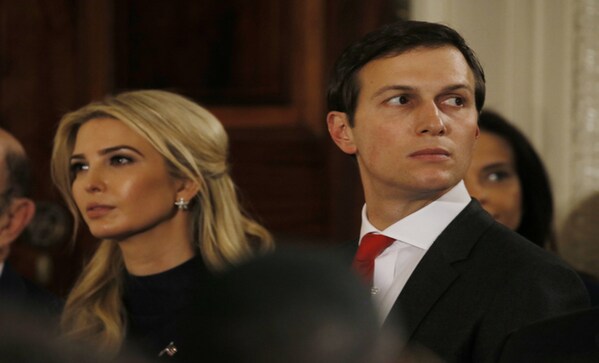 When was the last time three leading lights from one extended family featured in TIME magazine's marquee list of the world's 100 most powerful people?
US President Donald Trump, daughter Ivanka Trump and son in law Jared Kushner all three feature in the TIME 100 list released early Thursday morning in the US. This is hot off the press soon after the embargo lifted at 7am EST.
The world's most powerful First Daughter Ivanka Trump and her husband Jared Kushner turn up in the 'Pioneers' category, profiled by Wendi Murdoch and Henry Kissinger respectively.
Paul Ryan writes about Donald Trump as a man who always "finds a way to get it done" and this comes soon after the ruling party's efforts to reform American healthcare bounced badly in Congress.
With an eye on his 2020 run for America's top job, Ryan plays it nice and easy on the PR piece:
"He always finds a way to get it done. When so many, including me at times, didn't see how he could pull it off, Donald Trump won a historic victory. And in becoming the 45th President of the United States, he completely rewrote the rules of politics and reset the course of this country. A businessman always willing to challenge convention, he has shaken up Washington and laid out an agenda of generational proportions. Never afraid of a battle, he has made it his mission to fight for those who feel forgotten. Where others would pivot, he stays true to who he is. Where others would turn back, he forges ahead. Up close, I have found a driven, hands-on leader, with the potential to become a truly transformational American figure. I have little doubt that he will, once again, find a way to defy the odds and get it done."
Broken up into five broad categories - Pioneers, Artists, Leaders, Titans and Icons, the TIME 100 'Leaders' list features India's prime minister Narendra Modi profiled by Pankaj Mishra - Modi is now a nearly permanent fixture on the world's movers and shakers registry.
This is how award winning author Pankaj Mishra profiles Narendra Modi for the TIME 100:
"In May 2014, long before Donald Trump seemed conceivable as a U.S. President, Narendra Modi became the Prime Minister of the world's largest democracy. Once barred from the U.S. for his suspected complicity in anti-Muslim violence, and politically ostracized at home as well, this Hindu nationalist used Twitter to bypass traditional media and speak directly to masses feeling left or pushed behind by globalization, and he promised to make India great again by rooting out self-serving elites. Nearly three years later, his vision of India's economic, geopolitical and cultural supremacy is far from being realized, and his extended family of Hindu nationalists have taken to scapegoating secular and liberal intellectuals as well as poor Muslims.
"Yet Modi's aura remains undimmed. He is a maestro of the art of political seduction, playing on the existential fears and cultural insecurities of people facing downward or blocked mobility. In March, he won elections in Uttar Pradesh, India's most politically significant state, by a landslide—confirmation that elected strongmen are the chief beneficiaries of a global revolt against elites."
TIME explains the choice matrix for this year as "complicated".
"Some years the list has the feel of a loose, lively dinner party, people who mostly don't know one another but would get along if they did. This year is a bit more complicated. These past 12 months have sharpened our edges as political debates in the U.S. and Europe, the Middle East and Asia, turned jagged and primal and seem almost perfectly designed to divide us more deeply," writes Nancy Gibbs of TIME.
World
Jean Carroll first made the claim in a 2019 book, saying Trump raped her in the dressing room of a Manhattan luxury department store in 1995 or 1996. However, she was barred by state law from suing over the alleged rape because too many years had passed. The deadline has now been lifted temporarily
News & Analysis
After Elon Musk reinstated Donald Trump's account, the former US President said he won't be returning to Twitter as he doesn't see any reason for it.
World
Trump acknowledged having dinner with Kanye West, also known as Ye, at Mar-a-Lago, and said he brought along friends, one of whom was Nick Fuentes, an outspoken anti-Semite and racist