Donald Trump in Israel and Palestine: Israeli media pierces through high optics of US president's visit
Trump's visit to Saudi Arabia, Israel and Palestine take on enormous significance, evidently so — he has used every platform to dish out what he feels about each country.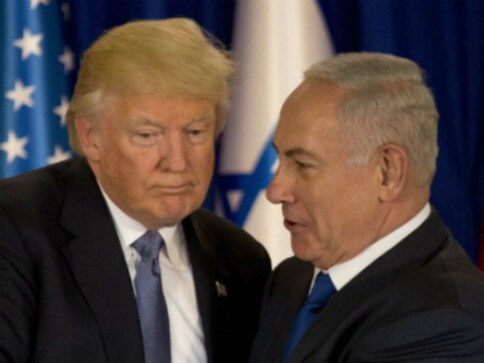 Shortly after his visit to the Kingdom of Saudi Arabia, Donald Trump embarked on his trip to Israel and Palestine. Earlier in May 2017, Trump had vowed to work as a 'mediator, an arbitrator or a facilitator' to help broker peace between Israelis and Palestinians in his meeting with Palestinian President Mahmoud Abbas at the White House.
On Tuesday, Trump made a short short trip from Jerusalem to Bethlehem Tuesday to meet Abbas, who hopes to convince the unpredictable US president to remain committed to an independent Palestinian state. His talks in Bethlehem with the Palestinian president come after Trump on Monday made a heavily symbolic visit to the Western Wall in Jerusalem (he became the first sitting US president to visit the Western Wall) and met Israeli Prime Minister Benjamin Netanyahu.
Later Tuesday, Trump will return to Jerusalem to visit the Yad Vashem Holocaust memorial and give a speech at the Israel Museum before wrapping up his two-day stop.
Trump's visit to Israel and the Palestinian territories is part of his first trip abroad as president, and follows an initial leg in Saudi Arabia, where he urged Islamic leaders to confront extremism. He has spoken of reviving long-stalled peace efforts between the Israelis and Palestinians, but few specifics have emerged of how he intends to do so.
Before dinner at Netanyahu's residence on Monday, Trump avoided delving into details. "I've heard it's one of the toughest deals of all, but I have a feeling that we're going to get there eventually, I hope," he said. Earlier on Monday, Trump also lashed out at Iran, Israel's arch-enemy, saying it should never be allowed to have nuclear weapons and criticising Tehran for supporting "terrorists" — a reference to militant groups it backs in the region. He said Iran should have thanked the United States for the 2015 nuclear accord between Tehran and world powers because it led to sanctions being lifted. "Instead of saying thank you to the United States, they now feel emboldened," Trump said.
Trump's visit to Saudi Arabia, Israel and Palestine take on enormous significance, evidently so — he has used every platform to dish out what he feels about each country. Israeli news media has widely covered Trump's visit and the 'mediascape' has been rich with analysis and opinion.
An article in The Jerusalem Post said that hope for Trump was 'tepid'. "[Trump] understands this is the most famous and longest intractable conflict in the world, and understands the prestige that would come along with real progress [toward peace]," Aaron Mann, associate director of communications and public engagement for Americans for Peace Now is quoted as saying.
Haaretz, longest-running Israeli daily which is known for its left-wing and liberal stances published scathing analysis of Trump's visit. In an article titled, 'Parochial Israeli Reception Makes Even Vulgar President Trump Look Statesmanlike', writer Yossi Verter said that Israel's welcome to the US president was a "provincially embarrassing display of provinciality." and that by the end of the reception even Trump — "a coarse, vulgar man with no sense of ceremony" ended up looking statesmanlike. Not to spare the Netanyahu's the piece called Sara Netanyahi's monologue as "whiny" and described the First Lady Melania's face as "frozen, not a muscle in her face moving".
Commenting on Trump's vision of being a 'facilitator', the article lashes out at Netanyahu admitting that he saw a "real hope for change" for the first time and asks rather critically as to where Trump's vision would fall in the complex geopolitics of Israel and Palestine.
Haaretz published another piece titled 'In Israel, Trump Fits Right in — if Only He Would Stop Talking About Peace' which claims that "Trump is the most 'Israeli' US president in history, but not in a good way." And the piece argues that this is because Trump is rather unpredictable — "one arrogant tweet, one unfounded accusation or one outrageous assertion – all inevitable over time, of course – and Trump's magic moment will be over." But the piece makes no mistake about Trump's growing popularity among people and that he is the anti-thesis to Barack Obama and that according to the piece is a like a "commendation" because most Israelis were suspicious of Obama. But, Trump's insistence on peace is not likely to go down well with the Israelis. "It (the intent of peace) is a declaration that was seen as naive and messianic and vaguely anti-Israeli when Obama dared make it, so it perplexes Israelis to hear Trump promote peace as a realistic option," says the article.
The Times of Israel, a self-declared "apolitical" newspaper published an op-ed titled 'Bereft of meat, Trump declarations leave Israel with much to chew on,' which wrote off most of Trump's visit as garish in terms of show but that his visit had nothing substantial. The common theme of analysis by media in Israel is about the concept of peace. Israel Hayom, owned by Netanyahu published a piece titled, 'We want peace, not a peace 'process',' which makes it amply clear that even the ruling government is wary of failed peace processes.
"...last thing we need is another failed peace process. We are tired of futile diplomacy that only leads to more bloodshed, prompting us to adopt a more sober view regarding the prospects of successful negotiations and tempering our faith in peace. We want peace, not a peace process."
Perhaps, this aspect of 'futile diplomacy' gains more visibility as the White House has been evading the Western Wall issue. Trump's visit to Israel and Palestine, even according to most Israeli media the high optics of this visit are only that — pompous and lacking any real merit.
With inputs from AFP
Explainers
Elon Musk's brain-computer interface company Neuralink wants to put coin-sized implants into human beings. It aims at allowing the mind to control complex electronic devices, letting people with paralysis regain motor function, restoring vision, and treating brain diseases
Explainers
From Australia to the US, Sweden and India, scream therapy seems to be gaining ground with women. But the concept first advanced in 1970 by American psychologist Arthur Janov has left experts unimpressed
Explainers
Italian design house Lazzarini, which unveiled the concept, said Pangeos has been named after the supercontinent Pangea. At 1,800 feet long, and 2,000 feet wide, Pangeos will cost around $8 billion to construct