Clash in Libya between armed militant groups; govt fails to assert power in Tripoli
Fierce clashes erupted on Friday between armed groups in Tripoli, Libya. GNA fails to assert control in the capital as clashes resume between militants.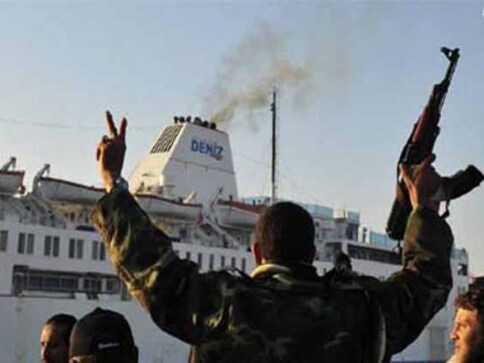 Tripoli: Fierce clashes erupted on Friday between rival armed groups in the Libyan capital Tripoli, seat of the country's UN-backed unity government.
Tripoli has been gripped by a power struggle between dozens of militias since a NATO-backed uprising toppled longtime dictator Moamer Kadhafi in 2011.
AFP journalists heard explosions and artillery fire as fighting broke out in the Abu Slim, Al-Hadhba and Salaheddin districts in the south of the city.
Witnesses said tanks had been deployed.
British ambassador Peter Millett tweeted that he could hear explosions and artillery in south Tripoli.
He condemned "action by these militias who threaten security" in the run-up to the Muslim holy month of Ramadan, which begins on Saturday in Libya.
Groups hostile to the Government of National Accord said they attacked loyalist forces.
The fighting started around a complex of luxury villas that until March served as the headquarters of militias loyal to former prime minister Khalifa Ghweil.
Ghweil was ousted from power when the GNA took office in March 2016 and has refused to recognise the new administration.
Loyalist forces seized the villas in four days of intense fighting in March that saw them expand their control over the capital.
Tripoli had been relatively calm since, but dozens of armed groups still operate -- including several who support Ghweil.
The GNA has won the support of various militias since it took office in March last year, but several parts of Tripoli remain beyond its control.
Relying on militia support and pitted against a rival administration in the east, the GNA has struggled to assert its authority.
World
25 of the 47 members of the body voted in favour of the motion. China was among the six nations that voted against while India was among the 16 nations that abstained from voting
India
Ambassador Ruchira Kamboj added that 'our efforts to sanction the perpetrators and facilitators of these terror attacks were blocked in the past for political reasons. These actors continue to walk free and have been organising further cross-border attacks against my country'
World
Youn Kun-young, who also attended the NIS meeting, said he also was briefed that she is Kim's second child but refused to provide further details