CEU crisis in Budapest: Attacks on universities are tactics used by regimes in 'illiberal democracies'
A huge number of people — estimates range from 50,000 to 80,000 — gathered in Budapest on Sunday, 9 April, to protest against the amendment to the Hungarian National Higher Education Act that targets the Central European University (CEU).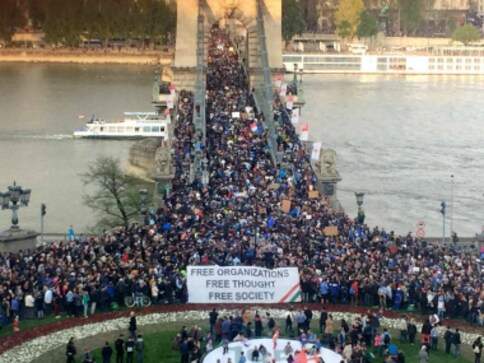 A huge number of people — estimates range from 50,000 to 80,000 — gathered in Budapest on Sunday, 9 April, to protest against the amendment to the Hungarian National Higher Education Act that targets the Central European University (CEU). The protest was one of the largest in Hungary in the recent years and comes on heels of smaller protests in Budapest against the same proposal. More protests are being organised in other cities in Hungary. The amendment in question, often referred to as 'Lex CEU', forces CEU to abandon its current model which rests on a dual accreditation (some programs are accredited in Hungary, some in the U.S.) and makes its everyday functioning more difficult.
The university leadership opposes the proposal as a discriminatory rule since it targets only CEU. Support for CEU came from many places. Thousands of individuals have signed the petition against the legislative change. Nobel laureates, university heads, and university associations have publicly expressed concern over the proposed changes, and so have diplomats and politicians, including the former president of Hungary and former UN Secretary-General.
As one of the leading social science research universities, CEU is very visible within Europe, which partly explains why so many individuals and institutions are interested in expressing their concern. Founded by the billionaire philanthropist George Soros, CEU was tasked with promoting "open society". The idea of open society was developed by the philosopher Karl Popper and it has had a great influence on Soros's approach to politics. In his own words:
"The separation of powers, free speech and free elections alone cannot ensure open society; a strong commitment to the pursuit of truth is also required...There is an important role here for the media, the political elite, and the educational system, which must all act as watchdogs."
Indeed, beside funding many media and political organisations, Soros devoted a large portion of his wealth to supporting education in places characterised by inequality and exclusion. In Central and Eastern Europe, Soros's support for education was based on the idea that democracy should be supported after the fall of state socialism. As the CEU mission states, "Founded in 1991 at a time when revolutionary changes were throwing off the rigid orthodoxies imposed on Central and Eastern Europe, CEU is based on the premise that human fallibility can be counterbalanced by the critical discussion of ideas and that this critical spirit can be sustained best in societies where citizens have the freedom to scrutinise competing theories and openly evaluate and change government policies."
These ideals of truth and transparency went hand in hand with very tangible political goal of democracy promotion. In practice, this has meant that part of CEU's work was to educate a group of people from Central and Eastern Europe who could bring Euro-American ideas about governance and politics into formerly socialist countries. However, this is far from all that CEU is. Over time, the commitment to open society and a free exchange of ideas broadened the appeal of CEU and expanded its more practical bent. Today, CEU includes not only departments of public policy and economics, whose alumni often spearheaded the transformation of post-socialist states including privatisation, but also sociology and gender studies, which tend to take a more critical look at the socioeconomic processes in these countries. (Indeed, it is often the latter that are critiqued in Hungary as standing against traditional values and national interests.) CEU has also offered free programs for Roma students and, recently, refugees.
The complexity of CEU runs against the closure of debate in Hungary. The government run by Victor Orban, a self-proclaimed proponent of "illiberal democracy", has been working hard to remake in political landscape in Hungary to fit its conservative nationalist agenda. The post-socialist changes of Hungarian economy that were based on privatisation made many people feel abandoned while a small layer of oligarchs was growing its wealth. Orban managed to tap into that feeling of resentment — although, like in other places, he is helping the oligarchy as long as they are loyal — by depicting Hungary as under attack by the West.
This narrative has enabled him to go against local civil rights NGOs, the media, or refugees. But the cracks in this strategy are slowly appearing. Although the opposition to Orban is divided and does not manage to mount a strong enough attack to dislodge him, many people in Hungary are showing that they are not fully behind Orban's autocratic practices. The recent referendum on the refugee quotas, which asked the Hungarian people to reject the European policy of refugee resettlement, was declared invalid because less than 50 percent of the electorate voted.
Although Orban won twice with convincing margins, his government's track record is very bad, with millions of people facing economic hardship. To avoid the questioning of his legitimacy, Orban reorganised Hungarian media to serve his purposes. Constant attacks on the enemies of Hungary are widely reported by pro-Orban media outlets to boost the government's popularity, but that strategy might be reaching the end of its efficacy.
The attack on CEU could be read as yet another example of Orban's scapegoating of an organisation or a group of people for the problems that Hungary faces. But Hungary is not alone in the curtailment of academic freedoms and scapegoating in the media. Other countries, such as Russia and Turkey, have had their own versions of the clampdown on academic freedoms. They do not always proceed according to the same logic and under the same pretenses. However, attacks on universities appear as a tactic that regimes in countries that veer towards "illiberal democracy" are eager to employ. As I'm writing these lines, news reports say that Janos Ader, the president of Hungary, has signed the law. Tens of thousands of people in Hungary that showed up to protest on Sunday will probably refuse to accept it, but the terrain on which this fight is happening keeps changing. We will have to wait and see if they will be successful in preventing the provisions of Lex CEU from making CEU's stay in Hungary impossible. If they succeed, they might give hope to people in other countries that are embracing the tools of authoritarianism.
Following images have been sourced from here.
World
25 of the 47 members of the body voted in favour of the motion. China was among the six nations that voted against while India was among the 16 nations that abstained from voting
India
Ambassador Ruchira Kamboj added that 'our efforts to sanction the perpetrators and facilitators of these terror attacks were blocked in the past for political reasons. These actors continue to walk free and have been organising further cross-border attacks against my country'
World
On 29 November 1947, the UN General Assembly enacted Resolution 181 (II)- The United Nations Partition Plan for Palestine