Barack Obama's farewell speech: A reminder that he was first social media president
The Obama presidency proved that social media can be used to promote good governance and make the world a better place
As the final leg of Obama's presidency comes to an end on Tuesday, one can't help but reminisce about the times when the POTUS inspired not just the citizens of the United States, but also the people across the globe. Over the past eight years, President Obama, Vice President Joe Biden, First Lady Michelle Obama and the White House have relentlessly used social media to inform, engage and interact with the people it serves. Whether it was a TV, a computer or a smartphone, there was always a way to stay connected to the first and most forward 'social media President.'
In fact Obama's legacy was progressive, literally and figuratively, when it devised WhiteHouse 2.0. From Twitter, Facebook, Youtube, iTunes and even MySpace the White House was fresh in its thinking, social media and otherwise, in Obama's two terms as President.
So here are some digital words, videos and virtues that Barack Obama will be remembered by.

Between Two Ferns
Obama made quite the interesting choice in order to reach a younger demographic about his healthcare initiatives. He featured on comic website Funny or Die's show Between Two Ferns with Zach Galifianakis to urge citizens to discuss HealthCare.gov. So move aside Jimmy Fallon and Jimmy Kimmel! There's a new fern in town. But that wasn't the only YouTube appearance that the President made.
Obama's many YouTube interviews
Through multiple live-streamed events, with Google News Lab and other media outlets, Obama has interacted with Youtube celebrities about State of the Union adresses, his life as a President, his many popular memes and more!
He has also been a Late Night show host favourite, laughing along with these personalities rather than being laughed at by them.
Obama has even made it a point to put across his weekly addresses regularly through Youtube. Obama sure is giving Mann Ki Baat a run for its money!

Obama does Twitter diplomacy right through the @POTUS handle
As the video above mentions, Obama is the 'First President to ever live-tweet'. Obama may have been the 44th President of the United States but he was the first to fully unleash the power of Twitter. With Live Q & A's, tweets about new policies and schemes and engaging photos and videos about the daily grind at the White House, Obama has always been objective, informative and agreeable on the platform, making it no surprise that he has over 13 million Twitter followers. It's safe to say that you won't be getting any 3 am rants from this President while it lasts.
It's been the privilege of my life to serve as your President. I look forward to standing with you as a citizen. Happy New Year everybody.

— President Obama (@POTUS) January 1, 2017
Also in case you're wondering what will happen of Obama's Twitter legacy, there a digital transition plan for that too! The White House will preserve Obama's tweets at the National Archives and Records Administration (NARA) and President-Elect Donald Trump will be given a new handle @POTUS44 to run his Twitter campaign.

Humans of New York
There's a reason why #ThankObamaIn4Words started trending in no time after the 2016 Us Presidential elections. Obama has left his mark on the people, not just by being a strong leader, by also accepting the fact that he is only human. This vulnerability was brilliantly captured by Brandon Stanton from the popular Facebook page Humans of New York's. In this post by HONY, Obama answers the question "When is the time you felt most broken?" Obama opened up about how he was having a tough time when he was running for Congress in 1999 and how after all the struggles and ordeals, the rest was history.
We can go on and on about one of the most social media savvy President's to ever exist, but the list would go on. Obama can write articles, scholarly and otherwise, in the Harvard Law Review, JAMA and even the Lonely Planet and then also make videos like these:
There's only one thing that we can say about Obama's digital, political and social contribution. Thanks Obama!
Find latest and upcoming tech gadgets online on Tech2 Gadgets. Get technology news, gadgets reviews & ratings. Popular gadgets including laptop, tablet and mobile specifications, features, prices, comparison.
News & Analysis
YouTube has also made it easier to enter and exit full screen mode - simply swipe up to enter full screen and down to exit.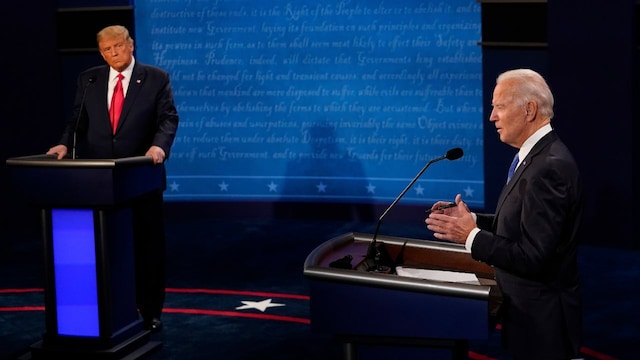 World
Trump charged that Biden's climate plan was an "economic disaster" for oil states such as Texas and Oklahoma.
World
Before Justice Ruth Bader Ginsburg died, she had told her granddaughter she wanted a new president to instal her successor — a deathbed wish that Republicans made clear they had no intention of honouring