As Iowa caucus nears, ghosts from 1990s are back to haunt Clinton; Bernie Sanders soars
Emails going out to Hillary Clinton supporters are taking on a nervy, urgent edge. It's about Bernie Sanders, who is creeping up on Clinton's poll numbers at lightning speed ahead of the first primaries and caucuses that begin early February.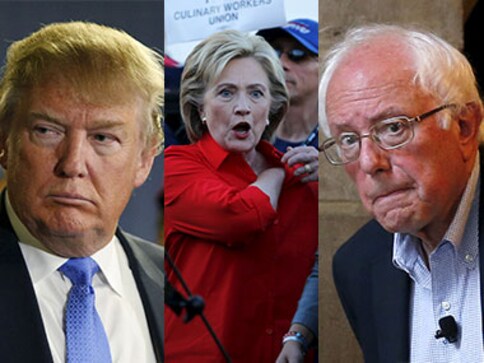 New York: Emails going out to Hillary Clinton supporters are taking on a nervy, urgent edge. It's about Bernie Sanders, who is closing in on Clinton's poll numbers at lightning speed ahead of the first primaries and caucuses that begin early February.
"Bernie's got a real shot at these first two contests, and if we don't take that seriously, we're in for a world of hurt," says the latest one from James Carville, a prominent figure in the Democratic Party who gained national attention for his work as lead strategist in Bill Clinton's successful presidential campaign.
The last Democratic debate - and Clinton has done consistently well on televised debates, airs on Sunday, 17 January and betting markets for the first time are predicting a bigger post-debate bump for Sanders. "What's changed? Nothing's changed. Sanders has not changed, his message has not changed, Hillary has not changed, the dip is because of the Bill Clinton factor," say those closely following the Iowa race.
To both these questions on betting site PredictIt - "Who will get the biggest bump after the last debate before Iowa?" and "Who will suffer the biggest decline after the debate?", Hillary is trading at a discount. The Sanders stock is trading in the 60 cents range, Clinton is in the 30-40 cents range.
The Clinton inner circle believes that Hillary's campaign underestimated Bernie Sanders and the possible appeal of his hard-left messages in early jabbing. Clinton raced ahead of Sanders through summer and Fall 2015 leading even The Economist to say Clinton's nomination is almost a certainly "unless her campaign implodes."
"Unless it implodes" is weighing heavily on the Clintons now as the Iowa caucus nears. Clinton accepted that the big polling lead over the past few months was "artificial".
Eight years ago, a young man named Barack Obama came from nowhere and blasted Clinton not to second but third place in a shocking Iowa finish. That blot refuses to rub away. Eight years ago too, Clinton's polling dipped as the first of the nominating contests began and she lost to Obama.
"Before Iowa in 2008, Clinton was the clear favourite. Then I saw this guy Obama in a TIME magazine story walking out from the beach in his swim wear. I thought Wow! What a smart looking candidate. When he opened his mouth, I was swept away! Sanders is not Obama but he is certainly more inspiring than Hillary. Invoking Bill Clinton is a dumb idea and she's going to have it tough," says Sundar, a Wall Street banker who votes Democratic.
Bill Clinton, widely credited for helping Barack Obama win a second term in 2012, is now regularly headlining wife Hillary's campaign trail especially in New Hampshire, where she trails Bernie Sanders in several recent statewide polls.
Hillary called Bill her "not-so-secret weapon" when announcing the move but it gave Trump just the opening he needed to make Bill Clinton's sexual misconduct that dogged the Clintons in the 1990s "fair game."
"The position she is being put in is emblematic of the double binds placed on wives in all kinds of circumstances. Husbands act; wives react to them. Husbands behave poorly; people look to wives for explanations of why. Wives pay prices for goods they never bought; they do time in publicity hell for actions they never took; they receive judgments for crimes they did not commit. They are offered impossible choices: Do they condemn their partners and thereby destroy the legacies and legitimacy they have helped to build, and if they do not, do they become culpable in those partners' misdeeds?" says Rebecca Traister in Chicago Tribune.
Clinton accused Trump of sexism, he hit back with "Bill Clinton is one of the world's great abusers", Hillary Clinton's double digit leads over Sanders have all but disappeared and the ghosts from the 1990s are back to haunt her - a scandal churner that almost destroyed Bill Clinton's presidency.
This time, it's not about Monica Lewinsky, it's about what Hillary stands for — a fresher case is being made that she may have been complicit in discrediting Bill Clinton's accusers.
Juanita Broaddrick is one such.
"You say that all rape victims should be believed. But would you say that about Juanita Broaddrick, Kathleen Willey and Paula Jones?" a lady asked Hillary Clinton at a New Hampshire rally last month.
Broaddrick had accused Bill Clinton of raping her in 1978, when she was working on his Arkansas gubernatorial campaign.
Willey, a former White House volunteer, said he had attempted to kiss and grope her in a private hallway leading to the Oval Office.
Sanders, from the first democratic debate on, has taken the high ground against Hillary.
He started with "I don't care about your damn emails" and now it's "I am not running against Bill Clinton."
Sanders' rallying cry is that the American economic and political systems are rigged for the wealthy and powerful (read Hillary). The Clinton camp sold Sanders' emotional battle cry short and is now worrying, reports the New York Times, that the oldest rock star in the US election race may hammer away at Clinton's base among minorities, blacks and young women too.
The last Democratic debate airs at prime time on Sunday, 17, January from South Carolina.
Find latest and upcoming tech gadgets online on Tech2 Gadgets. Get technology news, gadgets reviews & ratings. Popular gadgets including laptop, tablet and mobile specifications, features, prices, comparison.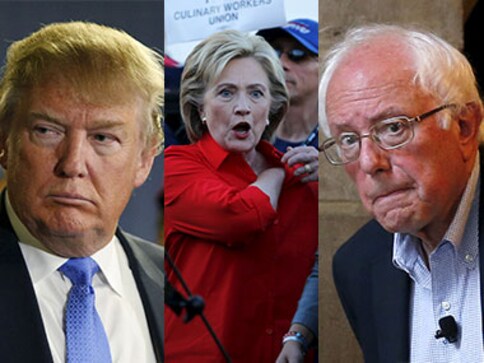 World
Republican Donald Trump and Democrat Bernie Sanders hope to translate voter enthusiasm into victories as Monday's Iowa caucuses kick off the 2016 presidential nominating contests, while Ted Cruz and Hillary Clinton rely on sophisticated get-out-the vote operations.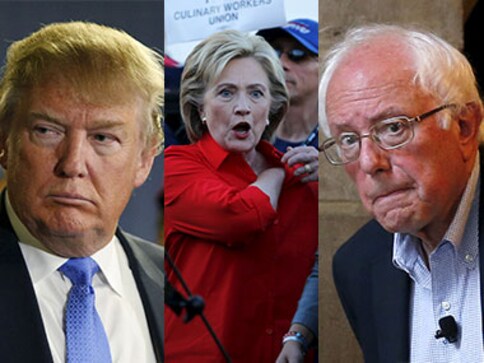 World
Hillary Clinton and Bernie Sanders are locked neck and neck on the Democratic side, Donald Trump is crushing the field with money and bluster ahead of the first presidential nominating contests as America begins its 7 month long quest to decide 2 final candidates who will fight the 2016 US elections.
World
First time Democratic voters are flocking en masse to Bernie Sanders, a 74-year-old senator with seven grandchildren, giving Hillary Clinton a youth deficit problem as the White House race tightens.