After Donald Trump's rally in Phoenix, protesters turns violent; police fires tear gas
A day of noisy but largely peaceful protests of President Donald Trump's speech in Phoenix turned unruly
Phoenix: A day of noisy but largely peaceful protests of President Donald Trump's speech in Phoenix turned unruly as police fired pepper spray at crowds after someone apparently lobbed rocks and bottles at officers.
A haze enveloped the night sky on Tuesday as protesters and police clashed outside the convention center where Trump had just wrapped up his speech. People fled the scene coughing as an officer in a helicopter bellowed through a speaker urging protesters to leave the area.
Officers responded with pepper spray to break up the crowd after people tossed rocks and bottles and dispersed gas, Phoenix police spokesman Jonathan Howard said. It was not immediately known if there were injuries or arrests.
Authorities were on high alert as thousands of people lined up in the triple-digit heat to attend Trump's first political rally since the violence in Charlottesville, Virginia. Protesters filled the streets of downtown Phoenix and engaged in shouting matches and a few minor scuffles with Trump supporters, but those events were generally peaceful.
By the time Trump took the stage, police said there had been no arrests or major incidents.
Phoenix police kept most members of the two opposing groups behind barricades and apart on separate sides of the street. Officers wearing riot gear and carrying rifles sauntered through the lane between the sides.
Local authorities were vigilant in the aftermath of the deadly protests in Virginia and the president's comments last week about both sides having blame for violence at the white supremacist rally. Mayor Greg Stanton had unsuccessfully called on the president to not hold the rally here so soon after the trouble in Charlottesville.
"Toxic Trump," read one protest sign held up to the president's supporters streaming into the Phoenix Convention Center downtown. "Lock Him Up!" read another, a reference to earlier campaign chants by Trump and his backers about his election rival Hillary Clinton.
Meanwhile, a group of protesters chanted, "Wrong side of history! Wrong side of history!"
A number of opposition signs showed drawings or photos of Trump with a small, Hitler-style mustache. Three Trump supporters taunted Latino protesters with offensive comments about immigrants and held anti-Muslim and Black Lives Matter signs.
As the line to get in the venue moved ahead, the two groups shouted at each other, and some skirmishes broke out. At one point, a Trump supporter and protester shoved each other.
John Brown, of an anti-Trump group calling itself the Redneck Revolt, wore military fatigues and had an AK-47 rifle strapped to his chest as he and a half dozen others from the group stood about 30 feet behind the barricade for protesters.
He said they were there to protect Trump opponents and stand up to fascism. "He's offensive to me in every way," Brown said.
State Democratic leaders urged people who wanted to show their opposition to the president's policies to gather at a city-designated free speech zone near the site of the rally.
The message to protesters echoed those coming from law enforcement and Stanton. Stanton said he expects protesters to be "civil, respectful and peaceful." Police Chief Jeri Williams said First Amendment rights will be supported, but criminal conduct will be swiftly addressed.
Sports
Saunders' protest is the first test of International Olympic Committee rules which ban protests of any kind on the medal podium at the Olympics.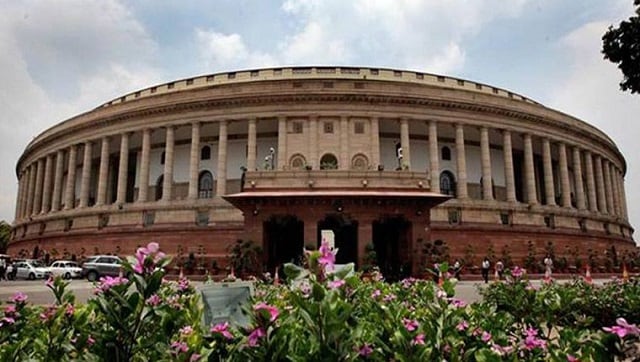 Politics
Meanwhile, the Centre is likely to move a suspension notice against 10 Lok Sabha MPs after they threw papers and tore placards in the House
Sports
Giannis Antetokounmpo was an easy choice for the MVP honour after collecting 50 points, 14 rebounds and five blocks in a 105-98 Game 6 victory over Phoenix. He had at least 40 points and 10 rebounds in three of the six games in this series.