Paris Attacks: Killing innocent people is not my Islam, it doesn't flow from barrel of a gun
The barbarous attacks in France which have left more than 100 people dead are an indication of the depths that humanity has plunged into. If indeed the attacks have been carried out by Muslims, then I, as a Muslim, hang my head in shame.
The barbarous attacks in France which have left more than 100 people dead are an indication of the depths that humanity has plunged into. If indeed the attacks have been carried out by Muslims, then I, as a Muslim, hang my head in shame.
Killing innocent people who have nothing to do with wars neither in the Middle East nor elsewhere in the Muslim world is NOT my Islam. My Islam is an Islam that holds and treats ALL life as sacred — a gift from God that only God can take. My Islam is an Islam whose God is 'rabb al Alaameen' —God of All. My Islam is an Islam that upholds the sanctity of all life, women, men children and even all Creation. My Islam is not an Islam which flows from the barrel of a gun. My Islam is not an Islam that is blood thirsty or which is nourished by the blood of innocents. I hang my head in shame and am very angry at those who take innocent life in the name of Islam and who bring disrepute to my Islam.
There is nothing I can say that will bring solace to the victims and their families of the heinous crime committed in France. Nothing at all. I am numb with grief. All I can offer is sympathy and solidarity. Cold comfort, I know.
What name can I give to the crime? Words fail me.
I know and understand people will question my assertions about Islam with derision and ridicule them. They will point to evidence to the contrary. They will point to the dead with their mute testimony. What can I say?
I will reassert that Islam is a religion of peace and an eminently humane faith but again this assertion will be impugned. But I will say something more. I will address my fellow Muslims and beseech them to demonstrate in word and deed the very real nature of Islam. This would mean disavowing violence and speaking out against gratuitous violence. It would also mean excoriating the seed of violence from our selves and engaging the world in an idiom that smells of roses. It would mean acknowledging other peoples and other civilisations and respecting difference.
My fellow Muslims might point out: what about wars in the Middle East and in parts of the Muslim world?
I will respond and state that lashing out is easy and convenient. I will ask for introspection and a sober understanding of the conflicts that bedevil the Muslim world. We cannot and must not latch onto the past. The past is past and cannot be used as prologue for the future. Muslim lands may have been marauded by colonials but what does a person out to enjoy a soccer match have to do with that? I would call this act revenge and vendetta — forbidden and looked down upon in Islam.
I will call attention to Hazrat Ali (RA) who was spat upon by his opponent while in combat. Hazrat Ali (RA) sheathed his sword the moment his opponent spat at him, fearing God and listening to his inner voice that told him that after the spitting, killing his opponent would be an act of pure revenge.
I will also call attention to our very own foibles and problems that lead to conflicts.
Last but not the least, I will address the attackers and the perpetrators of the attacks. I will say that if each one of them thinks they have a grievance — imagined or real — my Islam enjoins Muslims to forgive; not lash out and kill innocents. I will also tell them destruction is easy, in fact, too easy. I will ask them, 'If your grouse is serious, then be real men; not cowards. Rise and help your people to live. Help them live dignified and meaningful lives. Rebuild your societies. And look at the achievements of who you hold your opponents and enemies to be. Look how 'they' emerged from the detritus of war and conflict and built an edifice of civilisation that redounds to the benefit of humanity.' I will ask them to create; not destroy. I will dare them to create something like the penicillin. If you do this, I will then call you real men. Failing that and killing and destroying will mean for me just one thing: you are cowards!
In the meantime, I will reach out to the victims of this cowardice, their families and societies, with my head hung in shame and mortification and say: Nous Sommes Francais!
Sports
France next face Hungary in Budapest on Saturday before rounding off Group F with another mouth-watering clash against holders Portugal on 23 June.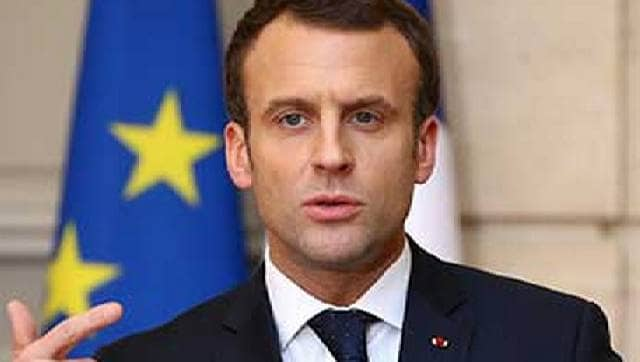 World
Macron, a highly divisive figure, is expected to seek a second term in next year's presidential elections with polls showing him with a narrow lead over Marine Le Pen
Sports
Cavendish, whose 30 Tour stage wins are second only to Eddy Merckx, was included after Irish rider Sam Bennett was ruled out through injury, meaning he will be unable to defend the green jersey that he won in last year's race.