tech2 News Staff Apr 11, 2018 11:45:33 IST
Xiaomi's first gaming smartphone is expected to be launched on 13 April. The company teased the smartphone recently showing curvy edges and an X-Antenna technology whose usage is still unknown. The latest leak shows the rear part of the device.
The smartphone called as Black Shark is expected to come with Snapdragon 845 SoC, 8 GB RAM and 128 GB or 256 GB of internal storage. The new leaked image on the Chinese website Weibo shows a dual-camera setup on the rear side of the device. An LED flash unit also sits beside the rear camera and there is no fingerprint scanner on the rear side of the smartphone.
As Xiaomi generally puts the fingerprint sensor on the rear part on most of the smartphones, non-availability of the fingerprint scanner suggest an under-display fingerprint scanner on the device.
According to the leaked image, the Shark logo sits at the centre of the rear part of the device and the smartphone is wrapped with D-pad to make gaming more comfortable on the smartphone. The gaming controller attached to the smartphone also comes with Black Shark written on the top of the device.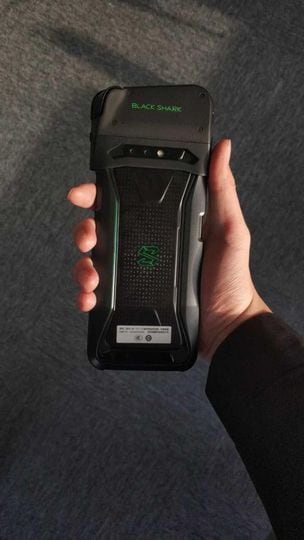 Rear part of the Xiaomi Black Shark smartphone. Image credits: Weibo
It is also reported to come with surround sound technology to give an immersive gaming experience to users.
The Black Shark smartphone is expected to feature a FullHD 18:9 OLED display with 128 Hz refresh rate. It may come with Android 8.0 Oreo out of the box.
Tech2 is now on WhatsApp. For all the buzz on the latest tech and science, sign up for our WhatsApp services. Just go to Tech2.com/Whatsapp and hit the Subscribe button.