tech2 News StaffMay 10, 2018 10:52:10 IST
Even before OnePlus 6 has been officially launched, the company is already teasing launch offers for the smartphone.
As part of the OnePlus 6 Fast AF sale, which starts on 13 May and will go on till 16 May, you can get Rs 1,000 for pre-booking a OnePlus 6 during this period. Well, kind of!
To do that, you will need to buy an Amazon India e-gift card for Rs 1,000, and purchase the OnePlus 6 gift card. That will pre-book the device for you, as well as, make you eligible for a three month extended warranty. In addition to that, by 12 June, you will receive an additional cashback of Rs 1,000 in your Amazon Pay wallet.
You can use the Gift Card code received in the Promotions codes section at checkout of the OnePlus 6 device or add the Gift card to your Amazon Pay Balance account and use the balance against the purchase of the OnePlus 6 or any other product on Amazon India.
The OnePlus 6 is scheduled to go on sale on 21 May for Amazon Prime members, and 22 May for all customers.
To take you step by step through the process. Starting 13 May, you can head to the OnePlus 6 Fast AF page on Amazon India. There, choose the Rs 1,000 denomination and choose the OnePlus 6 gift card. Soon after, you will receive the gift card in your mailbox. When the sale begins, you can use that gift card for purchasing the smartphone.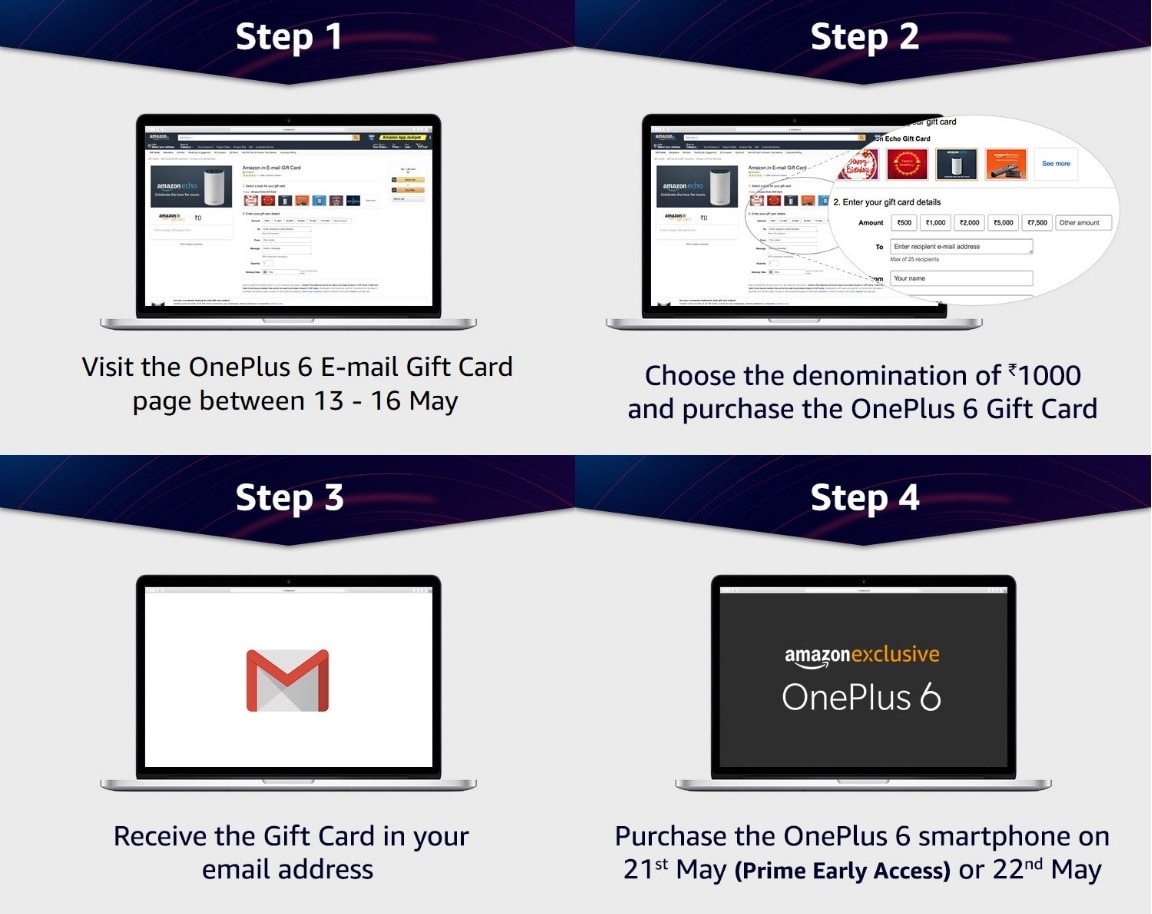 Do note, the Amazon India e-gift card or Amazon Pay Balance cannot be used when you purchase a product on EMI or Pay on Delivery option. So if you plan to buy the OnePlus 6 on either of those payment options, then the Gift Card cannot be used against the purchase of the smartphone. You can still use the gift card and cashback for any other purchase though.
Also, an eligibility criteria for this is that both the OnePlus 6 gift card and the OnePlus 6 smartphone be purchased from the same Amazon India account. You will not be eligible for the cashback and extended warranty otherwise.
OnePlus 6 is scheduled to launch on 16 May in London, followed by a launch in India and China on 17 May.
Along with the OnePlus 6, an Avengers: Infinity Wars edition of the smartphone will also be launched, specific sale and availability details of that is not available yet.
Find latest and upcoming tech gadgets online on Tech2 Gadgets. Get technology news, gadgets reviews & ratings. Popular gadgets including laptop, tablet and mobile specifications, features, prices, comparison.