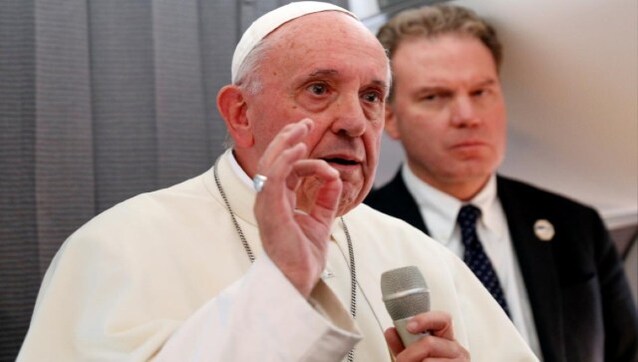 Sports
The five players — Marco Belinelli, Sterling Brown, Jonathan Isaac, Kyle Korver and Anthony Tolliver — were joined in the delegation by NBA players' union executive director Michele Roberts and two other union executives, Sherrie Deans and Matteo Zuretti.
Sports
At his current pace, Robinson would finish with 298 3-pointers — a total that only Stephen Curry (three times) and James Harden (once) have reached
Sports
LeBron James and the Cleveland Cavaliers powered their way back into their NBA Eastern Conference Finals after thrashing the Boston Celtics 116-86 on Saturday.
Sports
After the defeat LeBron James said, "They did what they had to do to protect home court and now it is our time as well. We will see what we are made of on Saturday."
Sports
LeBron James' "worst" was too much for Toronto on Tuesday as the Cleveland superstar and his Cavs teammates rallied to stun the Toronto Raptors 113-112 in overtime in game one of their NBA Playoff second-round series.
Sports
James had a hand in Cleveland's final 22 points of the game as he finished with 30 points, 13 rebounds and 13 assists in 39 minutes.
Sports
LeBron James scored 23 points and reserve guard Kyle Korver added 21 as the Cleveland Cavaliers rallied from a 24-point deficit to edge the New York Knicks.
Sports
LeBron James led the Cavaliers in scoring for the second straight game despite missing most of the pre-season with an injury.
Sports
Golden State Warriors took the best-of-seven series 4-1, reclaiming the throne they lost to the Cavaliers a year ago.
Sports
Cleveland Cavaliers are aiming to climb back into the NBA Finals after losing Games 1 and 2 on the road to Golden State Warriors by a combined 41 points. Follow our live blog for scores and updates from Game 3.
Sports
Klay Thompson can get ridiculously hot, as the Indiana Pacers found out. If he starts firing, Curry-Thompson-Durant will surely be too much for the Cavaliers to handle.
Sports
LeBron James scored 31 points, Kyrie Irving added 26 and Kyle Korver had 22 to spark defending NBA champion Cleveland over Indiana Pacers 113-104 on Wednesday.