World Wrestling Championships 2017: Geeta Phogat says lack of training facilities reason behind India's dismal show
2012 World Championships bronze medallist Geeta Phogat said it is extremely difficult to get a medal at the mega event without proper practice.
New Delhi: Veteran wrestler Geeta Phogat feels "lack of training" is the reason behind India's poor show at the recently-concluded World Championships, which she terms as the "toughest competition" to win a medal.
A strong 24-member Indian contingent, which returned empty-handed from the World Championships in Paris, complained that they were "forced" to train at a local club in Boulevard de Bercy borough, situated 250-300 kms away from the main venue with hardly any facilities or even the sparring partners to practice with.
"World Championships is the toughest competition in the world. It is extremely difficult to get a medal at the World Championships, even more than the Olympics. And when one is not 100 percent prepared, it is next to impossible to win a medal there," Geeta told PTI.
"I heard from Vinesh (Phogat) and others that there were no training facilities provided to them upon their arrival in Paris 15 days before the tournament. They even did not get sparring partners to practice with as none of the other countries' wrestlers reached there," she said at the sidelines of an event, aimed at creating awareness to use Green and Blue dustbins for putting the segregated garbage.
2012 World Championships bronze medallist said it would be difficult for her to comment on whom the blame lies with, as she was not a part of the contingent.
"I don't know whether to blame the Wrestling Federation of India (WFI) or the organisers in Paris for our wrestlers not getting proper facilities, even after arriving there about a fortnight before the commencement of the tournament. But it was unfortunate that they could not train properly before such an important competition," said Geeta.
Babita, Geeta's younger sister, who was also present on the occasion, said: "The quality of the competition is very high in the World Championships. It is a must to prepare well."
Both Geeta and Babita said they were focusing on making a strong comeback at the Nationals in November.
"Our target is to play in the Nationals and win a medal," Babita, who also missed the World Championships this year, said.
Geeta added: "I assure everyone that I will not just win a medal but I will bag a gold at the Nationals."
With their eyes set on next year's Commonwealth and Asian Games, both real life 'Dangal' sisters are completely focused on their training.
"For the last one month, I have been training very hard at the 'akhada' of my husband Pawan Kumar. I have cut down on other events to just 3-4 so that my training does not get hampered. I am completely focused.
"Starting with the Nationals, I will play in the Pro Wrestling League (PWL) and continue to prepare for the CWG and Asiad. There is very less time and I want to utilise it totally," said Geeta.
"If I manage to perform well and get medals in competitions like Nationals and PWL, it would only boost my confidence going into next year," she stressed.
Find latest and upcoming tech gadgets online on Tech2 Gadgets. Get technology news, gadgets reviews & ratings. Popular gadgets including laptop, tablet and mobile specifications, features, prices, comparison.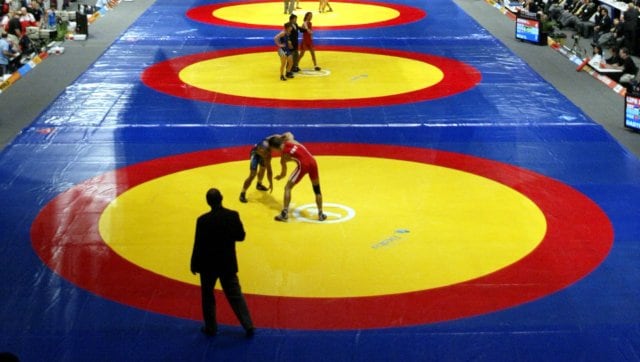 Sports
According to WFI, Cook was recently contacted by Sports Authority of India (SAI) officials for attending sessions such as E-Pathshala, but the American allegedly told them that unless he receives his pending salary, he won't attend them.
Sports
"Remember how everybody said cricket will not be the same anymore when Sachin retired? I think it is a bit like that with Lin Dan's retirement," Prannoy said.
Sports
Boxer Vijender Singh went to the 2008 Olympics as an underdog and came home with a historic medal. 12 years later, he still feels his Beijing waltz was the turning point of his illustrious career.