World Badminton Championships 2017: Saina Nehwal needs to take one match at a time, says coach Vimal Kumar
Having come back from a lengthy knee injury, Saina Nehwal has the experience and potential to perform well at the 2017 World Badminton Championships in Glasgow.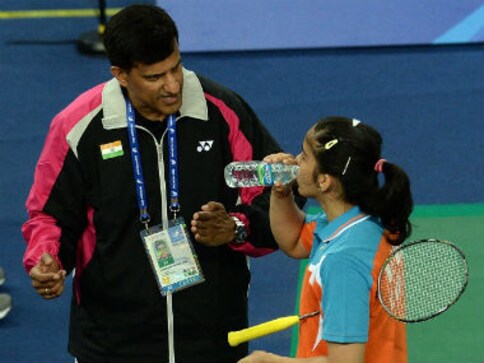 On this day, last year, Pusarla Venkata Sindhu showed great courage to bring home a silver medal for India at 2016 Rio Olympics. The nation went ga-ga over the 21-year-old's massive achievement. Meanwhile, a few days before Sindhu's podium finish in Brazil, 2012 London Olympic bronze medallist Saina Nehwal ended her campaign in a rather painful way. Saina, who was one of the favourites to win a medal at Rio, had suffered a knee injury a week prior to the tournament, which led to an early ouster. The situation became worse as she had to undergo a surgery.
While many believed she would never take the court again, Saina's warrior-like approach allowed her to be fit again and compete at big tournaments. Now, she is a part of India's record 21-member squad for the 2017 World Badminton Championships in Glasgow where the odds will be heavily stacked against the 2015 medallist, but coach Vimal Kumar feels that Saina has the potential and experience to make the difference.
"The preparations are going well. She has been training for the last four to five weeks prior to the World Championships, so she is looking forward to it and if she can play to her potential, she can do better," Kumar told Firstpost.
"Every round is a challenge at the World Championships. Saina has a bye in the first round and then she would run into maybe a Swiss player and if she gets past that then her main task will be against Sung Ji Hyun from Korea," he added.
In June, Saina defeated Sung in straight games at the Australian Open Superseries, but Kumar believes that both the shuttlers have a 50-50 chance.
According to Kumar, Saina has a chance to perform freely as Sindhu and Kidambi Srikanth have hogged the spotlight for India by winning a few Badminton World Federation (BWF) events this year. "The main focus will be on Sindhu and Srikanth, who have done well and there are a lot of expectations. So Saina can be in the background," explained Kumar.
Saina stole the show at the 2015 World Championships by winning her maiden medal at the event in Jakarta. Similarly, the focus will be on her in Glasgow given she has been fit for a while now. "There will be a lot of pressure and especially after what she has gone through in the last 18 months. The injury during the Olympic games was a bit unfortunate and but that's sport, but she has come out quite well," said Kumar.
Notably, Saina has been crashing out of events this year by a hair's breadth in three-game thrillers, and it is expected that there will be close encounters inside the Emirates Arena in Glasgow. "She (Saina) did play in the big events recently where she had close matches, but hopefully, she can convert the results. It will be interesting to see who wins as there'll be no clear favourites. It'll be very open," said Kumar.
Losing out to shuttlers of the same level has become a bit of a concern for the Bangalore-based shuttler, but Kumar believes Saina must stay calm as she has the experience to do well. Kumar pointed out that Saina is undergoing rigorous training sessions, including a variety of shots and strokes in order to be in shape for the world event.
"Saina has been working on variations in the front areas as well as the back court. I cannot say whether she is going to execute them but a lot of stroke routines have been practised. So let's see how it goes," said Kumar.
He added that Saina should not hurry and will take one match at a time to avoid fatigue. "What I've been telling her is take one match at a time and I don't want to put her in a situation."
The former national coach was also optimistic about India's chances at the World Championships given they show the same aggression they have done this year. "Both the men's singles and women's singles have a very good chance to do well. The main aspects will be the singles where they have proven credentials," he concluded.
Sports
Sindhu, who has returned with medals from each of the big-ticket events such as Commonwealth Games, Asian Games and BWF World Tour Finals in the last five years, outwitted eighth seed Bing Jiao 21-13 21-15 to add a bronze to her silver that she had secured at the 2016 Rio Games.
Sports
Here's all you need to know about the Tokyo Olympics 2020 bronze medal match between PV Sindhu and He Bing Jiao
Sports
Sindhu's aim of becoming the first Indian shuttler to win Olympic gold came to a screeching halt as she suffered a straight games defeat against Chinese Taipei's Tzu-ying.