Women's World Chess Championship: Harika Dronavalli, Padmini Rout lead Indian charge in Tehran
After facing a lot of criticism, boycotts and controversies, the Women's World Chess Championship is about to kick off on Saturday in the Iranian capital of Tehran.
After facing a lot of criticism, boycotts and controversies, the Women's World Chess Championship is about to kick off on Saturday in the Iranian capital of Tehran. Following FIDE's decision to host the championship in Iran in September last year, there had been a wave of criticism against the venue since playing in Iran will require participants to wear 'hijab' or a head scarf in public. Failure to adhere to this could lead to fine or imprisonment.
However, despite all the criticism and protests, FIDE has stood by its decision and the tournament will be played from 11 February to 5 March in a 64-player knockout format. Each player will indulge in a mini-match of two games against their opponent. If the match ends in a 1:1 tie then they will go to the rapids (25 mins + 10 sec increment), before finally moving to the blitz.
While many female players have chosen to avoid putting on the obligatory uniform by withdrawing from the event, the tournament boasts of a strong league of female players with Ju Wenjun from China being the top seed. The Indian charge will be led by IM Harika Dronavalli and IM Padmini Rout. Below is the first round pairing:
Harika, with a rating of 2539, is the fourth seed at the event. She faces Bangladesh number one Shamima Akhtar Liza (2077) in the first round. With an Elo difference of nearly 450 points, this won't be such a tough match for Harika. Round two will be much more interesting as she will take on the winner of Dinara Saduakassova (2428) and Marina Nechaeva (2408).
Regarding the hijab controversy Harika said, "Of course, it is not comfortable to play with head scarves but for me the most important thing is the World Championship so wherever it happens, it doesn't concern me much."
Padmini Rout, the other Indian in the fray, will have a tough first round battle against Armenian number one Elina Danielian. Elina has been in the world's elite players for many years now and is a full-fledged grandmaster. Both of them had played against each other in Bhubaneshwar Women's Cup in 2013 and Danielian had emerged as the winner. But it has been four years since 2013, and now Padmini is a much stronger player. This will be a very interesting match to follow and if Rout manages to overcome this hurdle, she will most probably face the eighth seed Zhao Xue in the second round.
Padmini would be playing at such an event for the first time in her career. Speaking to Firstpost, she said, "I have played many times in Iran before! So wearing a head scarf won't be a new thing and I am just too happy to have got this opportunity to play and that the tournament is finally taking place." She further added, "Iran organizes well. It's not very comfortable to play with a head scarf, but okay, nothing to miss a World Championship for."
Despite its strong field of participants, the championship does seem to be incomplete due to the absence of some of the elites of the circuit. Although the reasons given by these players for backing out are manifold, they all seem to be connected with the venue in most cases.
Following FIDE's decision to go with Iran as the host for the WWCC 2017, Nazi Paikidze was the first one to lash out and protest against playing in Tehran saying she would "rather risk her career than being forced to wear a hijab".
The women's world number 6, Mariya Muzychuk, also backed out from playing in Iran since she thinks it is not a suitable country for holding such a prestigious event.
Hou Yifan, current World Champion and highest-rated female in the world, decided not to participate in the championship as she did not like the current two round knock-out format to decide the Women's World Champion and thought it is mostly a lottery, since if you lose the first game, there are good chances of being eliminated.
The Indian number one, Humpy Koneru, has also decided against participating in the event. Although no reasons are known yet, she had been quoted saying she felt "uncomfortable" while playing in Iran at the Grand Prix last year.
"I went to Iran for the first time this year to play in the FIDE Grand Prix. For a few days it was a bit awkward to play with the head scarf, but slowly I got used to it. I feel we need to respect their culture and customs," she said. It is unclear why Humpy has withdrawn from the event.
While many have expressed their displeasure with the venue, it must be noted that Iran was the only country which had put a bid to host the Women's World Chess Championship. Besides, as the 2015 Asian Continental Champion from Iran, WGM Mitra Hejazipour, pointed out, "These games are important for women in Iran; it's an opportunity for us to show our strength."
Whatever might be the argument of the debate, fact remains that the championship is going to take place. And with a line-up of such strong participants which includes several former world champions and other bigwigs of the royal game, the tournament promises some rich chess content.
Aditya Pai is an author for ChessBase India.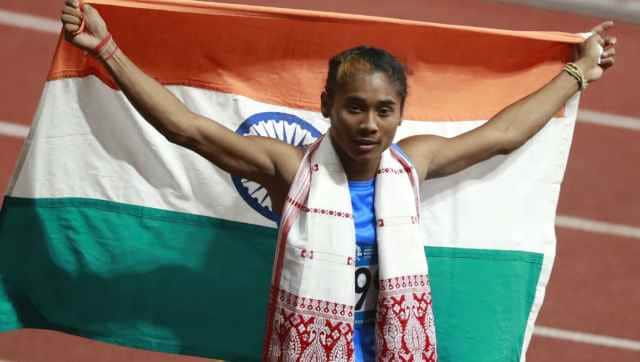 Sports
Das, 21, reported to the national camp at the National Institute of Sport (NIS) in Patiala recently.
First Cricket News
The winner of Qualifier 2 will take on Chennai Super Kings in the title clash on 15 October.
Sports
Irving addressed the issue on Instagram Live on Wednesday, confirming that he hoped to be back on the floor with teammates eventually.