'Well done Rafa, you deserve it': Roger Federer pays Twitter tribute to Rafael Nadal after record 2020 French Open win
Here's how Twitter reacted to Spanish tennis icon Rafael Nadal's record-extending win over Novak Djokovic at the 2020 French Open final!
Rafael Nadal beat Novak Djokovic 6-0, 6-2, 7-5 to win a record-extending 13th French Open and match Roger Federer with his 20th Grand Slam title.
Nadal's straight-sets victory over Djokovic in the French Open final was also Nadal's 100th career match win at Roland Garros. The Spaniard improved to 100-2 at the tournament.
Nadal didn't drop a set in this year's tournament. He served an ace on his first championship point.
Here's how Twitter reacted to the record-extending win:
Tennis twitter showed up in force to support Nadal
— Roger Federer (@rogerfederer) October 11, 2020
Rafaaaaaaaa . No words

— Rohan Bopanna (@rohanbopanna) October 11, 2020
Congratulations @RafaelNadal! It's amazing to kind of share this experience with you. Am I even allowed to say this?

— Iga Świątek (@iga_swiatek) October 11, 2020
Congratulations Rafa. You're an example to everyone in our sport and the best we've seen. Most importantly, a great person. Huge respect. 👏🏼👏🏼👏🏼 @RafaelNadal

— Simona Halep (@Simona_Halep) October 11, 2020
Love and respect for wonderful Nadal family. What an amazing achievement Congratulations to @RafaelNadal family, team and all the fans #RolandGarros champion

— Jelena Djokovic (@jelenadjokovic) October 11, 2020
Amazing @RafaelNadal A legend on and off court. Congrats @rolandgarros

— Kevin Anderson (@KAndersonATP) October 11, 2020
It wasn't just tennis stars that wished the Spaniard
100-2!!! 13 titles??? King Rafa

— Dirk Nowitzki (@swish41) October 11, 2020
Lo único que no cambia en
2️⃣0️⃣2️⃣0️⃣ es Rafa Nadal ganando en Roland Garros ‍♀️ #VamosRafa

— Carolina Marín (@CarolinaMarin) October 11, 2020
To say Paris is your home away from home is an understatement, @RafaelNadal!

Congratulations on yet another win at #RolandGarros. pic.twitter.com/roLb9Wwqaw

— Sachin Tendulkar (@sachin_rt) October 11, 2020
Our honorary member @RafaelNadal continues to grow his legend. Madridistas around the world feel proud of the 1⃣3⃣ time-champion of @rolandgarros. Congratulations, Rafa! You are an example. #RealMadrid

— Real Madrid C.F. (@realmadriden) October 11, 2020
With inputs from AP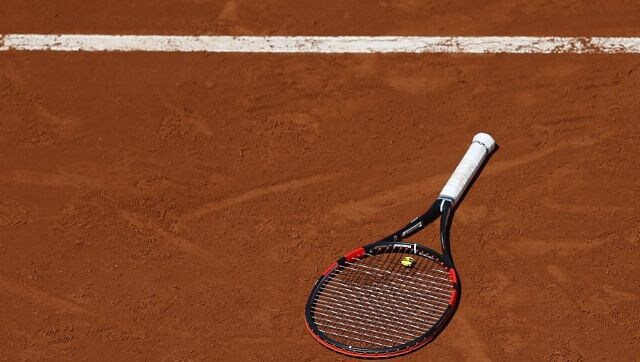 Sports
Both Prasad and Khosla train under the same coach, Aditya Sachdeva.
Sports
Murray, who is preparing for the Indian Wells, left his tennis shoes underneath his car to dry out overnight — but they had vanished when he returned in the morning. His wedding ring was tied to his footwear.
Sports
Medvedev didn't face a break point, and converted three of his seven break chances against the American to wrap things up in 72 minutes.