'Sardar Singh told me I wouldn't get justice': British woman files FIR against Indian hockey captain
After Sardar Singh was accused of sexual harassment by Ashpal Kaur Bhogal, a British hockey player, said to be his fiancée. However, the Indian hockey captain has denied the charges and, according to IANS, even the engagement.
The Delhi Commission for Women (DCW) recommended registration of an FIR against India Hockey captain Sardar Singh on Wednesday in an alleged sexual assault case after a British woman Hockey player of Indian origin filed a complaint against him. DCW chief Swati Maliwal also demanded that an FIR be registered against Punjab Police for failing to register the first information report (FIR) against Singh despite the woman alleging rape and assault in January 2016.
According to this report in The Indian Express, the British woman, who claimed to be Singh's fiance, filed a complaint at the Chanakyapuri police station with assistance from the DCW. Speaking to Network 1 video, Ashpal Kaur Bhogal said that she never thought she would have to justify her complaint, especially because they are respected athletes.
"I was young back then and lacked the confidence. Moreover, Sardar told me I would not get justice in India since I am a British citizen," Bhogal told Network 1 Video.

Maliwal, however, dashed those doubts quickly. "The woman has alleged that she was physically assaulted by Singh and that there was an attempt to push her from the top floor of a five-star hotel in Delhi and that she was raped by Singh therein. We have recommended registration of an FIR against Singh to SHO Chanakyapuri police station (in Delhi)," and added, that the police commissioner and his deputy have also been marked in the directive.
"Also, the law clearly states that if a woman says that she has been raped, police has to file an FIR. But the Punjab Police did not do so despite the woman approaching them and even upon revelation of cognisable offence. We demand that an FIR be registered against Punjab Police under section 166A of IPC for failing to register an FIR," Maliwal said.
Justice should be delivered in a fast track manner, she said. The commission also issued a notice to Hockey India president Narinder Batra on Wednesday and sought an explanation with regard to the allegations made by the complainant against HI and the action taken or proposed to be taken by it in the matter.
The 21-year-old complainant was the first British-Asian woman to represent England in hockey in 2010 as part of their junior women's team. She had filed a police complaint in February in Ludhiana following which an SIT was formed to probe the sexual harassment allegations. The SIT had given a clean chit to the Indian hockey team skipper.
Sardar has earlier denied all the allegations levelled against him, saying that the charges were 'inappropriate' and 'false'.
Indian hockey captain Sardar Singh and Ashpal Kaur Bhogal, a British hockey player, who is reportedly his fiancée, had been in a relationship since 2012. They met in London during the Olympic Games and were to be married, according to a tweet she posted in August 2015. She confirmed the engagement in an earlier interview, where the 21-year-old gushed about her love story.
Firstpost has obtained video footage, shot in 2012, in which Bhogal describes their relationship as stable and enriching. She repeatedly mentions marriage as being on the cards. "We originally met over Facebook. We became much closer friends when Sardar came to visit during the Olympics Games. I was going through surgery and Sardar actually gave me tickets to watch him play and from then on we just spoke more and became closer friends. Then we met a year later in London and that's where our love story began," Bhogal said .
Bhogal has now accused Singh of sexual harassment. The Indian hockey captain has denied the charges and, according to IANS, even the engagement.
Bhogal, who is of Indian-origin, alleged that Singh had "mentally, physically and emotionally tortured" her. She filed a complaint in Ludhiana. S Nagra, in charge of the Koom Kalan police station, confirmed that the matter was under investigation, but an FIR is yet to be registered.
Footage obtained by Firstpost presents an altogether different scenario. She is seen at with Singh at practice games and says she plans to travel with him for Commonwealth and Asian Games.  "I'll always be there to support him," she has said.
In the past, Sardar Singh has posted tweets and his photographs with the British woman.
In the interview, Bhogal has said that after their virtual friendship turned into love, it was their shared passion for hockey and their 'namdhari' traditions that got them closer. An international hockey player herself, she had undergone a knee surgery when Singh helped her recover. "Hockey and our namdhari tradition, me and Sarshar are both from namdhari families, and we have a lot in common in terms of values and beliefs. Also we both play the game at an international level," Bhogal said.
In fact, she was ready to move to India following her marriage, which she now says has been cancelled. In the interview, she had said that hopes they would get married soon. "We will be settling in India, but we still will be travelling, possibly to play in the league in Belgium or Holland," she said.
The British citizen has now alleged that Singh had backed out of their relationship. She has even alleged that he forced her to abort their child and is now refusing to marry her, after announcing their engagement.
Meanwhile, Singh has denied the charges saying that he knew the woman but that it would be wrong to say that he assaulted her. "I know her, but it's wrong to say that I have assaulted her. I am sad to hear about such a thing," Singh was quoted as saying by NDTV. "I will speak to my lawyer about the issue," he added.
Singh addressed the media outside Chandigarh airport on Wednesday. "I will first see what report the police have written. Only then will I get back to reply all your questions. I was not engaged (to the complainant)," he said.
I have just come from a game last night. I am concentrating on the next game," he said, as he pulled himself away from the media questioning. Sardar's father Gurnam Singh told reporters in Haryana's Sirsa district that his son knew the woman but denied both were engaged.
The Punjab Police is investigating a complaint from the British national who alleged she was "sexually exploited by her fiance Sardar Singh".
Investigations in the case have been marked to the Koom Kalan police station in Ludhiana district. Police station incharge SS Nagra confirmed the matter was under probe following the complaint.
The woman had complained to Ludhiana Police Commissioner PS Umranangal who marked an enquiry into it.
With inputs from IANS
World
Dentsu dominates event organizing, marketing and public relations in Japan. It helped land the 2020 Games for Tokyo, and then lined up record domestic sponsorships
Sports
Aspiring candidates for the 10 December polls can file their nomination papers from 25 to 27 November in person while they can withdraw their names from 1-3 December.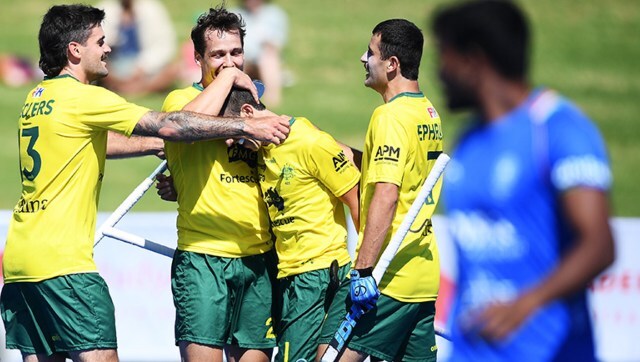 Hockey
Akashdeep Singh (10th, 27th, 59th) scored thrice but the Aussies prevailed in the end as Blake Govers (57th, 60th) found the back of the Indian net twice from penalty corners in the dying minutes of the game.