If the Indian tennis system doesn't change, there will be no growth: Rohan Bopanna
In November last year, there was not a single Indian male singles player inside the top-300 for the first time 2005.
Melbourne: "Where are the Indian tennis players? There never used to be that many in singles but where are the doubles ones?" My middle-aged Australian taxi driver asked on 26 January as I boarded from outside Melbourne Park.
He had clearly missed the memo on Sania Mirza and Rohan Bopanna making the mixed doubles final (which they went on to lose) but his assessment on singles wasn't off the mark. Australian Open was the first Grand Slam since 2017 without an Indian singles representative in either qualifying or main draw.
Read | Sania Mirza displays flashes of the old in last Grand Slam match
There were positives in the doubles: Mirza and Bopanna came on the cusp of the mixed doubles title. Jeevan Nedunchezhiyan and N Sriram Balaji made the most of alternates tag with a foray into the second round in maiden appearance at a major. Elsewhere, Yuki Bhambri and Saketh Myneni exited in the first round.
But the finer details reveal the bleak situation with Indian tennis and absence of vision. Bopanna was the oldest player in the Australian Open main draw at 42. Mirza is 36 and two tournaments away from retiring. Jeevan is 34 and Balaji is 32. Myneni, who bloomed late, is 35. Bhambri, 30, was forced into focusing on doubles with injuries taking a toll. All players were 30-plus.
Sure the conventional wisdom around final years in tennis have been shattered by the likes of Novak Djokovic (35), Rafael Nadal (36), now-retired Roger Federer (41) and Serena Williams (41) but they're exceptions rather than the norm.
Moreover, they don't represent the growth of tennis in a country. Some examples of growth, meanwhile, are the American men: Eight of them made the third round at last year's Wimbledon (most since 1995) and four qualified for the last-16. At the 2023 Australian Open, three men entered the quarterfinals – most since 2000. These are not the highs of American tennis as in the past but there is progress by the United States Tennis Association (USTA) – same cannot be said for India and the All India Tennis Association (AITA).
Indian tennis meanwhile is going in the other direction. In November last year, there was not a single Indian male singles player inside the top-300 for the first time 2005. As a result, not one could earn a direct entry into the ATP 250 Maharashtra Open main draw. Of the three that were handed wildcards and one qualifier, not one progressed to the second round.
View this post on Instagram
"Reality is that the same guys have been playing the last couple of years. It's been Ram (Ramkumar Ramanathan), been Saketh (Myneni), Prajnesh (Gunneswaran), Sumit (Nagal)," said Bhambri on the options in singles.
"It's always been like this. We've always had an athlete coming forward once every 10-20 years. It's always been the reality, probably just been covered over the top because of the guys around. Go back and there was Leander Paes who played singles then no one, then Somdev Devvarman and then there was me. Apart from that, there have always been a couple of players around from (World No) 150 to 300-400 and that's the case how it is," said Bhambri who attained a career-high World No 83.
Devvarman echoed Bhambri's thoughts and questioned why Indian tennis continues to expect from them with no talent pool making headway.
"Whatever it is that we are doing is not good enough. Some people can say it is a matter of time because Sumit is recovering from (a) hip surgery, Ram had the worst singles season since he has turned pro pretty much. Will he get better, yes. Prajnesh, can he come back? I don't know but he is still playing at a very high level, but the question is why are we dependent on these three characters still?," he had said in a media interaction organised by Sony Sports Network ahead of the Australian Open.
Aside from singles, the attempt at aiding the doubles pairings with coaching and physios has come from Bopanna and private parties. Under the 'Doubles Dream of India' project, there was a pre-season camp in Dubai last year under the watchful eye of South Africa's former World No 12 Jeff Coetzee. The programme, conceptualised by Pune Metropolitan District Tennis Association with support from software firm KPIT, plans to provide a travelling coach and physio to doubles pros.
View this post on Instagram
"There is no question that we need a structure in the country. Yes, there are more tournaments now, but this has to happen regularly. Take Ben Shelton, he is travelling outside the US for a tournament for the first time. It is amazing that you could stay in a country and still become professional. That means you have that many tournaments, that many Challengers, that many Futures, apart from the Grand Slam. It is even possible to do that. So it is fantastic that he's been able to do it. And it's great that he's able to play these big events and travel. But on the other hand, I wish India had similar tournaments enough that you didn't even have to worry about that," said Bopanna.
"We have to change something – for 20 years it has not changed. So if you ask me what's happening in the next five years or 10 years, if the system doesn't change, there is not going to be growth. Someone needs to sit down, look at things and say 'You know what, let's make a change. Let's bring in something different, new perspectives in there'. That is what is needed," he added.
Bopanna stated the push needs to come from bottom up. The Coorg native suggested there be  two-three tournaments in each state and then the onus be on the national federation to scale opportunities.
"If you've played a sport for 10-15 years and the sport is not making you money, that means you play tennis but you're not a tennis player. It has to be a collective team effort and the focus should be on the tennis and not the individuals," said Bopanna on the way forward.
Read all the Latest News, Trending News, Cricket News, Bollywood News, India News and Entertainment News here. Follow us on Facebook, Twitter and Instagram.
Tennis
Watching body language, anticipating shots and reactions, have been areas that Cirstea has been encouraged to engage with by Johannson.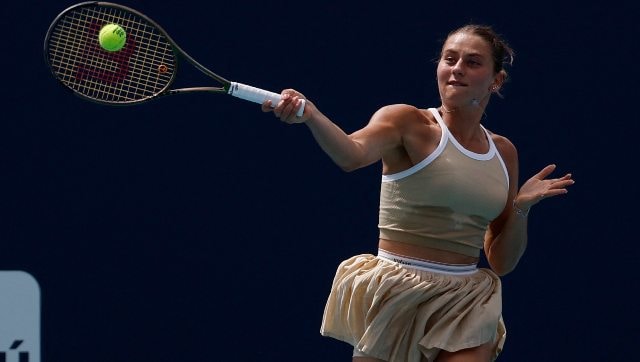 Tennis
Ukraine's Marta Kostyuk says the WTA Tour has ignored a request for a meeting with players from the war-torn nation in the latest signs of the conflict-related tensions in women's tennis.
Tennis
Martina Navratilova revealed in January she had been diagnosed with throat and breast cancer.