'Competitiveness is in my blood': Sania Mirza braces for Grand Slam farewell
Sania Mirza wants to show younger girls that being a professional athlete can go on along with being a mother and that does not mean that you are neglecting your motherhood.
Melbourne: Sania Mirza is joined by long-time mixed doubles partner Rohan Bopanna right after their semi-final win at the Australian Open. She has her leg taped – something that has been a feature over the two weeks and has only grown in length. As soon as she sits down, she smiles to a congratulatory thumbs up and politely greets the journalists in the main interview room at Melbourne Park.
She's been here before. Her first appearance at the Australian Open came in 2005 when she, at 18 years old, made the third round, a first for an Indian woman, and lost to Serena Williams. Sporting a yellow T-shirt, white skirt, a white visor, and ponytail, Mirza was beaten in straight sets. That, she recalled all these years later, is her most memorable moment from the tournament.
Thereafter, she made the third round again in 2008 but her lasting impact came in the doubles. She won titles alongside Martina Hingis (2016) and Mahesh Bhupathi (2009) and reached the final three times (with Bhupathi, Horia Tecau, and Ivan Dodig).
Read | Sania Mirza-Rohan Bopanna take her 'last dance' into final
On Friday noon (6.30 AM IST), she will target silverware once again, alongside Bopanna, in what is going to be the last time. The last dance.
"The first time I made the final here was in 2008. We're in 2023. It's a bit scary for me to think about that actually," she said with a smile.
Only Mirza is not one to be scared easily – by challenges on and off the court. The 36-year-old has had a life of questions except they haven't related to the sport she took up when all of six. They've varied from the length of her skirt, shooting inside a masjid, marrying a Pakistani cricketer, to returning to professional sport as a mother.
Most prominently, when a TV anchor asked her about settling down and becoming a mother, she hit back as defiantly as her forehand does: "You sound disappointed that I'm not choosing motherhood over being No.1 in the world at this point of time."

That is Sania Mirza in a nutshell – unfiltered, bold, self-confident, and sure of herself even if it comes off as brash to some. The former World No 1 is fully aware of her power as an Indian-Muslim woman, playing a sport like tennis, and wants to use her clout for good.
She has spoken out against domestic violence, gender stereotypes, sexual assaults, gender pay gaps, female foeticide and has been an advocate for peace between India and Pakistan. In November 2014, United Nations appointed her as a Goodwill Ambassador – the first South Asian woman to be recognised at the level.
"I think a lot of people say you've always spoken from your heart. And that is important for me because I feel like my legacy should be of course about tennis, being World No 1, achieving things that I was able to do, and winning Grand Slams. But it should also be as a person who was very true to herself on-and-off the court. Because that is something that's going to stay with me long beyond the years of me winning tennis matches. I feel that I have tried to stay as true as possible to it," she told Firstpost.
"The legacy that I want to leave is that you have to stand up for the right and try and stay that true self, which is very difficult to do in a world of social media and media where you're judged on everything that you do and say," she added.
Another aspect that Mirza hopes she's changed is to dissuade mothers from giving up their careers and passion. Proud parent of four-year-old Izhaan, Sania implores that it doesn't make you a bad mother if you're following your dreams "because that's the example you're setting for your child to follow in your footsteps or even become better."
Sania Mirza: Most perfect grand slam to end my career
"I want to show to the younger girls and younger women that you can have it all. You can be a professional athlete, you can be a champion, you can be a mother, you can be all those things. And it does not mean that you're neglecting the other," says Mirza who gave birth in 2018.
As the clock wounds down, the journey ends, and with the finish line in sight, Mirza acknowledges she will miss the competitive spirit the most. But it is also a moment to reminisce of the years gone by. The years when she, father Imran, and family travelled to tournaments in Kolkata without a ticket because they couldn't afford it. Or making 40-hour car journeys across Hyderabad-Bombay-Trivandrum with the vehicle bailing multiple times.

When Bopanna and Mirza take the court against the Brazilian pairing of Luisa Stefani and Rafael Matos, that all will have to be put aside. But what will remain, as has over a decade-and-half, is that desire to win – much like against Williams all those years back.
"I play every match trying to win, whether it's my last tournament or my last slam or my first slam. For me, competitiveness is in my blood. Every time I step on the court, I want to win regardless of whether it's going to be my last slam, whether it's my last season. That for me, yeah, it's just who I am as a human being. I can't take that out of me."
Read all the Latest News, Trending News, Cricket News, Bollywood News, India News and Entertainment News here. Follow us on Facebook, Twitter and Instagram.
Tennis
Manchester, Bologna, Valencia and a Croatian city will host the four groups between September 12-17.
Tennis
Watching body language, anticipating shots and reactions, have been areas that Cirstea has been encouraged to engage with by Johannson.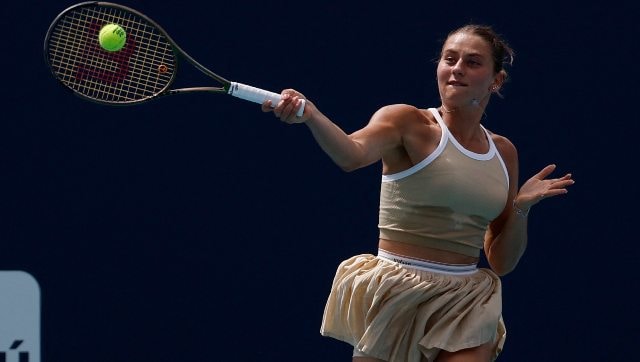 Tennis
Ukraine's Marta Kostyuk says the WTA Tour has ignored a request for a meeting with players from the war-torn nation in the latest signs of the conflict-related tensions in women's tennis.