Stephanie Rice's India dream: Swimming legend wants to mentor country's athletes to glory at Olympics
Beijing Olympics gold medallist Stephanie Rice talks to Firstpost about her special bond with India, wanting to help Indian athletes achieve glory, facing an identity crisis and never rethinking her move to retire early.
Stephanie Rice's love for India is undeniable. Over the years, she has made multiple visits to the country, most notably as part of a TV channel's commentary panel during last year's Olympics.
Scroll through her Instagram account and it seems like one endless effort to woo India and Indians. There's a picture of her posing in a Bengaluru FC jersey. There are images of her in sarees. And then there's a memorable post about her "serious India withdrawals" where she exhorts the universe "to take her back to the country again".
And now the 28-year-old has said she wants to strengthen her association with the country by helping an Indian athlete as a life coach and/or mentor.
"I believe that a world-beating athlete is someone who has natural ability, works hard and has the best mentor and support system. That is why I would love to come back (to India) and be the mentor and life coach to an Olympic athlete, not necessarily a swimmer. I have a very passionate relationship with India, and will keep coming back to build a stronger association with the country," Rice told Firstpost after the TCS World 10K event in Bengaluru last Sunday, where she was the event ambassador.
"India just feels so comfortable for me, it's so different from Australia and I love it. I have always had a huge following of Indian fans on social media with Facebook and Instagram, but I had never been here since 2016. There were always so many Indian people that love to connect with me, and I told my business partner that I would love to go to India and see if there was any possibility of me doing something here that would allow me to interact with the people here. India just welcomed me into the country, and was just so supportive of me being here which just made me want to come back here even more," she added.
She was involved in a project in India which was looking to groom young talent back in 2014. Unfortunately, it didn't work out. "There were challenges that we faced, and sometimes things just don't fall into place as planned. But I am still definitely working on the idea and will set up something in future with much more comprehensive plans."
One being asked what lessons Indian swimmers can learn from Australians, Rice said: "In a country with so many people, there is an abundance of talented individuals. Training hard and with the right coaches and equipment is the most essential thing. Mental training is also important because it plays a major role in how an individual copes with the pressure of competing."
She added that proper training facilities needed to be provided to athletes at a young age for them to bloom into a world-class athlete.
"Australia has a very rich sporting culture, we all engage in sports from a young age and that is one of the main reasons why Australia produces so many quality athletes and sportspersons. The facilities provided to us from an early stage is essential and I think that plays a major role in the development of any sportsperson. Starting early, with the right training, equipment and facilities is the most important thing to produce quality swimmers."
Rice herself was an early bloomer, going on to win three Olympic gold medals with world record timings at Beijing 2008 at the age of 20.
So how does someone so young deal with the spotlight and the attention that comes with being a three-time Olympic gold medallist, that too with world record timings?
"Coming into Beijing, there wasn't much pressure on me. I had to only concentrate on giving my best. But after winning the gold medals, there was always a huge expectation on me to win at every event. It was always a question of balancing my time as well, I always concentrated on my swimming but now I had to also fit in time for various activities that came with the fame of being an Olympic gold medallist," she said before adding that going into the London Olympics four years later, she had already made up her mind that she was going to call time on her career.
"Going to into London, I was certain that this was going to be my last Olympics. I had just had two surgeries on my shoulder and had fallen sick just before the games. Things weren't quite going my way, but it only inspired me to do better despite all the setbacks," she said.
Having retired from swimming – prematurely people might say – Rice struggled a bit with adapting to life.
"It is always difficult for any person to get used to life after sport, because I have always known myself as a swimmer and to not be that person anymore, was a bit of an identity crisis. So, it took me about two years to really figure out what I'm passionate about other than swimming. And I decided that I want to inspire more people to live healthier, and I took that time to figure out what can I do to help me to achieve this new goal," Rice reminisced.
Many a legendary athlete has struggled to deal with retirement, often resorting to ill-advised comebacks. Bjorn Borg did it, coming back after 10 years away from the court and but not winning a single set during his first nine matches. Swimmer Mark Spitz, who retired at 22 years of age, too tried unsuccessfully to get into the USA team for the Barcelona Olympics at the age of 42. And then there's NBA legend Michael Jordan, who made two comebacks. The first one was successful, the second, not so much.
But Rice is vehement that she 'never' reconsidered her retirement.
"I have never thought about making a comeback. It never even crossed my mind. I believe we all have the right to choose and I had chosen to retire about a few months before I went into London. After training hard for years and being at your best, it doesn't make sense to stop and then return to the sport because you cannot be any better than you were before. I constantly tried to achieve personal bests, to grow as a swimmer and after winning a gold at the Beijing Olympics, finishing 3rd didn't feel successful to me. It was either win an Olympic gold medal and make a comeback or stop, and that's what I did."
Find latest and upcoming tech gadgets online on Tech2 Gadgets. Get technology news, gadgets reviews & ratings. Popular gadgets including laptop, tablet and mobile specifications, features, prices, comparison.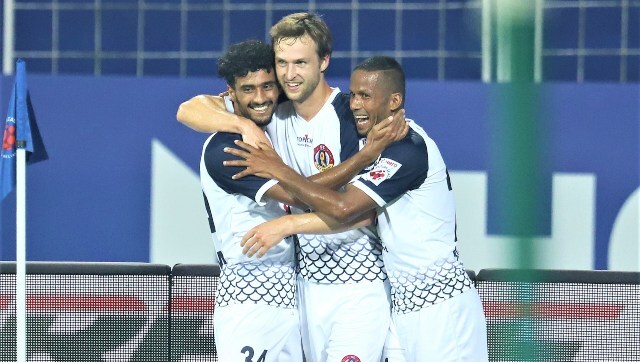 Sports
The Kolkata team is now unbeaten in their last five games, while BFC's misery continued with their fourth consecutive defeat this season.
Sports
Luis Machado (27') opened the scoring for the Highlanders but Rahul Bheke (49') cancelled out his goal after the break to help the Blues salvage a point.
Sports
Goals from Mourtada Fall (9'), Bipin Singh (15') and Bartholomew Ogbeche (84') helped the Islanders remain unbeaten in their last eight games and climb to the top of the table.