Sai Praneeth sets his sight on maintaining fitness; calls for 'consistency' in Indian men's singles
Newly-crowned Singapore Open champion B Sai Praneeth on Tuesday said he is focusing on maintaining his fitness level ahead of the upcoming Indonesian Open and Australian Open in June
Hyderabad: Newly-crowned Singapore Open champion B Sai Praneeth on Tuesday said he is focusing on maintaining his fitness level ahead of the upcoming Indonesian Open and Australian Open in June.
"I focused on my fitness and in Singapore Open I felt fitter than before. My focus in on maintaining fitness level. As far as I know, if I am fit I could play at this level (Singapore). I am looking forward to Indonesian Open and Australian Open in June," he said.
"Obviously winning Super Series title is a big thing and I felt very happy. I am happy that I won. I was waiting for quite a long time to win a Super Series. I could make it in Singapore and I am very happy about it," Praneeth said.
Praneeth's title-winning performance has given a big boost to his World Championship qualification which will be decided depending on the ranking list on 27 April.
"It is a big tournament and I will try to perform my best," said the 24-year-old.
Praneeth burst onto the scene in 2010 after clinching a bronze at World Junior Championships and had some big wins in his career over stars such as former World and Olympic champion Taufik Hidayat and World No.1 Lee Chong Wei.
"Beating the legends ... It always feels great," said Praneeth, who had clinched the Canada Open last year and reached the finals at Syed Modi Grand Prix Gold in January.
Asked if he received any special tips from Chief national coach Pullela Gopichand, Sai Praneeth said: "We are always focused on next tournaments. His advise for us is to concentrate on fitness and practise hard every day."
Reacting to a query, he said: "The Indian Badminton Men's singles they are in top but the lack of consistency is what we are working on and now we have good results coming in. Sameer and Ajay played finals. Srikanth also won and slowly consistency of players is increasing."
K Srikanth, who lost to Sai Praneeth in the summit clash of the Singapore Open, said: "I hope going forward there will be many more tournaments where two Indians will be (playing) in the finals. We missed Gopi sir that day."
A former World No. 3 Srikanth is on a comeback trail after recovering from an ankle injury.
"I am feeling confident with my body now and I am able to move fast and able to play my strokes. I am hoping to play some tournaments before the World Championship to get that form back and go in a much more confident way," he said.
Olympic silver medalist P V Sindhu, who clinched the India Super Series early this month, congratulated Praneeth for his win and added: "We all felt very happy on two Indians making it to the finals.
"Super Series are important tournaments and each one is totally different but if you keep on winning and play well you will get the confidence and improve much more," she added.
Sports
Check out photos from Day five of the Tokyo Olympics 2020.
Sports
Here's the complete schedule of Tokyo Olympics 2020 involving Indian athletes on 28 July.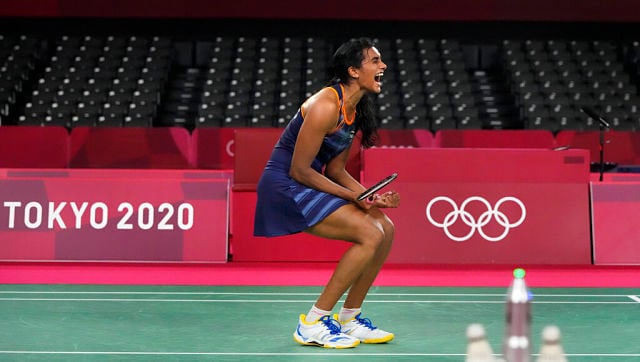 Sports
The 26-year-old Indian, who won a silver in the 2016 Rio Olympics, defended brilliantly and rode on her attack to outclass the fourth seeded Yamaguchi 21-13 22-20 in a 56-minute quarterfinal clash at the Musashino Forest Plaza here.