This piece by Pulasta Dhar won the runner-up prize for Best Sports Feature at the National RedInk Awards for Excellence in Journalism-2014. It was originally published in Sept, 2013. We are republishing after the awards were handed out on 7 June, 2014.
Zohib Islam Amiri was transformed into one of the most famous personalities in Afghanistan after leading his country to their first football trophy – the SAFF Cup - earlier in the month (they beat India 2-0 in the final). The win united the nation, which seemed to have begun partying by the time Amiri lifted the cup over his head.
The defender, who plays his club football for Mumbai FC, gave an exclusive interview to Firstpost.
Afghanistan-Pakistan-Afghanistan-India
"I was in the car, with loud music playing." Amiri says. He puts his fingers into his ears and beats his head hip-hop style, showing that he was really into the music at that moment, almost listening to it again inside his head.
"I was just doing something and suddenly there was a loud boom. At first I thought there was something wrong with my car, and when I looked up... when I looked up I saw smoke and people running towards me. So many people, just running."
And the next thing he knows, is that he's running with them too.
"What else do you do? Where do you go? You just forget about everything, leave everything and just run with your people. Do you even know how the bomb blasts are?"
"There's one bomb here, two minutes later - one here, and two minutes later - one more here," he says, making a triangle on his palm to show that there's no place to escape.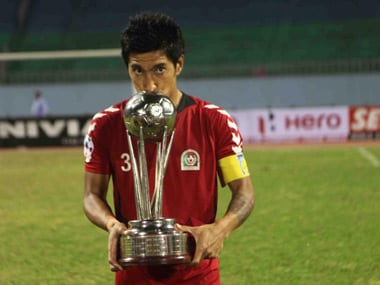 Amiri's father ran a shop in Kabul to support his family. This included his five sons and a daughter. When the Taliban's power in Afghanistan was at its peak, the family escaped across the border to Pakistan. It is here that Amiri's memory sort of blacks out.
"I don't even remember. It was only for a year, but I don't remember. We went away, because one day they would come and take my father and ask for money. Next day my elder brother — it was too much to take. But we came back, and thankfully everything we owned was still ours."
Discovering football
Still just 23, Amiri has always loved football — in fact, he says Afghans love the game. They are passionate about it and when he saw this passion, all he wanted to do in life was play.
Watch Amiri speak about his strategy for India at the SAFF Cup final in the video above
"They loved me at school because I played football. I could sport long hair and do anything without worrying about what my teachers would say — because they would think 'if he's angry the school team will lose'."
"Even at home, my parents were supportive. They said if I wanted to play the game then I should only concentrate on that. If I wanted to study, then I should just do that. But nobody would think about studies in Afghanistan at that time."
There were other obstacles too.
"It's feels dangerous to even think of entering a football stadium, where they are killing someone or cutting their hands or legs. When you enter a sports complex or a stadium, you can feel the fear."
Yet Amiri's stature grew quickly, starting with his exploits at school level football. He was still a teenager when he became his country's highest paid football player.
"I played for Shoa in their B team when the A team stopper got injured. I played in his place during the next match and was invited to the national team for practice. I told myself, ah come on, this is no big deal. But then, I got in the team and I was still a teenager when Kabul Bank picked me up and made me the nation's highest paid player."
Amiri - the footballer
"Why eight yellow cards?
"Why? You tell me," he says, and we meet his stare with surprise. He looks towards the video producer, who's also startled.
But eight is not bad, Amiri, it's not bad.
"No, no, no. They were stupid yellow cards."
Last year, in 20 starts at club level, Amiri received just four yellow cards. In his whole international career, he has received just eight. This, from a player who plays at left-back or centrally sometimes, is remarkably disciplined. But he's not satisfied.
"I've never been sent off, you know?" That's a record Ryan Giggs would be proud of.
Amiri has great versatility. "We play him up front when we need a late goal," Mumbai FC team manager Henry Picardo, said.
And the Afghan loves it: "I just love playing striker. But I play best as left-back or stopper. I've even played on the right."
Offers from other clubs? "Yes, big offers from other teams in the I-League and a couple from Oman and Bahrain, but I'm staying here," he says with an air of confidence.
Life in India
"If only the FRRO can be more cooperative," he says, looking at his phone ruefully after a long phone call. "One other Afghan wants to come play in India, but they're not giving him a visa. It's weird. If Indians want a visa for Afghanistan, you can get it in 10 minutes, but if someone wants to come here, it's a pain."
Amiri however, has sorted out his yearly entry to the country to play the game, and he's enjoying every minute in India. Picardo also revealed that he hardly gets homesick. He says, "Amiri is the one who binds the team."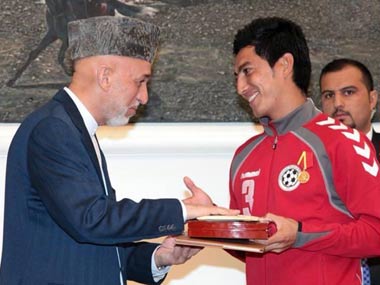 Like every other footballer, he has a tattoo — a roll of designs on his left arm with the names of everyone special in his life. "I still want to add to it," he says.
There is also something of David Beckham in him when it comes to fashion. "I love to shop, oh I love shopping for clothes in my free time. You should see my cupboard, they're full of clothes."
And what about languages, where did he pick up Hindi? "Bollywood of course. Shahrukh, he's the Badshah. He's the real superstar."
Amiri loves life, he's playful in the interview, he enjoys talking. He has endless stories from every city he's been to. In fact, behind this lies a fearless attitude to everything. "I don't mind. You make me say it on camera or off it. You can use everything."
"It's great. I'm totally at home here. The team offered me another house, but I said I'm staying with the boys. I've never felt like a foreigner living in the country."
As much as he's sure of living in the country, Amiri falls short of words when we asked him where India was falling behind in terms of football.
"They have everything, everything! It's confusing why they're not doing better. I think they're not taking the game seriously. Maybe the nation is not taking the game seriously."
The SAFF Cup final
"We knew the Indian defenders were slower than our strikers and wingers, and we could hurt them on the counter-attack. I know the players, I know them very well and this was our plan. The coach said, this is the best time to use all the counter-attacking practice of the last 2-3 months."
Amiri is someone who puts thought into his game and he could have a future as a manager once he hangs up his spikes. "It's all in the head. You were talking about those yellow cards, they have come when I'm upset or angry... not because I wanted to make a bad tackle. The tackle was bad because I was thinking wrong."
The strategy worked — India got hit with two goals on the counter and over the course of 90 minutes Amiri and his team-mates had entered Afghanistan's history books.
The party which has been due for decades
"Can you believe they broke bullet-proof cars? They're crazy!"
Amiri told President Hamid Karzai that there was no way the players were going to take the helicopter back to their homes after winning the SAFF Cup and landing in Kabul.
"No it's impossible, the president tells me. I said, no, we want to be with the people. When I went out and saw, the bullet-proof car was broken. They wanted to touch us, kiss us, hold us. It was crazy. They're the best," says Amiri.
"I can't step out of the house in Kabul," he adds, looking outside the window of the second floor apartment — at the freedom he has here.
"Everyone knows Afghanistan is a fighting country. That we're a place where there are drug-smugglers and there's killing. We're tired of this. Every time I lead out the country, I want to show people that we're moving towards normalcy. We're thinking about peace, we're taking the 'sports way' to do this."
It was quite enchanting to see people — all sorts of people — girls, boys, men, women everyone — dancing and having a party on the streets of Afghanistan after the SAFF win. It was a party which has been due for decades.
"The best part of all this is we're united. To see these people, it made me cry. We are all together, and that's what we want."
Afghanistan has been growing in terms of sport. In 2012, they launched their first professional football league. And their Finance Minister Omar Zakhilwal said in 2010 that all provinces will have cricket grounds in the next two years. As a university student was quoted as saying in this report, "sporting heroes help us forget."
And Amiri is now very much one of these heroes.
Follow the writer on Twitter @TheFalseNo9
Firstpost is now on WhatsApp. For the latest analysis, commentary and news updates, sign up for our WhatsApp services. Just go to Firstpost.com/Whatsapp and hit the Subscribe button.
Updated Date: Jun 09, 2014 15:06:54 IST